< PREV PAGE
NEXT PAGE >
V70R AWD L5-2.3L Turbo VIN 52 B5234T6 (1998)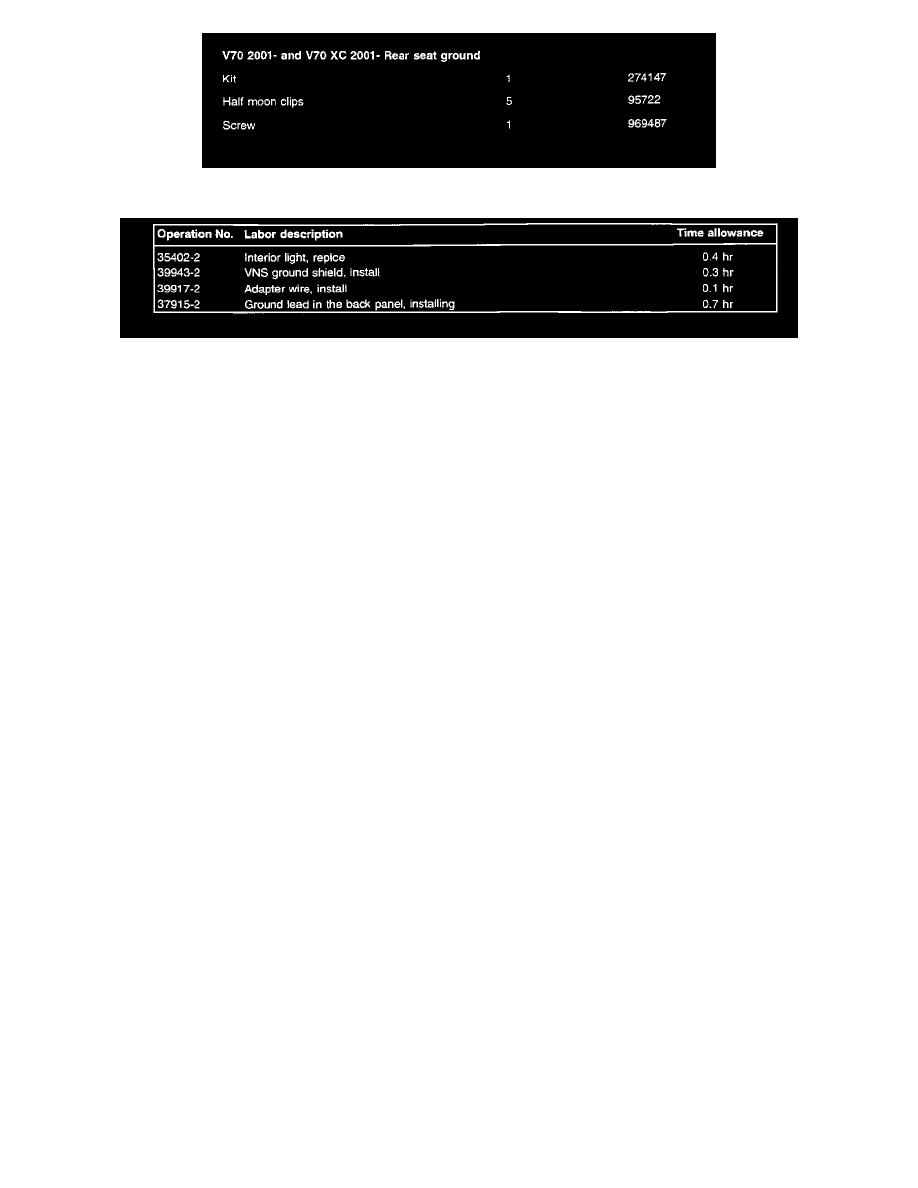 Select necessary parts according to diagnostics
WARRANTY STATEMENT: Claims may be submitted under the New Car Warranty when there is a documented customer complaint, using claim type
01.
AM Radio Diagnostics, Interference
1
Information and explanation 
Radio noise at 11-6 MPH on AM
S80 Chassis - 049149
See SB 39-0010
General Static/crackling noise (helicopter noise) 
S80 Chassis - 116810
UEM processor sound being heard in the audio system. UEM has a long ground wire which in some cases can act as an antenna. Replace the interior
light housing complete (see step 2).
Static noise - Volvo navigation system (VNS)
V70 Chassis no. 000257-
If a seek lest gives the same number of clearly audible AM stations but a "static" sound is heard while using the Volvo Navigation System (VNS) install
a grounded shield on the VNS wiring and connector (see step 2). The amount of static can depend on the contrast level of the screen being viewed.
Intermittent pulsing, buzzing sound with seat heater 
on
S80 Chassis no 029668-147860
V70 Chassis no 000257-026213 Torslanda
V70 Chassis no -028000 Gent
V70XC Chassis no -000907
A pulsing, buzzing noise may be heard from the radio on AM frequency if seat heater is activated. As a service solution an adapter cable with a 180-Ohm
resistor must be connected in series to control module for the seat healer. One adapter cable must be used for each seat (see step 7-10).
AM static due to insufficient rear seat ground 
Install the ground lead see step 11-17.
Ticking radio interference sounds of approximately one second interval might appear on the AM band due to insufficient grounding of the rear plate of
< PREV PAGE
NEXT PAGE >