< PREV PAGE
NEXT PAGE >
V70R AWD L5-2.3L Turbo VIN 52 B5234T6 (1998)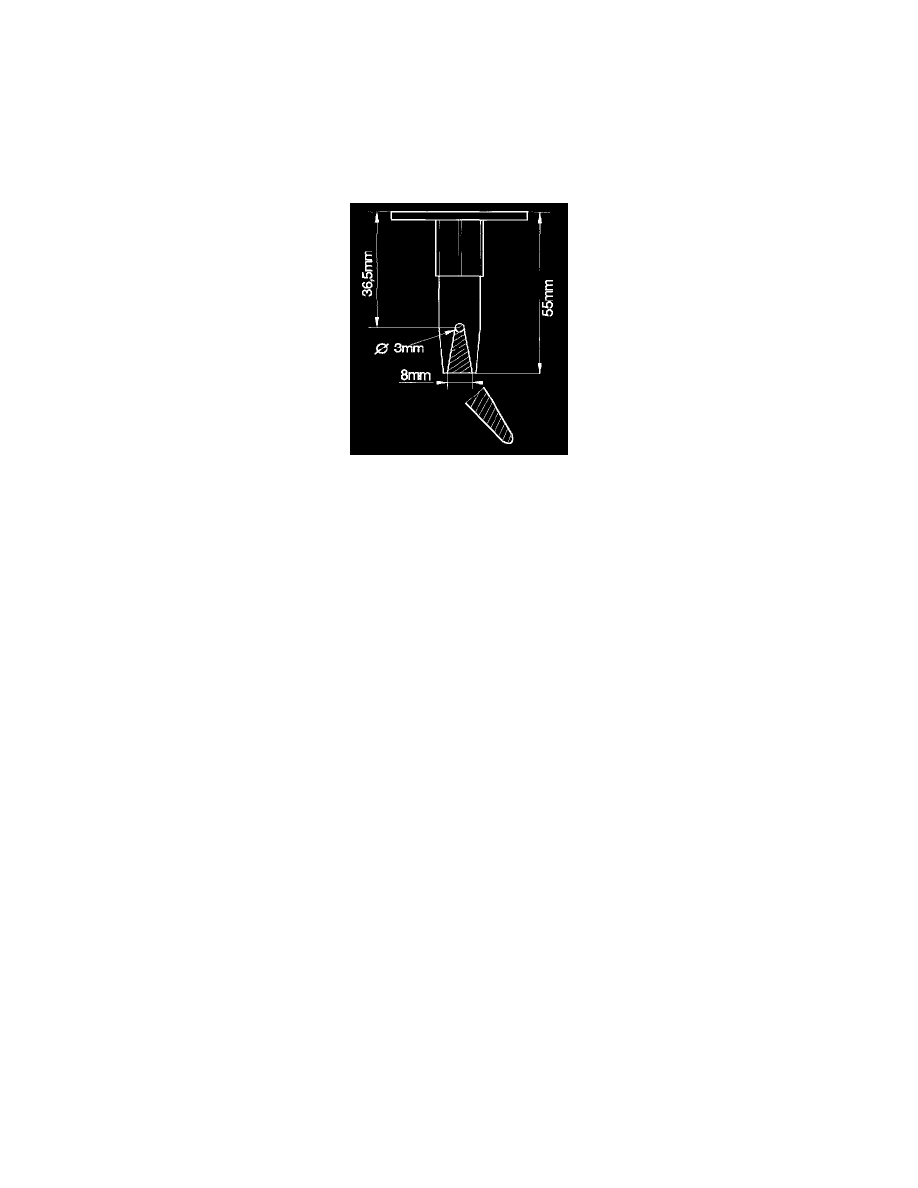 -
Use cleaning agent H to clean all surfaces where adhesive is to be applied.
-
Apply glass activator to surface where adhesive is to be applied.
-
Apply glass primer to surface where adhesive is to be applied.
-
Apply liberally without allowing primer to ran.
-
Allow primer to dry until surface is matt.
-
Cut off bottom of adhesive cartridge. Pour out drying agent (small pellets in bottom of cartridge).
-
Cut hole in front end.
Check if bonding kit contains blue nozzle. If so, use this nozzle. If blue nozzle is not provided: Take complete, intact nozzle:
-
Measure off and cut 55 mm from base: cut off nozzle.
-
Drill 3 mm (1/8") diameter hole 36.5 mm from base.
-
Measure off 8 mm at tip.
-
Cut nozzle to shape.
Nozzle made as described provides PUR bead measurement at 28 mm in height and 8 mm at base.
NOTE: THIS HEIGHT OF BEAD IS REQUIRED ONLY ON CLEAN METAL.
-
Attach nozzle to cartridge and fit cartridge in adhesive gun.
-
Apply adhesive to windshield.
-
Hold gun at right-angles to glass.
-
Move gun slowly around windshield. Ensure that bead is continuous and unbroken, otherwise joint will leak.
-
Place windshield in position. Ensure that upper section is resting on upper supports and that windshield is positioned as high as possible against
trim moulding retainer.
-
Press bottom edge of windshield with hand so that glass adheres to tape on lower spacers.
-
Attach several strips of masking tape to windshield and roof to prevent windshield slipping downward while adhesive is setting.
ADHESIVE MUST HAVE HARDENED SUFFICIENTLY TO ENSURE THAT WINDSHIELD DOES NOT MOVE WHEN INSTALLING
WIPER WELL COVER PANEL.
Drying time is at least 4 hours. High humidity enhances the drying time. Placing wet cloths around edges will improve drying results.
INSTALL:
-
cover panel
-
windshield wipers
-
upper trim moulding in retainer
-
A-post and roof mouldings
TEST SEAL WITH WATER.
< PREV PAGE
NEXT PAGE >