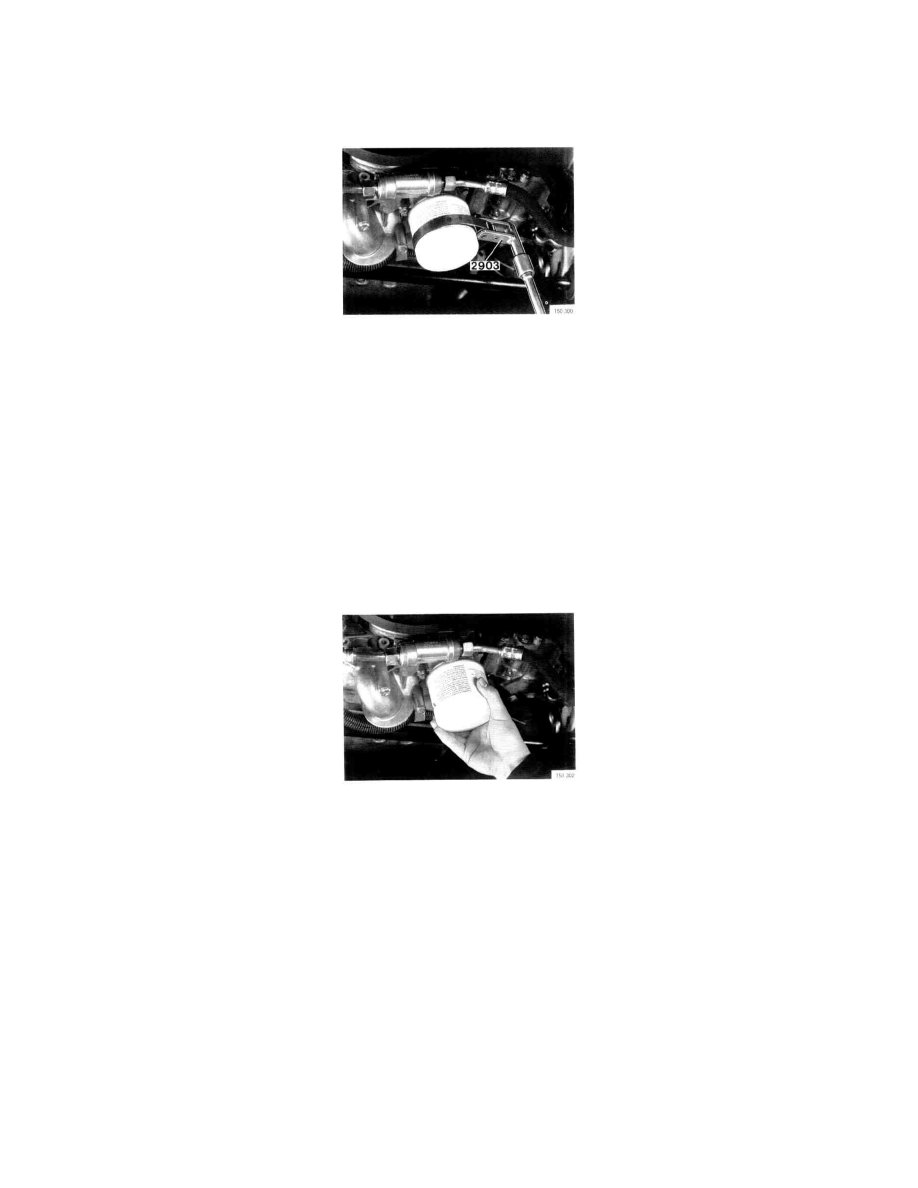 Oil Filter: Service and Repair
SPECIAL TOOL 
-
Filter Wrench tool No. 999 2903, or equivalent
PROCEDURE 
OIL FILTER REPLACEMENT 
1. Remove oil filter
-
Remove splash guard under engine. 
-
Use filter wrench tool No. 999 2903, or equivalent.
-
Use paper or other suitable material to mop up oil spillage.
USED ENGINE OIL WARNING:
-
PROLONGED AND REPEATED CONTACT MAY CAUSE SERIOUS SKIN DISORDERS INCLUDING DERMATITIS AND
CANCER.
-
AVOID CONTACT WITH THE SKIN AS FAR AS POSSIBLE AND WASH THROUGHLY AFTER ANY CONTACT.
-
WEAR PROTECTIVE CLOTHING. INCLUDING IMPERVIOUS GLOVES WHERE PRACTICABLE.
-
AVOID CONTAMINATING CLOTHES. PARTICULARLY UNDERPANTS. WITH OIL.
-
DO NOT PUT OILY RAGS IN POCKETS: THE USE OF OVERALLS WITHOUT POCKETS WILL AVOID THIS.
-
DO NOT WEAR HEAVILY SOILED CLOTHING AND OIL-IMPREGNATED FOOTWEAR OVERALLS MUST BE CLEANED
REGULARLY AND KEPT SEPARATE FROM PERSONAL CLOTHING. 
2. Install new oil filter
-
Coat seal with oil.
-
Tighten by hand until seal is in contact with mating surface. Turn a further' turn.
-
Install splashguard under engine.
-
Top up oil.
-
Oil capacity, 
incl. filter:  5.75 L (6 US qts) 
excl. filter:  5.25 L (5.5 US qts) 
When replacing oil filter only, top up with 0.5 liters (1 pint)
-
Start engine and inspect for leaks.