NEXT PAGE >
< PREV PAGE
XC60 FWD L6-3.2L VIN 94 B6324S4 (2011)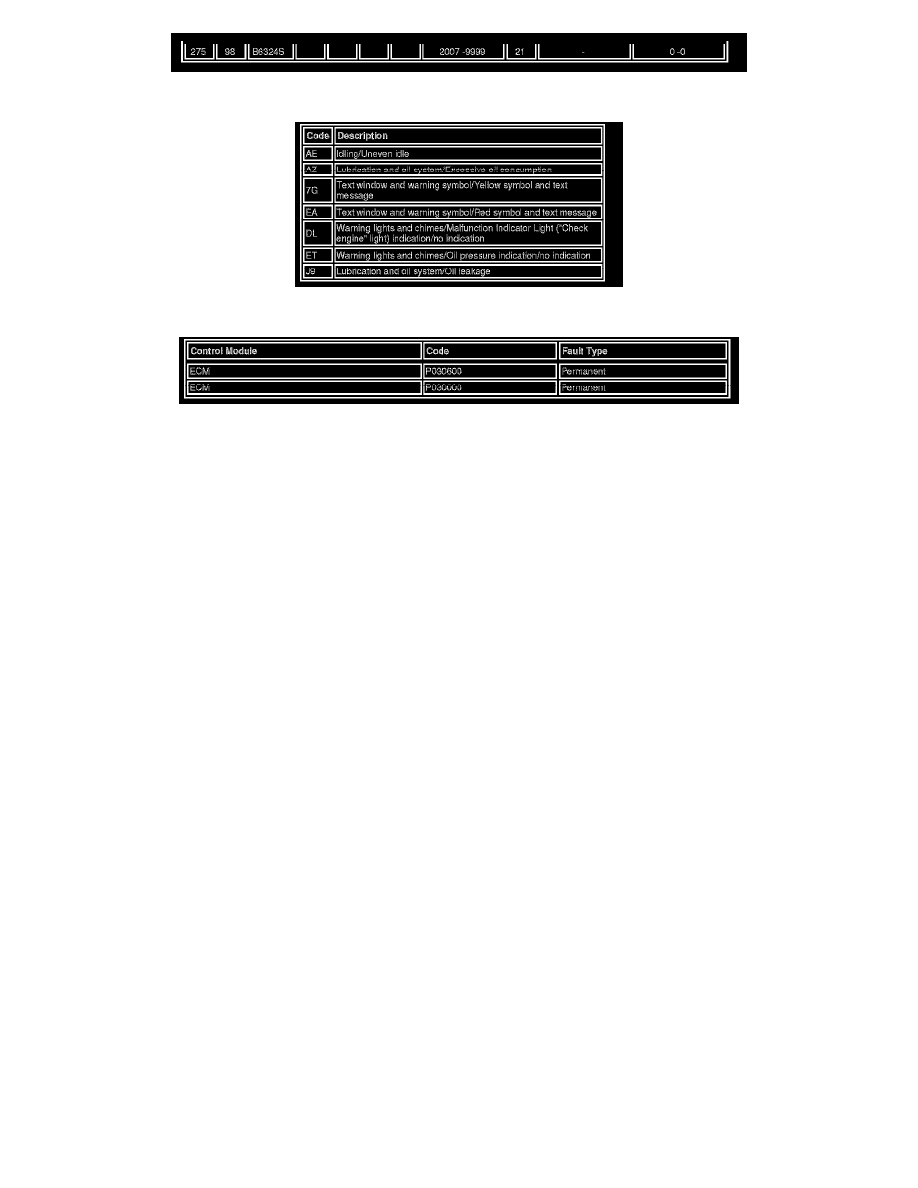 Vehicle Type
CSC
DTC
Text
CSC = Customer Symptom Code
DTC = Diagnostic Trouble Code
Note!
If using a printed copy of this Retailer Technical Journal, first check for the latest online version.
DESCRIPTION:
This TJ describes the measures to be taken if a customer complains about low oil level or excessive oil consumption on a Short Inline 6-cylinder (Si6)
engine. The chassis range is not tied to any specific symptom or product modification and is left open-ended for this RTJ since the diagnostic
information is useful for all vehicles with the Si6 engine.
NOTE!
This engine type is very sensitive for overfilling because it is hard to check the oil level with the dip stick in an easy way This is because the engine oil
needs time to settle in the oil sump and also because the dip stick can be turned around causing the indicated level to be different. It is also important to
note that the dipstick changed in Model Year (MY) 2007 and MY 2011 vehicles and the only way to tell what dipstick you have is to measure it. The
different part numbers (P/N) for oil dipsticks have chassis breaks in the VIDA parts catalog. Refer to the catalog to identify the correct P/N. See
Illustration 1 and Table 1 in the attachment for an explanation.
SERVICE:
If a customer complains about high oil consumption and I or bad idle quality proceed as described below:
1. Check for external leakage on and around the engine especially around the cylinder head / cam cover / chain housing area. If external leakage is
present repair instructions in VIDA shall be used.
2. If no external leakage can be detected make a VIDA - DTC read out. Remove all spark plugs and compare the deposits / colors of each plug. If Engine
Control Module (ECM) DTC P030000 and/or ECM P030600 are present and if spark plug # 6 and in some cases also # 5 show significantly more
deposits and are sooty it is very likely that the engine has been overfilled with oil or has an internal leakage. The DTCs indicate that the excess oil
volume has been burnt in the engine causing misfires (above mentioned DTCs).
3. To determine if the engine has been overfilled with oil or if there is an internal leakage in the cylinder head an oil consumption test shall be carried
out:
Refer to VIDA:
REPAIR
NEXT PAGE >
< PREV PAGE