NEXT PAGE >
< PREV PAGE
XC60 FWD L6-3.2L VIN 94 B6324S4 (2011)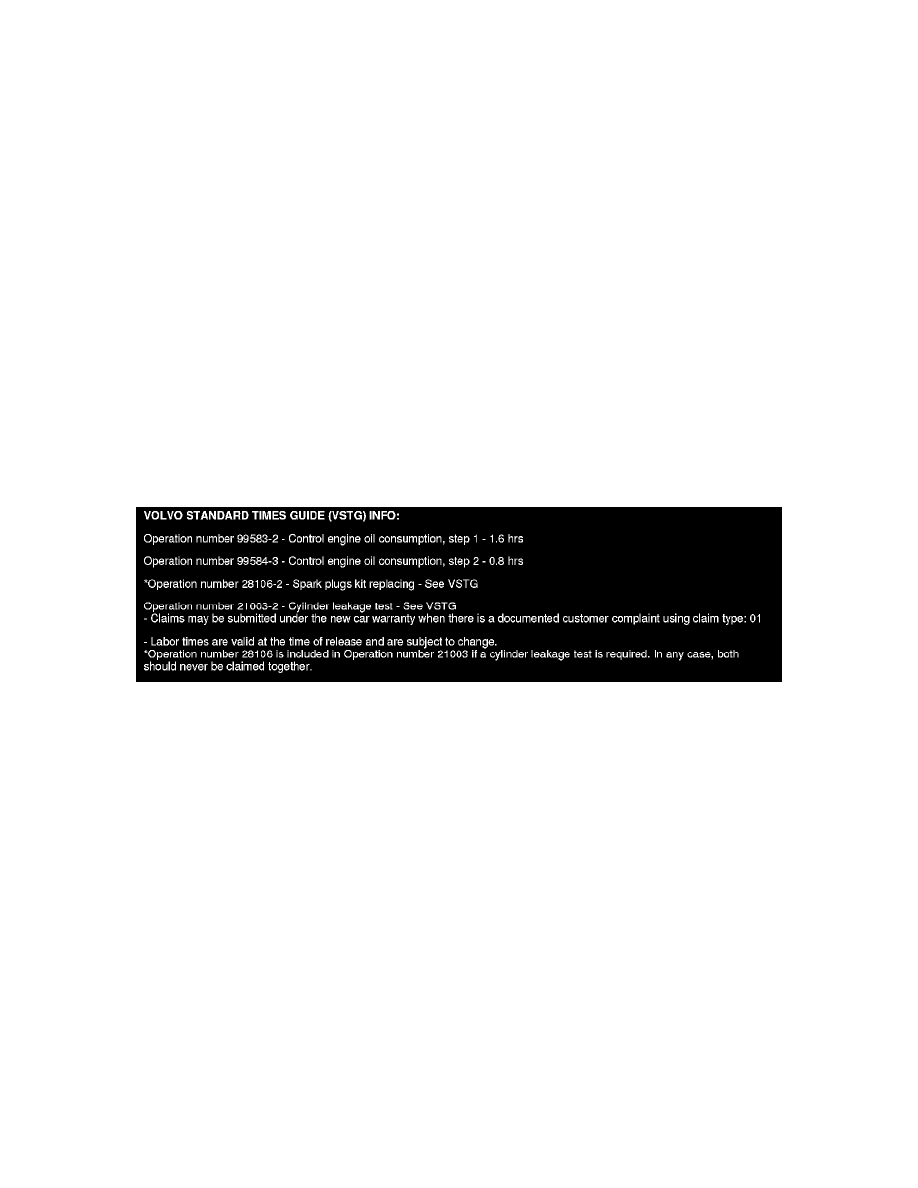 Cleaning Inspection and adjustment
Engine with mountings and equipment
Lubricating and oil system
General
Oil consumption test
Print out and fill in the "Form for measuring oil consumption" and use it to track mileage during the oil consumption test. Use the method for weighing
but instead of weight measure in volume. See VIDA for oil capacities and oil consumption limits. If the test shows normal consumption values it is
very important to explain to the customer how to check the oil level how much to add and what is the correct type of oil.
4. If the oil consumption test proves excessive oil consumption perform a cylinder leakage test according to VIDA to determine whether the internal
leakage is coming from an area other then the cam cover. If leakage tests lead to a leakage from an area other then the cam cover follow the information
in the oil consumption test page in VIDA. If the compression and cylinder leakage tests are OK remove the cam cover and inspect the sealing surface.
Refer to Photos 1 and 2 in the attachment. If the sealing surface is discolored by oil like the photos it is most likely that there is an internal leak between
the cam cover and the cylinder head in the area facing the crank case ventilation channel connecting the breather box and the crank case ventilation
gallery. If this is not the case continue diagnosis elsewhere in the engine. Whether or not a problem is found the cam cover should be resealed according
to RTJ 22113 prior to re-installation. There is a chassis range for the cam cover leak in RTJ 22113. If this problem is found after the chassis range please
consult the Technical Helpdesk. If this is NOT the case replace the cylinder head.
Note!
It is extremely important that the sealant's "Best before date" is followed!
VOLVO STANDARD TIMES GUIDE (VSTG) INFO
Attachment
NEXT PAGE >
< PREV PAGE