Navigation System - Voice Guidance Stops While Driving|Page 271 >
< Navigation System - Various Malfunctions|Page 265
XC60 FWD L6-3.2L VIN 94 B6324S4 (2011)
Customer Interest:
TJ23153
Jun
10
Navigation System - Voice Guidance Stops While Driving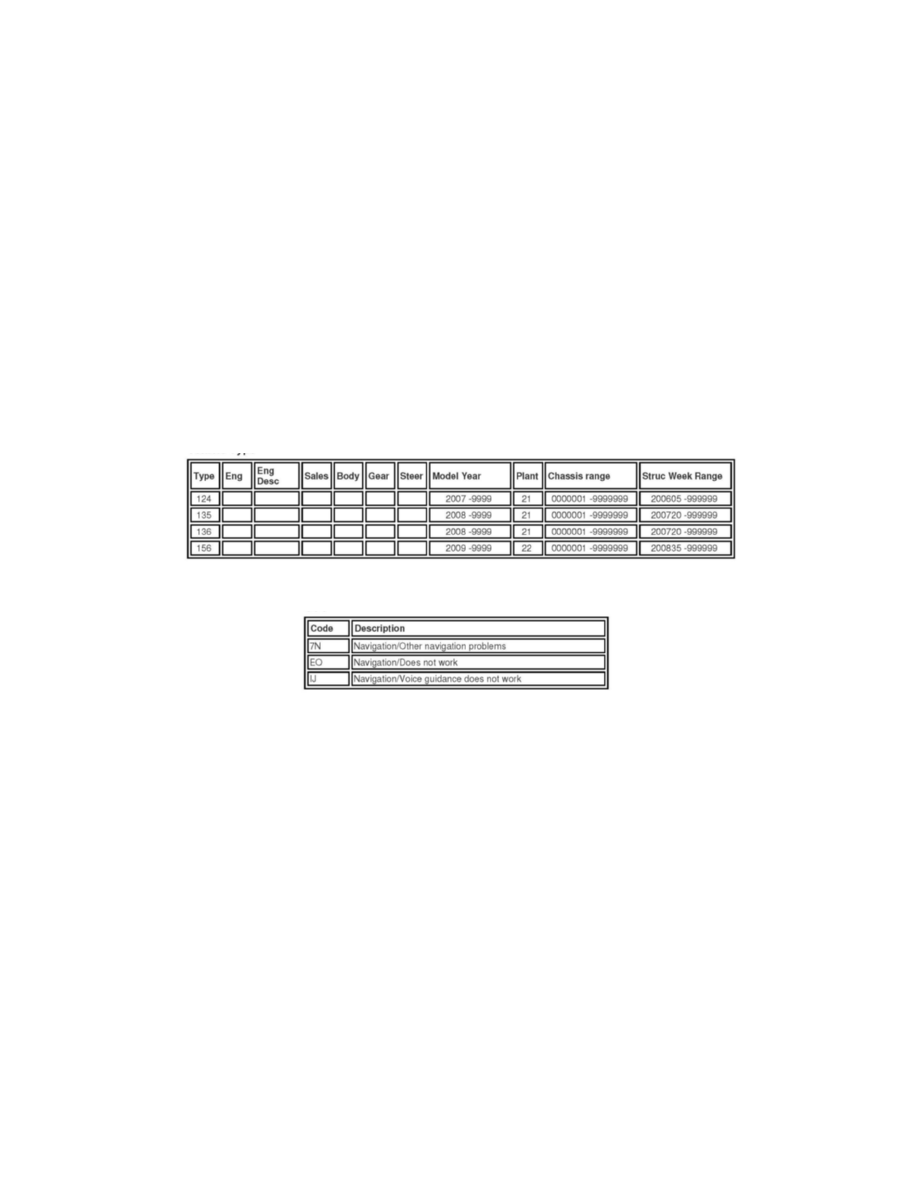 Navigation Module: Customer Interest
Navigation System - Voice Guidance Stops While Driving
TIE - Technical Journal
Title: RTI, voice guidance suddenly stops during driving
Ref No: US23153.2.0 en-GB
Issuer: -
Partner: 3 US 7510 Volvo cars North America
Func Group: 3972
Func Desc: road navigation
Status: Released
Status Date: 2010-06-30
Issue Date: 2010-06-24
Reference:
Attachment
Vehicle Type
CSC
DTC
Text
CSC= Customer Symptom code
MMM = Multi Media Module
Note!
If using a printed copy of this Retailer Technical Journal, first check for the latest online version.
DESCRIPTION: Customers may report that the Navigation system voice guidance suddenly stops during driving. This is due to a bug in the MMM2
software that was introduced 2009w46. The symptom can temporarily be fixed by changing between male and female voice or by selecting factory
defaults in the settings menu.
PRODUCT MODIFICATION: A new software, containing a fix for this software bug, has been developed and released. The new software can be found
in the latest service disc. The replacement units in parts stock and production has also been updated.
SERVICE: Do not replace the MMM2 unit as this is a software bug. Update the MMM2 software with the latest service disc.
P/N 30630953 US
The software will be upgraded to version 8BC6
VOLVO STANDARD TIME GUIDE OPERATION NUMBER:
Customer Interest:
TJ23153
Jun
10
Navigation System - Voice Guidance Stops While Driving
Navigation System - Voice Guidance Stops While Driving|Page 271 >
< Navigation System - Various Malfunctions|Page 265