NEXT PAGE >
< PREV PAGE
XC60 FWD L6-3.2L VIN 94 B6324S4 (2011)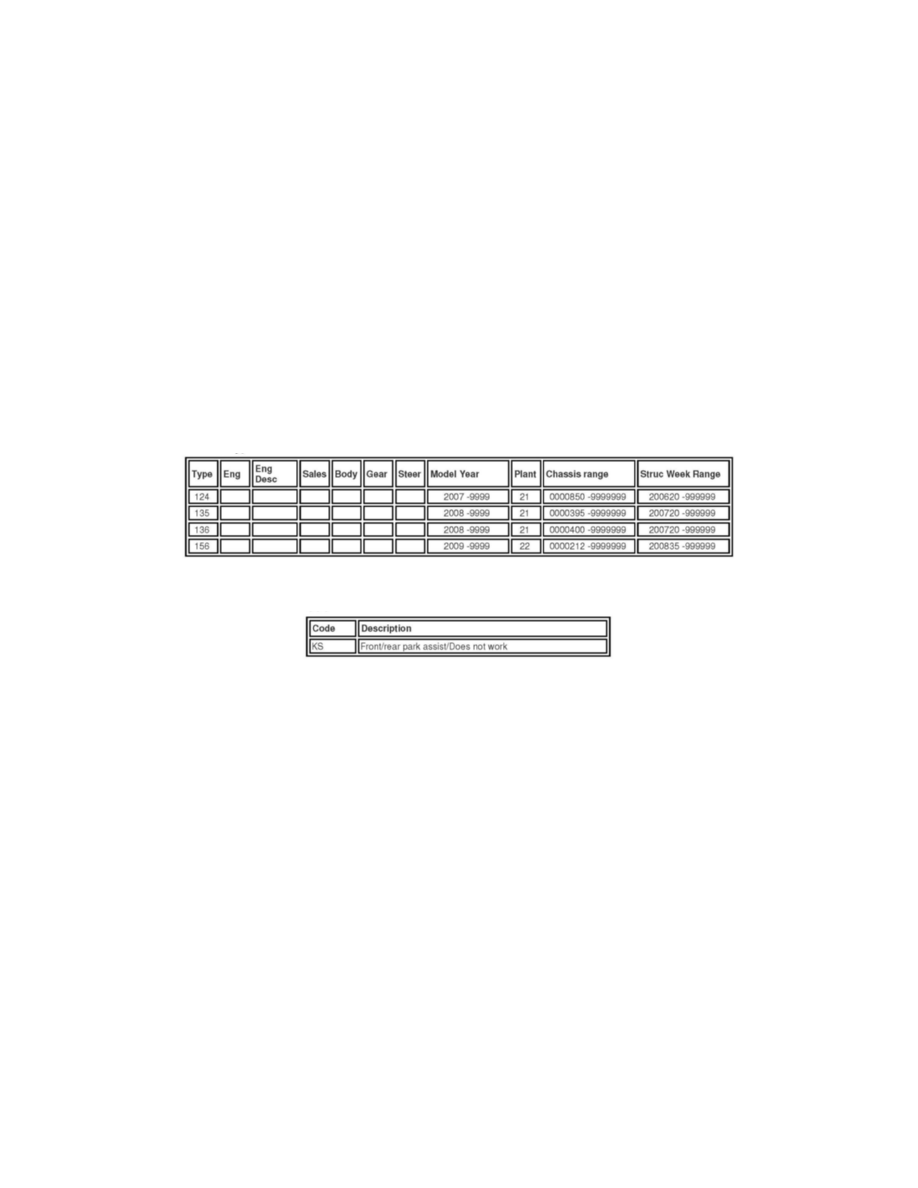 Parking Assist Control Module: All Technical Service Bulletins
Parking Assist - Front Sensors Too Sensitive
TIE - Technical Journal
Title Front park assist, false warning (too sensitive)
Ref No US20966.3.0 en-GB
Issuer -
Partner 3US7510 Volvo Cars North America
Func Group 3871
Func Desc parking assist
Status Released 
Status Date 2010-07-25
Issue Date 2010-07-20
Reference
Attachment
Vehicle Type
CSC
DTC
Text
DESCRIPTION: Customers may report that the front park assist sensors are too sensitive and are sounding when driving on, for example, rough asphalt
roads and when stopping at a red light.
PRODUCT MODIFICATION: A new software with new scan pattern settings ha been released for download.
NOTE:
The new software is only compatible with the new sensors introduced into production from structure week 2008w48 and can not be used on earlier
vehicles. Structure week can be found under the "vehicle details" tab in VIDA after the vehicle is read out.
SERVICE:
1. Check the license plate, if the license plate is mounted with an overlap of 1-2cm (3/8 - 3/4 inch) over the lower bumper edge you will have problem
with false warnings. Check the position and correct if necessary, then continue with step two.
2. If the car is produced from structure week 2008w48 or later, perform a PAM upgrade to upgrade the PAM (Park assist module) with the latest
software and the new scan pattern settings.
VOLVO STANDARD TIME OPERATION NUMBER:
36004-2 Software control module downloading
See VSTG
NEXT PAGE >
< PREV PAGE