A/C - Temperature Drops During Driving|Page 357 >
< Radiator Cooling Fan Control Module|Locations
XC60 FWD L6-3.2L VIN 94 B6324S4 (2011)
Relays and Modules - HVAC
Control Module HVAC
Component Information
Technical Service Bulletins
All Technical Service Bulletins for Control Module HVAC:
TJ18674
Jan
11
A/C - Temperature Drops During Driving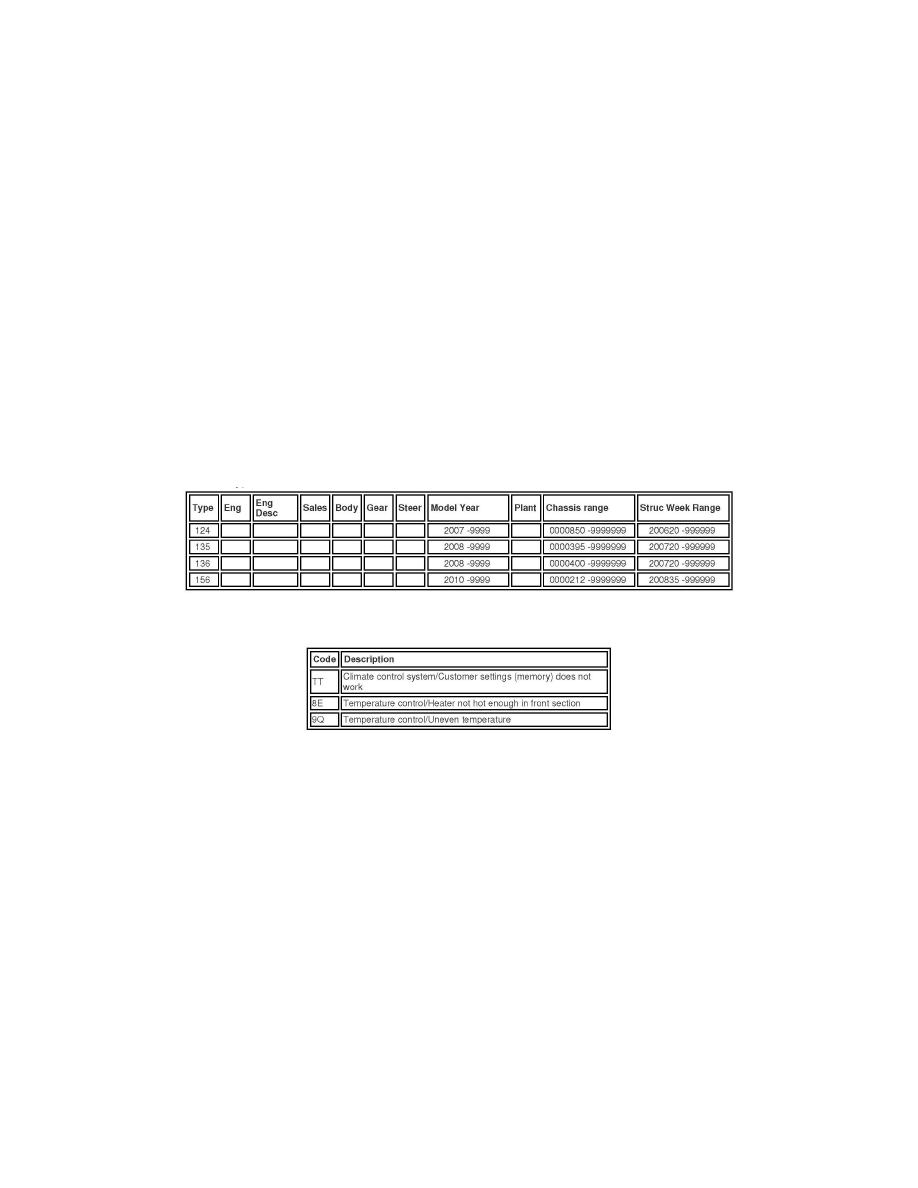 Control Module HVAC: All Technical Service Bulletins
A/C - Temperature Drops During Driving
TIE Technical Journal
Title Temperature dropping during driving, climate heater unit 
Ref No US18674.8.1 en-GB
Issuer -
Partner 3 US 7510 Volvo Cars North America
Func Group 8730
Func Desc climate unit
Status Released
Status Date 2011-01-21
Issue Date 2011-01-21
Reference VIDA
Attachment
Vehicle Type
CSC
DTC
Text
CSC=Customer Symptom Code 
DTC=Diagnostic Trouble Code
Note! 
If using a printed copy of this Retailer Technical Journal, first check for the latest online version.
DESCRIPTION:
Customer may experience that the temperature inside the car starts to drop after approximate 20-40 mm of driving with the climate control in auto
position.
SERVICE:
*Perform CCM (Climate Control Module)upgrade according to VIDA.
*GO into VIDA CCM advanced:Action for falling temperature and cold draft change settings from Factory mode to Level 2.
Relays and Modules - HVAC
Control Module HVAC
Component Information
Technical Service Bulletins
All Technical Service Bulletins for Control Module HVAC:
TJ18674
Jan
11
A/C - Temperature Drops During Driving
A/C - Temperature Drops During Driving|Page 357 >
< Radiator Cooling Fan Control Module|Locations