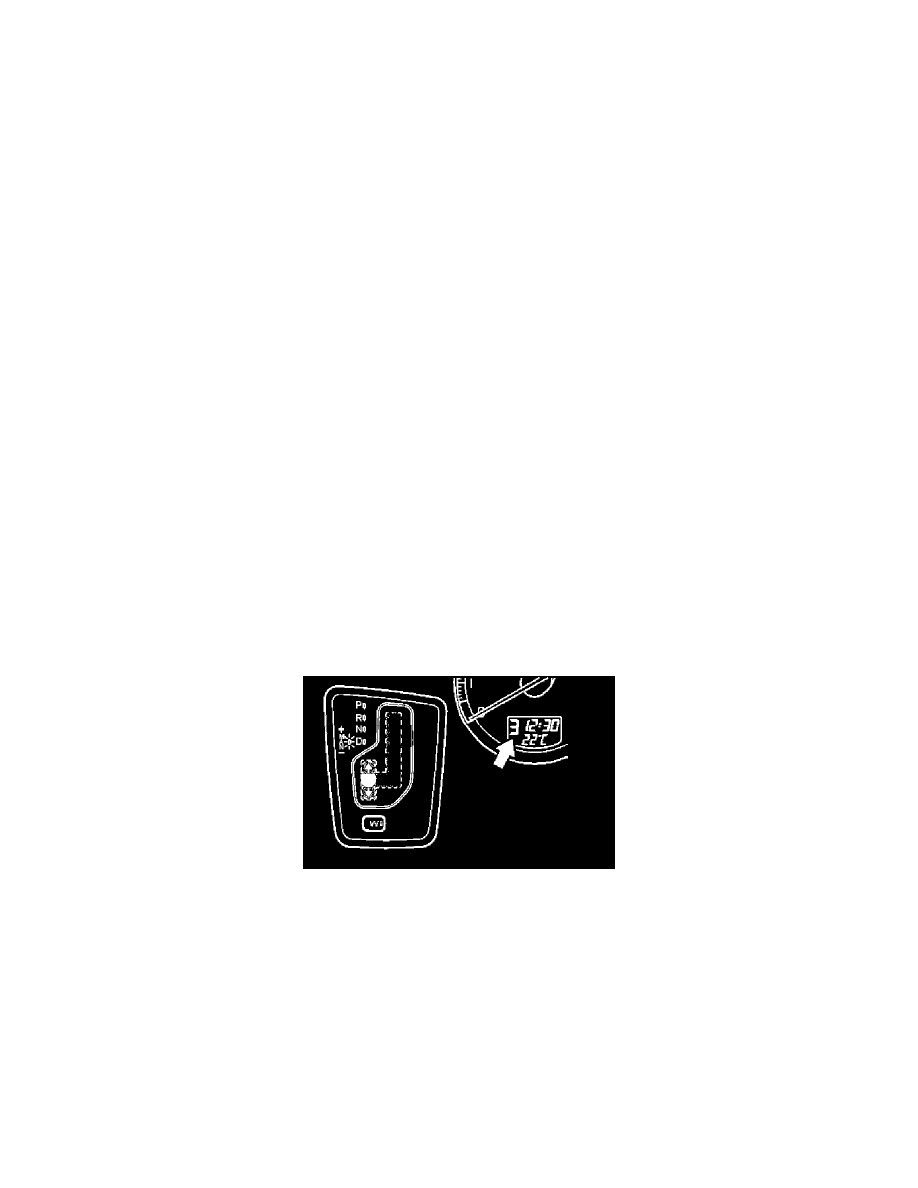 normal for the 1-2 and 2-3 shift to be noticeably delayed when the car engine is cold. This is a normal consequence of this function. 
Temperature controlled lock-up  
If the transmission temperature increases abnormally as a result of heavy load under high ambient temperature conditions, the torque converter lock-up
function is activated as often as possible (temperature controlled lock-up). This reduces slippage and the generation of heat in the transmission. If the
temperature drops below +200 C the lock-up function will not be used.
Slipping lock-up 
The slipping lock-up function provides smoother engagement with reduced vibration and decreased noise when a gear is engaged. In this mode, the
torque converter clutch is engaged, but not fully locked.
The following must be met in order for the function to activate:
-
Gear selector in position D, 4 or 3
-
Gear 3, 4 or 5
-
The transmission input speed is 1100 rpm or more and the throttle opening is 35 % or less
-
The transmission oil temperature is 40 - 120°C.
Due to the torque converter slipping between 50-200 rpm, the friction properties of the transmission fluid are very important. The transmission fluid
differs from conventional ATF oil properties. Always use the specified fluid for this transmission. Failure to do so may compromise the function and
set a diagnostic trouble code (DTC).
The engine coolant must reach a certain temperature before the function engages.
Driving uphill 
The transmission control module (TCM) may change the gear shift pattern slightly when driving uphill. This is to avoid busy shifting.
Neutral control (only available on certain models) 
This function is activated when the driver stops the car and the car is stationary, at traffic lights for example. The transmission control module (TCM)
then disengages the C1 clutch which releases the forward drive of the transmission and reduces the load on the engine. The function improves fuel
consumption and reduces vibrations at idle speed. When the driver releases the brake, the C1 clutch engages and drive is resumed.
The following conditions must be met for the Neutral control function to be activated:
-
Gear selector in position D, 4, or 3 when Winter mode and Geartronic are not selected Oil temperature above + 10°C
-
Oil temperature above + 10°C
-
Throttle position less than 3 %
-
Brake pedal depressed
-
Speed 0 km/h
-
Engine speed less than 1500 rpm. 
There are two time factors for engagement: There is a 2 second delay in position D when stationary and a 5 second delay at N to D.
Shifting using Geartronic 
When the gear selector is moved to the Geartronic position (MAN) the automatic transmission remains in hydraulic position D, but when the gear
selector is moved upwards (+) the gear selector module (GSM) transmits a signal to the transmission control module (TCM) to shift up. When the gear
selector is moved downwards (-) a signal is transmitted to the transmission control module (TCM) to shift down. The driver information module
(DIM) switches the symbol in the combined instrument panel from D to the current gear, for example 3, when the gear selector is in the MAN
position. A signal is sent to the gear selector module (GSM) to light the M LED and switches off the other LEDs. The transmission control module
(TCM) determines if shifting can be carried out and the driver information module (DIM) indicates the current gear. If shifting is permitted the
solenoids are activated according to each specific gear pattern. 
However, in certain situations the transmission control module (TCM) assumes the shifting decision. The following applies:
-
When stationary only 1st, 2nd and 3rd gears can be selected. 4th gear can be selected at speeds in excess 30 km/h and 5th at speeds in excess of 40
km/h
-
Automatic down shifting occurs below a certain speed. Example: 2nd gear is selected. Automatic down shifting occurs when shifting from 2nd
gear to 1st at 2 km/h if the speed, before then, exceeds 25 km/h. in other cases 2nd gear is retained. For example, when 3rd gear is engaged despite
the car being stationary
-
Manual up shifting is required after automatic down shifting. Kick-down is not available in the Geartronic-position (MAN)
-
The permitted speed for manual down shifting corresponds to those for kick-down downshifting, i.e. engine speed at approximately 6 000 rpm