< PREV PAGE
NEXT PAGE >
XC70 L5-2.5L Turbo VIN 59 B5254T2 (2003)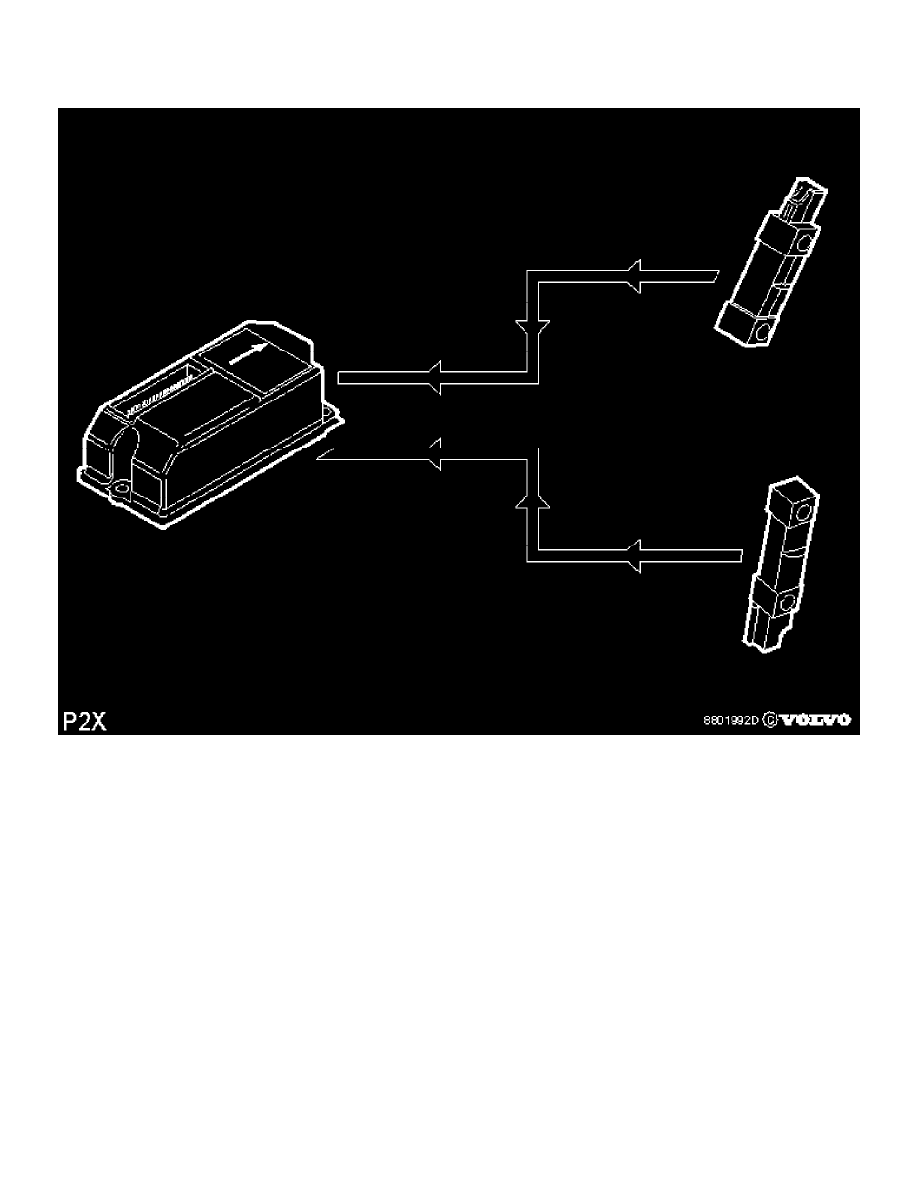 Impact Sensor: Description and Operation
Introduction, Sensors 
Side collision sensors 
-
The sensors for side impact detection are located on the of the B and C posts. This location allows quick (early) reaction time in the event of side
impact.
-
The sensors on the B and C-posts are not interchangeable/identical. The B-post sensor is gray and the C-post sensor is black (different collision
parameters).
-
The sensors are directly connected to the SRS module.
-
The side impact sensors are "independent units." The sensor is made up of a micro processor with an acceleration sensor and interface.
-
The side impact sensor spontaneously carries out internal diagnoses and registers with the SRS unit that the sensor is fault free. The side impact
sensor registers with the SRS unit if a collision impulse is detected with sufficiently high energy content. The SRS unit then checks whether it also
senses the collision impulse, in which case it triggers the safety equipment. It is the SRS module that determines if, when and which safety
equipment should be deployed.
SRS module 
-
The SRS unit continually transmits diagnostic pulses to all SRS components. The diagnostic pulses check that there are no wiring short-circuits or
other faults in the SRS system. In the event of a fault the SRS lamp lights. (The SRS lamp also lights briefly (approximately 7 s) when the ignition
is switched on. During this time the SRS module starts up the side impact sensors, runs self diagnostics and diagnostics of other SRS components
and charges the SRS system's ignition capacitor).
-
The bracket for the module must be rigidly secured in the body and welded (with as high resonance frequency as possible greater than 300 Hz).
-
The SRS module can still deploy up to 10 seconds after any power failure.
-
In the event of a collision, the SRS module transmits a signal so that the central locking system opens (if locked), passenger compartment lighting
switches on, hazard warning signal flashers operate and fuel supply is shut off.
< PREV PAGE
NEXT PAGE >