< PREV PAGE
NEXT PAGE >
XC70 AWD L6-3.2L VIN 98 B6324S (2009)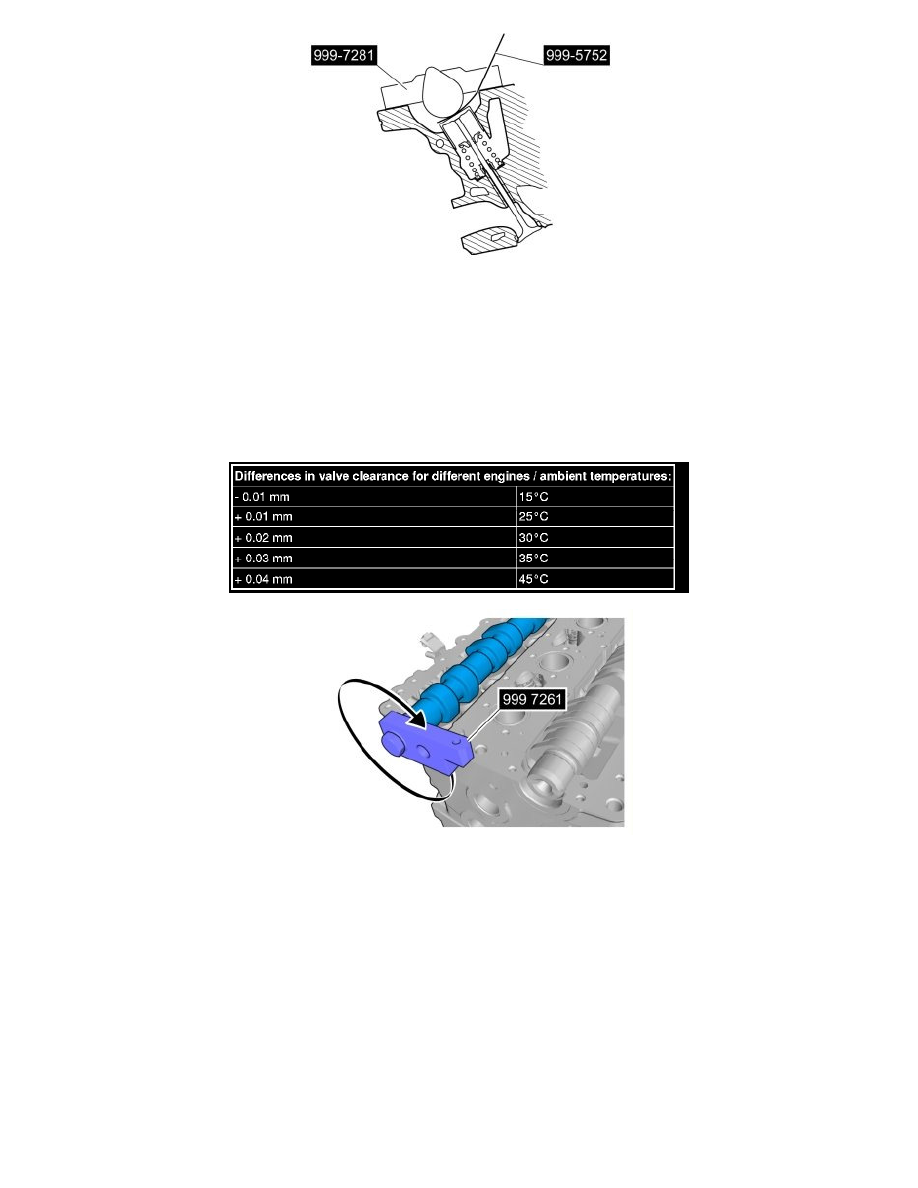 Note! Measurements should only be taken on a cold engine. A suitable temperature is approximately 20°C.
Camshaft nodes on the cylinder whose valves are to be measured should point straight up in the direction of the valve.
Tighten the screws of the press tools.
Torque: M7, 17 Nm
999 5752 Feeler gauge  See: Tools and Equipment/999 5752 Feeler Gauge 
Press with your finger so that the feeler gauge is parallel to the top of the lifter (see figure). To ensure that measuring is as correct as possible, move the
feeler gauge laterally when measuring clearance.
Valve clearance as measured on a cold engine (approx. 20°C): Exhaust valve: 0.45 ± 0.05 mm
999 7261 Position sensor See: Tools and Equipment/999 7261 Position Sensor 
Repeat the work by slackening the screws of the press tools and rotating the camshaft until the next node pair is in the correct position. Tighten and
continue measuring until all exhaust valves have been measured.
Carefully note the results.
Correcting measured clearance
Remove the press tools. Lift off the camshaft. Adjust clearance by replacing the lifter. Alternative lifters are available as a spare part/spare part kit.
Reinstall the camshaft and press tools. Tighten to 17 Nm. Recheck valve clearance on the adjusted valves.
When correct valve clearance has been achieved
Remove the press tools.
Install the valve cover.  See: Engine, Cooling and Exhaust/Engine/Cylinder Head Assembly/Valve Cover/Service and Repair
< PREV PAGE
NEXT PAGE >