< PREV PAGE
NEXT PAGE >
XC70 AWD L6-3.2L VIN 98 B6324S (2009)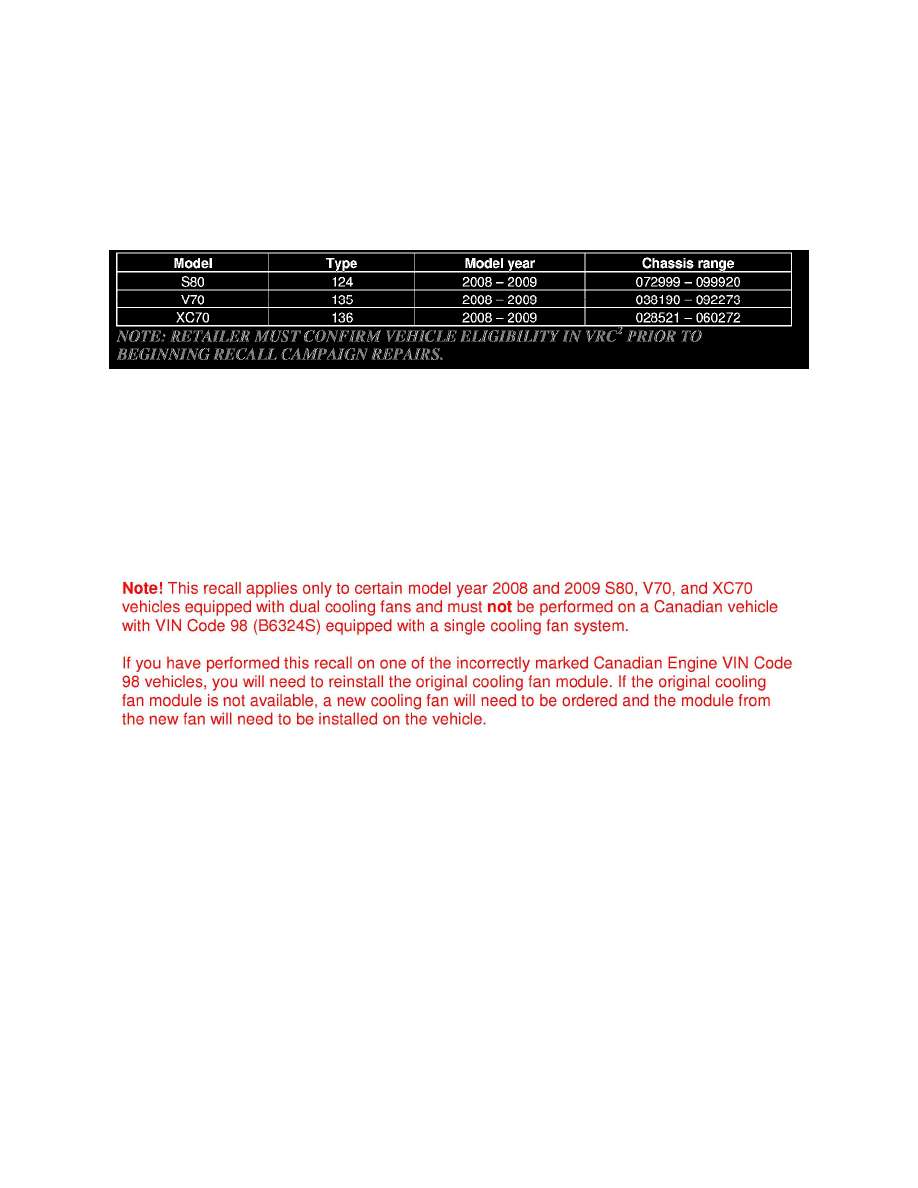 Radiator Cooling Fan Control Module: All Technical Service Bulletins
Recall 214 - Cooling Fan Control Module Replacement
Retailer Technical Journal 21201
Recall 214: Cooling fan control module, Rep lacement
Date 06-12-2009
Reference: SMB 26-214, PB 26-214
Note! If using a printed copy of this Retailer Technical Journal, first check for the latest online version.
THIS RTJ SUPERSEDES THE PREVIOUS VERSION OF RTJ 21201 DATED 06/09/09. PLEASE UPDATE YOUR FILES.
AFFECTED VEHICLES:
DESCRIPTION:
Volvo Cars of North America, LLC and Volvo Cars of Canada Corp. (Volvo) have decided that a defect related to motor vehicle safety exists in certain
model year 2008 & 2009 S80, V70 and XC70 vehicles. Volvo has found that under certain conditions the engine cooling fan may stop working due to a
software programming error in the Fan Control Module (FCM). Depending on driving conditions, the customer may experience reduced air conditioning
performance, and I or a rapid increase in engine coolant temperature. This situation may result in loss of cooling system function and engine breakdown.
The driver may not have sufficient time to react to the warning light(s) or the text message in the instrument panel. Volvo considers this to be an
unreasonable risk to motor vehicle safety.
< PREV PAGE
NEXT PAGE >