NEXT PAGE >
< PREV PAGE
XC70 AWD L6-3.2L VIN 98 B6324S (2009)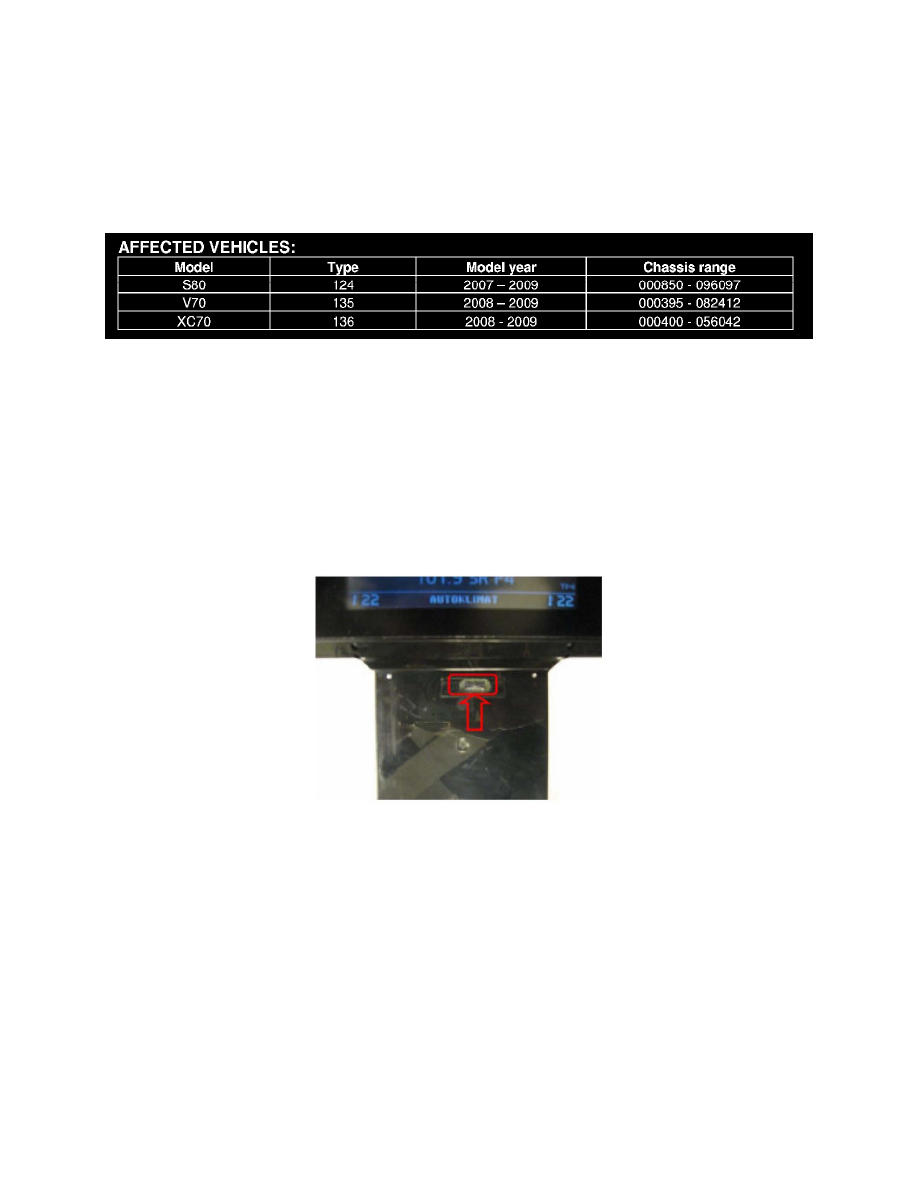 Entertainment System Control Module: All Technical Service Bulletins
Infotainment Sys. - Various Network Failures/DTC's Set
RETAILER TECHNICAL JOURNAL 18609
ICM may cause CAN and/or MOST-net to go down
Date: 07-16-2009
Note!
If using a printed copy of this Retailer Technical Journal, first check for the latest online version.
AFFECTED VEHICLES
DESCRIPTION:
This document addresses CAN (controller area network) and/or MOST (media oriented systems transport) networks that may go down due to an ICM
(Infotainment control module) failure. The failure may be intermittent or permanent.
The ICM audio display may not light up and multiple CAN-node DTC's may be set if the CAN network goes down. The cause of the failure can be a
crack in the oscillator soldering point. Due to the crack, the main IC (integrated circuit) will not have a continuous connection with the clock pulse which
will cause a reset pulse and intermittent functionality of the unit.
PRODUCT MODIFICATION:
Analysis has shown that stress on the oscillator soldering points is the root-cause for these failures. To prevent stress from the plastic housing towards the
oscillator, a "cut-out" was implemented in the housing as a first temporary solution. The hole is covered by a tape. See photograph above. 
The second action was to increase the clearance of the oscillator by milling out material in the housing from the PCB (printed circuit board) side, instead
of the "cut-out" hole. ICM's with this change were introduced into production from structure week 200814 and partly from the following chassis
numbers:
124: 078640-
135: 049607-
136: 035734-
The third and final action is an ICM with a new housing and new ICM P/N 31268924. These were introduced into production from structure week
200835 and the following chassis numbers:
124: 096097-
135: 082412-
136: 056042-
SERVICE: 
NEXT PAGE >
< PREV PAGE