< PREV PAGE
NEXT PAGE >
XC90 L5-2.5L Turbo VIN 59 B5254T2 (2004)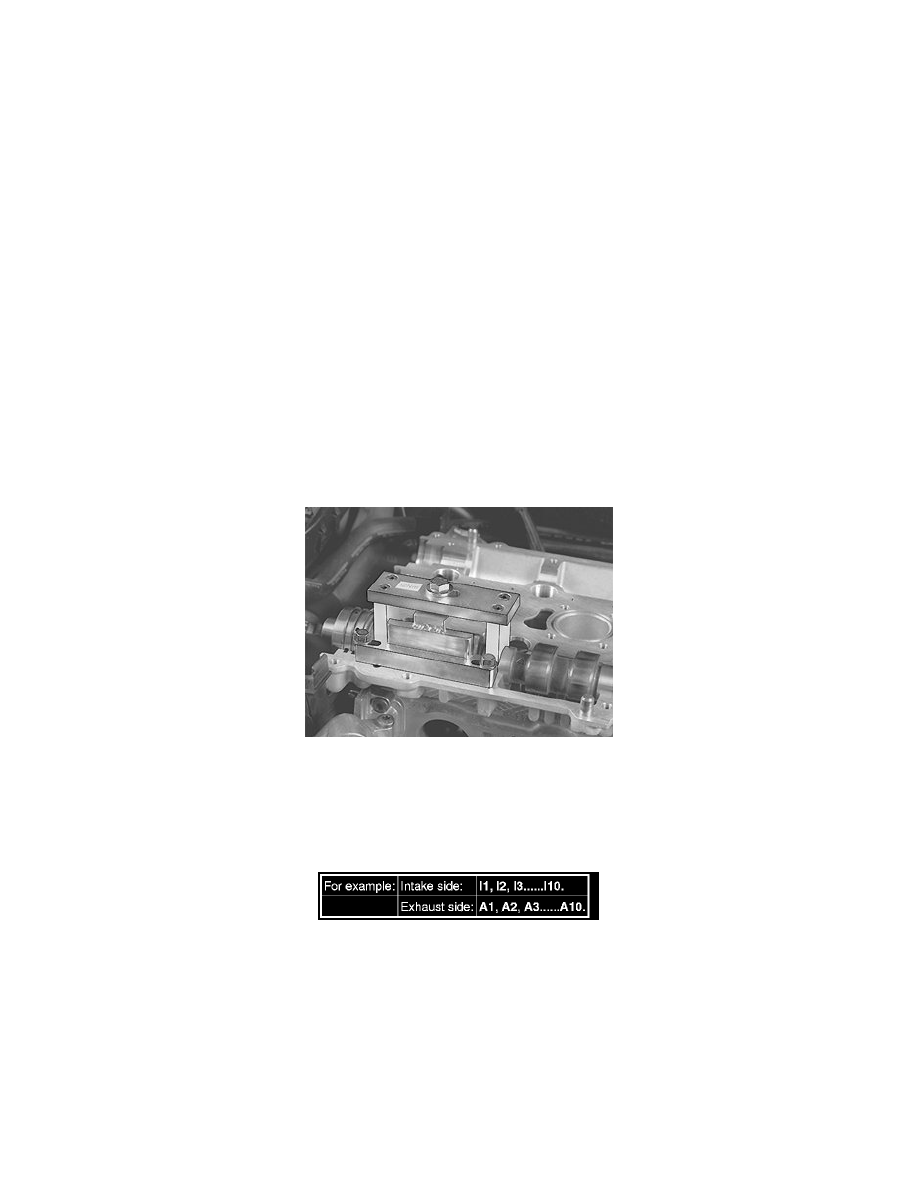 Note! Measurements should only be taken on a cold engine. A suitable temperature is approximately 20° C.
Use feeler gauge 999 5752 Feeler gauge See: Tools and Equipment/999 5752 Feeler Gauge.
Press with a finger so that the feeler gauge lies parallel to the upper side of the tappet (see illustration).
Move the feeler gauge sideways when taking the reading in order to obtain as accurate a measurement as possible.
Inlet valve: 0.20 ± 0.03 mm.
Exhaust valve: 0.40 ± 0.03 mm.
Note! The tolerances are less when setting! When checking the valve clearance through the plug hole, the tolerances are larger.
- 0.01 mm at 15° C
+ 0.01 mm at 25° C
+ 0.02 mm at 30° C
+ 0.03 mm at 35° C
+ 0.04 mm at 45° C
Correcting measured clearance
Lift out the upper section of the press tool.
Lift out the camshaft.
Adjust the play by replacing the tappets.
Other tappets are available as replacement part/replacement part kits.
Reinstall the camshaft and the upper section of the press tool. Tighten to 12 Nm.
Take a new measurement. See Checking the valve clearance.
When the correct valve clearance is reached
Remove
-
the press tool 999 5765
-
the camshaft
-
the tappets.
Note! Carefully mark the tappets so that exact reinstallation can be carried out.
Repeat the procedure for measuring the valve clearance for all cylinders on both the intake and exhaust sides. See Checking the valve clearance.
Installing tappets and camshafts
< PREV PAGE
NEXT PAGE >