NEXT PAGE >
< PREV PAGE
XC90 AWD L5-2.5L Turbo VIN 59 B5254T2 (2005)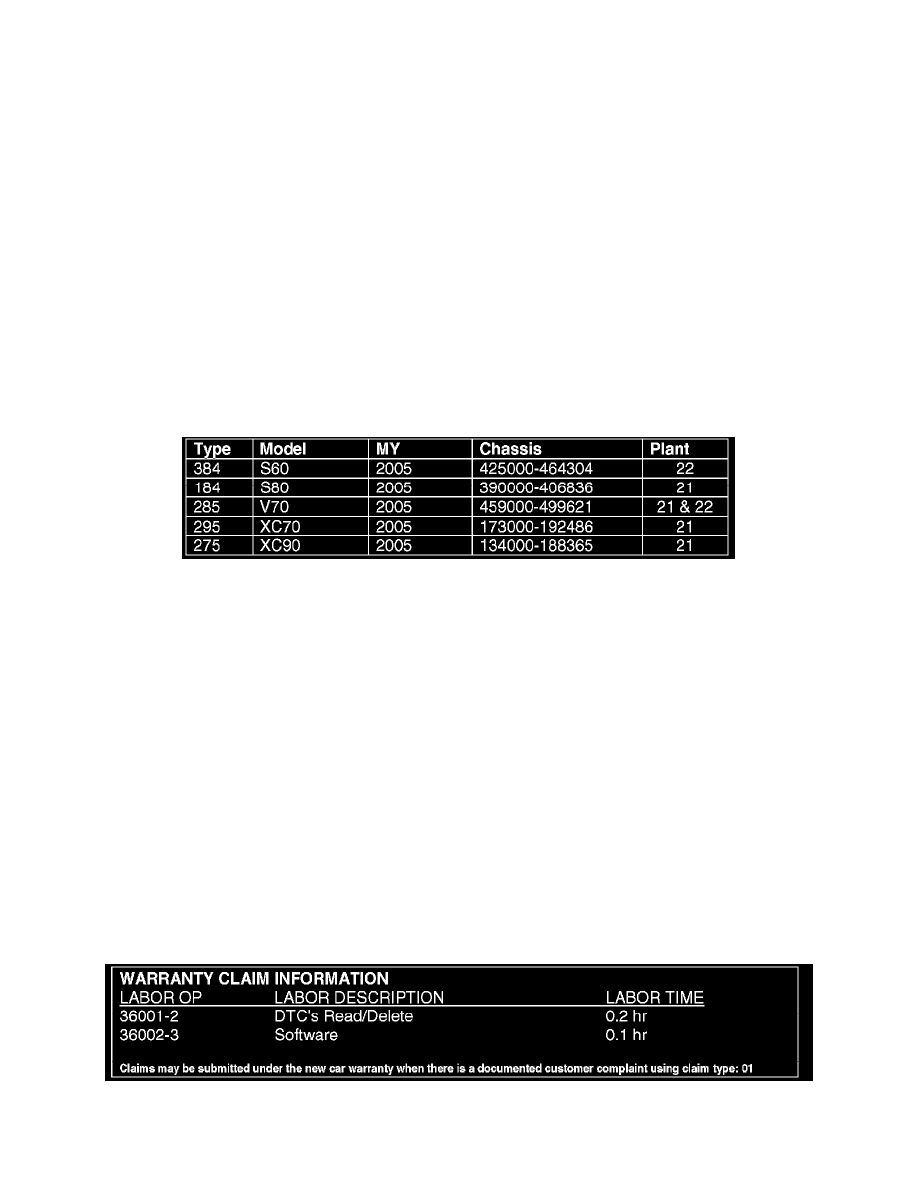 Air Door Actuator / Motor: Customer Interest
A/C - Uneven Temperature Drop Between L/H & R/H Vents
NO: 87-49
DATE: 03-15-2005
MODEL: 
S60, S80, V70, XC70, XC90
M. YEAR: 
2005
SUBJECT: 
Climate Control Module, temperature drop during extended drive, or temperature deviation between left and right side.
REFERENCE: 
VADIS
DESCRIPTION:
Cases have been reported of cars with temperature deviation, more than 7°F, between left and right air outlets after driving for a period of time. In other
cases, the temperature dropped during extended driving.
If the vehicle is within the listed chassis range shown, follow the service procedure in this document. If the vehicle is above the listed chassis range,
follow fault tracing as per VADIS.
SERVICE:
If a customer is complaining of these symptoms, follow steps 1 through 3:
Step 1: Check if there are any fault codes stored for Climate Control Module (CCM) or Damper Motor Modules (DMM). Do not replace parts if there
are no fault codes found.
If fault codes are found, perform fault tracing according VADIS. If a DMM needs replacement, perform the identification and calibration as described in
TNN No. 87-48 - Damper Motor Module, Identification and Calibration. Then proceed with step 2 below.
Step 2: Download upgraded CCM software, P/N 30677016. Auto calibration of the DMM's is included in the new software and will start immediately
after the downloading is completed. The auto calibration procedure takes approximately 30 seconds (leave the key in the ignition in position II for at
least one minute after the software download is completed).
Step 3: Check full functionality of the air distribution and temperature controls. Read CCM diagnostics to ensure that no fault codes were set during the
software download.
If a communication/identification problem is detected, it may be the result of a communication failure between the Seat Heater Module (SHM) and the
CCM. Replace the Seat Heater Module to solve this problem.
Warranty Information
NEXT PAGE >
< PREV PAGE