< PREV PAGE
NEXT PAGE >
XC90 AWD L5-2.5L Turbo VIN 59 B5254T2 (2005)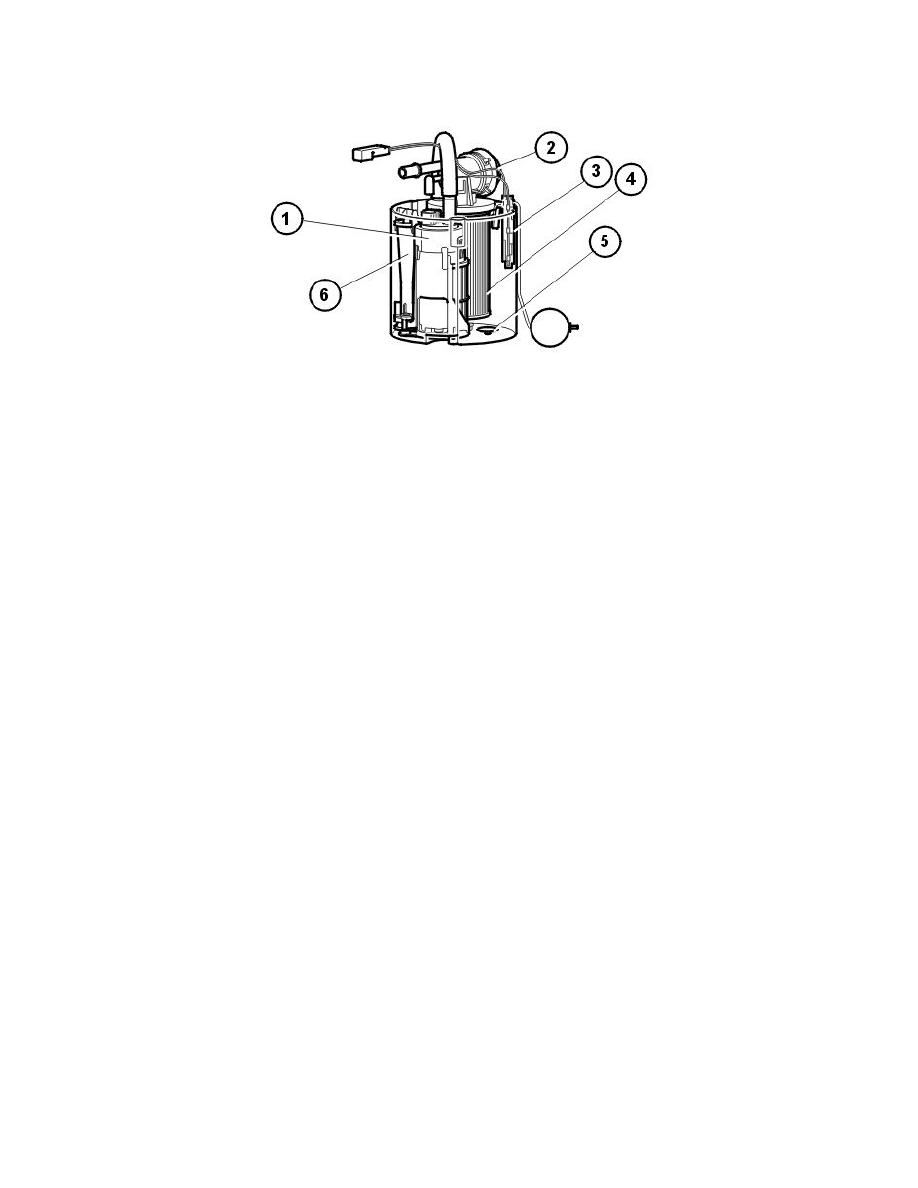 The pulse-width modulated (PWM) signal from the engine control module (ECM) to the fuel pump control module can be read using VIDA.
The fuel pump control module is on the outside on the right-hand side of the fuel tank.
Fuel pump (only vehicles with demand controlled fuel pumps)
The function of the fuel pump is to ensure that the pressure is correct at the delivery lines for the injectors when requested by the fuel pump control
module.
The fuel pump consists of:
1. An electrical pump with an integrated safety valve
2. A pressure equalization valve. This valve equalizes rapid pressure peaks which occur, for example, when the injectors close during engine braking.
It also contains a non-return valve which ensures that the pressure in the system does not drop when the engine is switched off
3. Fuel level sensor
4. Fuel filter, cannot be replaced separately
5. Relief valve, releases fuel into the pump housing
6. Ejector pump, continuously fills the pump housing with fuel. The fuel always flows from the fuel pump through the ejector and back to the pump
housing.
The fuel pump is supplied with battery voltage by the fuel pump control module and is grounded in the car body.
The engine control module (ECM) has diagnostics for the fuel pump function to ensure that the pressure is correct. Also see Fuel pressure regulation,
diagnostics See: Powertrain Management/Computers and Control Systems/Description and Operation/Fuel Pressure Regulation, Diagnostics.
The fuel pump can be activated and its status read off using VIDA.
The pressure in the fuel rail can be measured by connecting a manometer to a nipple. This nipple is on the right-hand end of the fuel rail.
Brake light switch
< PREV PAGE
NEXT PAGE >