< PREV PAGE
NEXT PAGE >
XC90 AWD L6-2.9L Turbo VIN 91 B6294T (2004)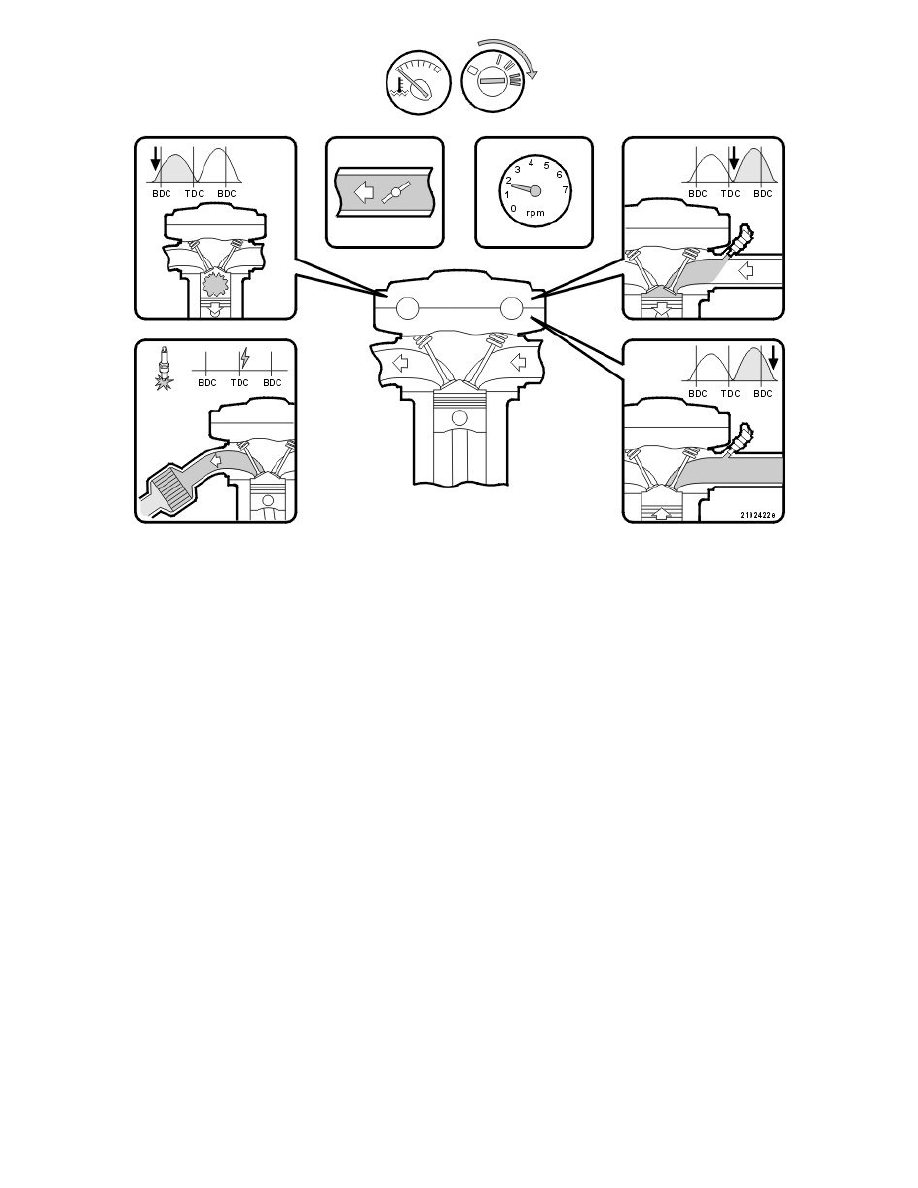 Ignition timing
The combustion of the fuel film on the cylinder walls is improved by retarding the ignition.
Retarded ignition reduces the efficiency of the engine and the heat energy which is generated is released with the exhaust gases. This is used to heat the
three-way catalytic converters (TWC).
Exhaust camshaft (turbocharged engines)
By opening the exhaust valve late, combustion takes place over a relatively long period. The film of fuel on the cylinder walls combusts, reducing the
exhaust emissions.
Intake camshaft
By opening/closing the intake valve late:
-
so that there is little or no overlap, a predetermined pressure difference is maintained between the intake manifold and the combustion
chamber/cylinder. The lower pressure in the cylinder ensures that all the injected fuel reaches the cylinder. This allows the Engine Control Module
(ECM) to calculate and control the fuel quantity required in the combustion phase in advance
-
maintains a high and stable pressure in the intake manifold (due to the upwards movement of the piston). Stable high pressure means that the
vaporization of the fuel which has condensed on the walls of the intake manifold can be predicted.
Double continuous variable valve timing (CVVT)
CVVT on both the intake camshaft and the exhaust camshaft means that the valve overlap can be changed to a greater degree than on engines where only
one of the camshafts is controlled. Valve overlap is the extent to which the intake and exhaust valves (on the same cylinder) are open at the same time.
The advantages of continuous variable valve timing (CVVT) are used in different operating conditions:
-
during cold starting and during the warm-up phaseswhen the intake camshaft and exhaust camshaft are set late. This reduces the emissions
-
during idle and when the engine is at operating temperaturewhen the exhaust camshaft is set to early and the intake camshaft is set to late.
This results in small valve overlap, reducing exhaust gas recirculation (EGR) and ensuring stable idling
-
at part loadwhen both the exhaust and intake camshaft are set to relatively late, with greater valve overlap. Greater valve overlap results in
internal exhaust gas recirculation (EGR) which reduces the release of nitrous oxide. This also limits the incoming fuel/air mixture to the cylinder.
As a result, the throttle does not need to reduce the supply of air, thereby reducing "pump losses" and lowering the fuel consumption. At higher
engine speeds (RPM), the camshafts are set for a smaller valve overlap. The exhaust camshaft is set earlier, the intake camshaft later. This
provides an optimum fuel/air mixture to the cylinder. Reduces internal exhaust gas recirculation (EGR).
Turbocharger (TC) control system
< PREV PAGE
NEXT PAGE >