Steering Column Control Module|Service and Repair|Page 2332 >
< Starter Relay|Locations
XC90 AWD L6-3.2L VIN 98 B6324S (2007)
Relays and Modules - Steering and Suspension
Relays and Modules - Steering
Steering Column Control Module
Component Information
Service and Repair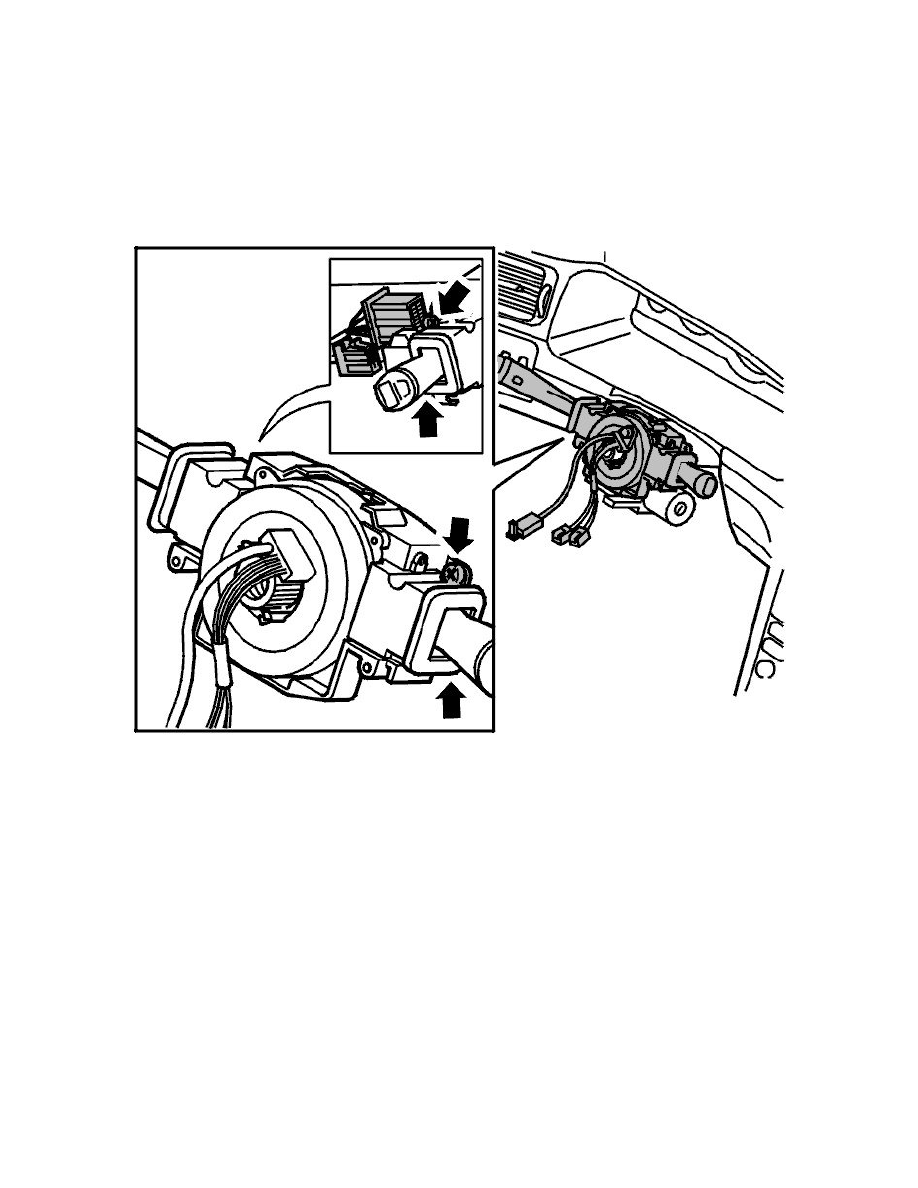 Steering Column Control Module: Service and Repair
Steering wheel module (SWM), replacing
Removal
Steering wheel module (SWM)
Remove the steering wheel. See Steering wheel, replacing See: Steering and Suspension/Steering/Steering Wheel/Service and Repair/Steering Wheel,
Replacing. Remove the steering column covers. See Replacing the steering column covers See: Steering and Suspension/Steering/Steering
Column/Steering Column Cover/Service and Repair 
Remove:
-
2 screws
-
the connectors
-
the control module with stalks and the contact reel by releasing the catches on the underside
-
windscreen wiper and direction indicator stalks. See Washer / wiper switch, replacing See: Sensors and Switches/Sensors and Switches - Wiper
and Washer Systems/Wiper Switch/Service and Repair and Turn signal switch, replacing, TF-80SC AWD, AW50/51 AWD, M66 AWD See:
Lighting and Horns/Sensors and Switches - Lighting and Horns/Turn Signal Switch/Service and Repair 
-
the contact reel. See Contact reel / steering wheel angle sensor, replacing See: Restraint Systems/Air Bag Systems/Clockspring Assembly / Spiral
Cable/Service and Repair/Contact Reel/Steering Wheel Angle Sensor, Replacing 
The control module is now exposed.
Installation
-
the contact reel and steering wheel angle sensor. See Contact reel / steering wheel angle sensor, replacing See: Restraint Systems/Air Bag
Systems/Clockspring Assembly / Spiral Cable/Service and Repair/Contact Reel/Steering Wheel Angle Sensor, Replacing 
-
windscreen wiper and direction indicator stalks. See Washer / wiper switch, replacing See: Sensors and Switches/Sensors and Switches - Wiper
and Washer Systems/Wiper Switch/Service and Repair and Turn signal switch, replacing, TF-80SC AWD, AW50/51 AWD, M66 AWD See:
Lighting and Horns/Sensors and Switches - Lighting and Horns/Turn Signal Switch/Service and Repair 
-
the control module with the levers and contact reel. Check that the hooks engage underneath
-
the connectors
-
2 screws. Tighten
-
the steering column covers. See Replacing the steering column covers See: Steering and Suspension/Steering/Steering Column/Steering Column
Cover/Service and Repair 
Relays and Modules - Steering and Suspension
Relays and Modules - Steering
Steering Column Control Module
Component Information
Service and Repair
Steering Column Control Module|Service and Repair|Page 2332 >
< Starter Relay|Locations