< PREV PAGE
NEXT PAGE >
XC90 AWD V8-4.4L VIN 85 B8444S (2005)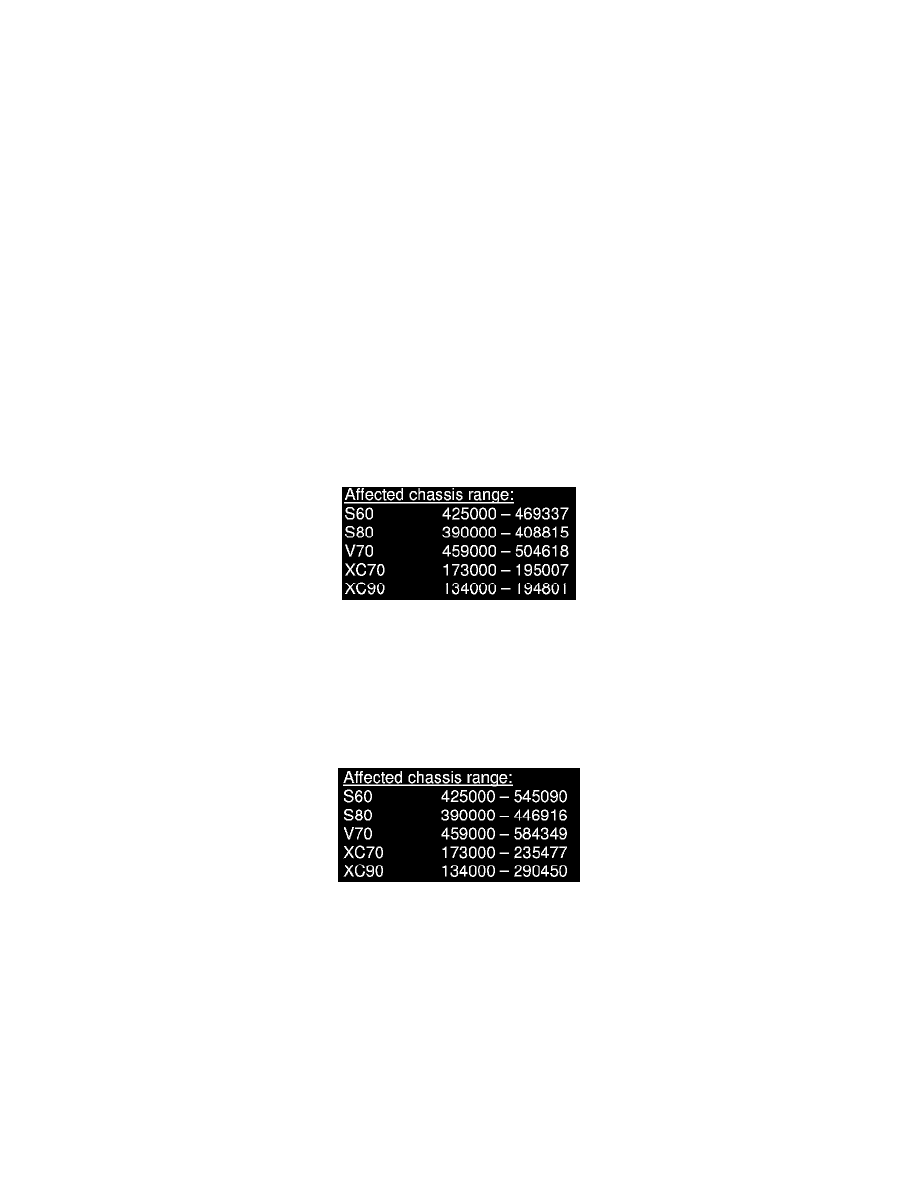 Central Control Module: All Technical Service Bulletins
Antitheft - No Start/DTC's CEM-6C48 or CEM-6C49
NO: 36-59
DATE: 5-04-2007
MODEL: 
S80, XC90, V70, XC70, S60
MODEL YEAR: 
2005-2006
CHASSIS: 
See below
SUBJECT: 
No Crank No Start: CEM-6C48, CEM-6C49, ECM-710B, ECM-720A, ECM-P160200, ECM-U014100
REFERENCE: 
VIDA
DESCRIPTION:
Note:
This TNN covers two related concerns with different affected chassis ranges.
1.
MY 2005: DTC CEM-6C48, CEM-6C49
The customer may experience a no crank no start condition (starter motor not activated. An error message saying "Start prohibited, try again" will
be displayed in the Driver Information Module (DIM) display and Diagnostic Trouble Codes (DTC) CEM-6C48 or CEM-6C49 will be stored in
the Central Electronic Module (CEM). The engine will usually not start even after several attempts.
Note:
If DTC ECM-710B, ECM-720A, ECM-P160200 or ECM-U014100 is set in the Engine Control Module (ECM), please refer to 2) below.
2.
MY2005 - 2006: CEM-6C48 + ECM-710B, ECM-720A, ECM-P160200, ECM-U014100
The CEM may lose its EPROM memory. When this condition occurs, it will not be possible to start the car, since all security codes are lost
including the Immobilizer PIN codes.
Involved DTCs:
Turbo engines: ECM-710B, CEM-6C48
Normally aspirated engines except V8: ECM-720A, CEM-6C48
Normally aspirated V8 engines: ECM-P160200, ECM-U014100, CEM-6C48
SERVICE:
< PREV PAGE
NEXT PAGE >