Exhaust System - Vibration Felt In Floor At Low RPM's|Page 1539 >
< Coolant Temperature Sensor/Switch (For Computer)|Locations
XC90 FWD L6-3.2L VIN 96 B6324S2 (2010)
Exhaust System
Exhaust Pipe/Muffler Hanger
Component Information
Technical Service Bulletins
Customer Interest for Exhaust Pipe/Muffler Hanger:
TJ22050
Nov
09
Exhaust System - Vibration Felt In Floor At Low RPM's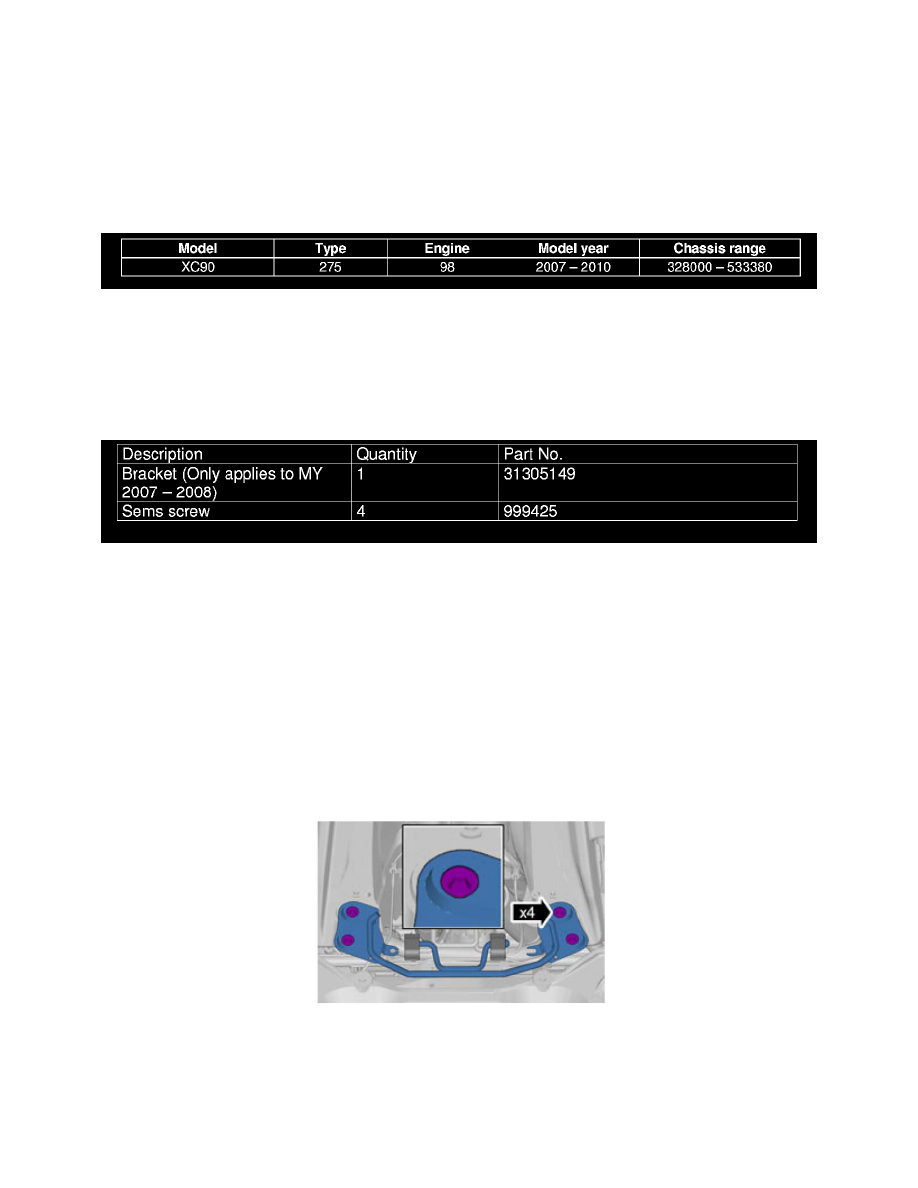 Exhaust Pipe/Muffler Hanger: Customer Interest
Exhaust System - Vibration Felt In Floor At Low RPM's
Retailer Technical Journal 22050
Si6 exhaust mounting, 
Harsh noise and vibration
Date 11-25-2009
Note!
If using a printed copy of this Retailer Technical Journal, first check for the latest online version.
AFFECTED VEHICLES:
DESCRIPTION:
When diagnosing a harsh noise and/or vibrations from the front floors at low engine RPMs (up to 2000 RPM) and high load, attention should be paid to
the bushings (or lack there of) in the front exhaust mounting bracket. Vehicles after the chassis break in the header have an improved bushing in the
bracket.
MATERIALS:
SERVICE:
On a vehicle with the symptom described above, follow the instructions below to install the improved mounting bushings.
1.
Note! 
Some variation in the illustrations may occur, but the essential information is always correct.
Steps 2-3 apply to model year 2007-2008 vehicles which may not have the rubber bushings and sleeves.
Removal
2. Remove the:
-
Bracket
Installation
Exhaust System
Exhaust Pipe/Muffler Hanger
Component Information
Technical Service Bulletins
Customer Interest for Exhaust Pipe/Muffler Hanger:
TJ22050
Nov
09
Exhaust System - Vibration Felt In Floor At Low RPM's
Exhaust System - Vibration Felt In Floor At Low RPM's|Page 1539 >
< Coolant Temperature Sensor/Switch (For Computer)|Locations