Interior - Door Switch Buttons Cracking|Page 2792 >
< Interior - Door Switch Buttons Cracking|Page 2786
XC90 FWD L6-3.2L VIN 98 B6324S (2007)
Customer Interest for Power Door Lock Switch:
TJ18299
Nov
09
Interior - Door Switch Buttons Cracking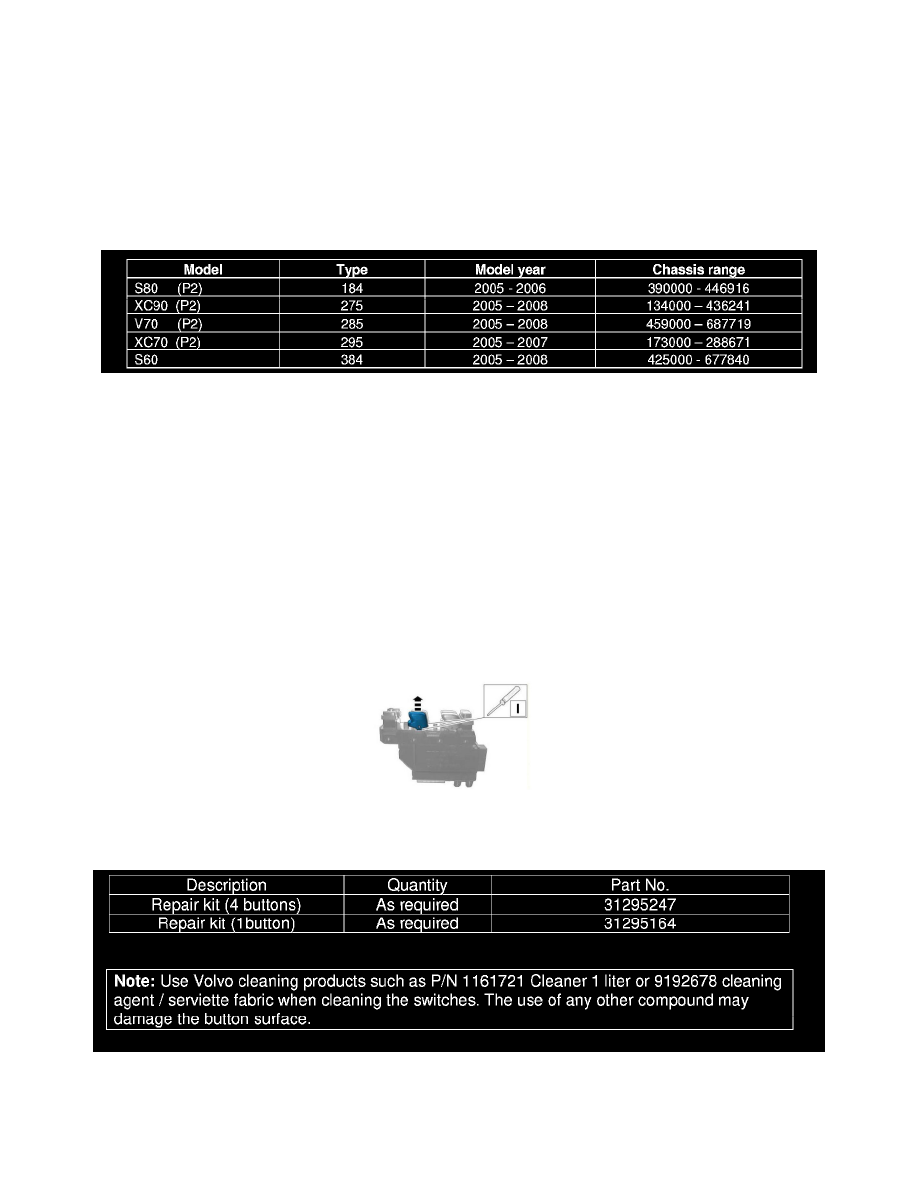 Power Door Lock Switch: Customer Interest
Interior - Door Switch Buttons Cracking
Retailer Technical Journal 18299 
DDM/PDM, Cracks on the switch surface
Date 11-12-2009
Reference: VIDA repair instruction
Note!
If using a printed copy of this Retailer Technical Journal, first check for the latest online version.
AFFECTED VEHICLES:
PLEASE UPDATE YOUR FILES.
DESCRIPTION:
Cracks in buttons on DDM (Drivers door module), rear door switches and PDM (Passenger Door module) have been found on vehicles after 1-2 years,
mostly in high humidity markets. The button is manufactured in several steps with different material layers. The material used in the button is required
for good illumination properties, but has also low chemical resistance.
PRODUCT MODIFICATION:
After August 18, 2007 (date code 18/08/07) the melt temperature was increased to relieve residual stress in the button molding process.
SERVICE:
Replace the button according to the VIDA repair instruction. Group 36/other electrical equipment/Electrical connector/Window control switch button.
There is one kit with 4 buttons P/N 31295247 and a single button with P/N 31295164.
MATERIALS:
Customer Interest for Power Door Lock Switch:
TJ18299
Nov
09
Interior - Door Switch Buttons Cracking
Interior - Door Switch Buttons Cracking|Page 2792 >
< Interior - Door Switch Buttons Cracking|Page 2786