Start / Stop Switch >
< Seat Sensor/Switch|Locations
XC90 FWD L6-3.2L VIN 98 B6324S (2007)
Sensors and Switches - Starting and Charging
Ignition Switch
Ignition Switch Lock Cylinder
Component Information
Technical Service Bulletins
Starting System - Ign. Key Won't Turn Past Position 1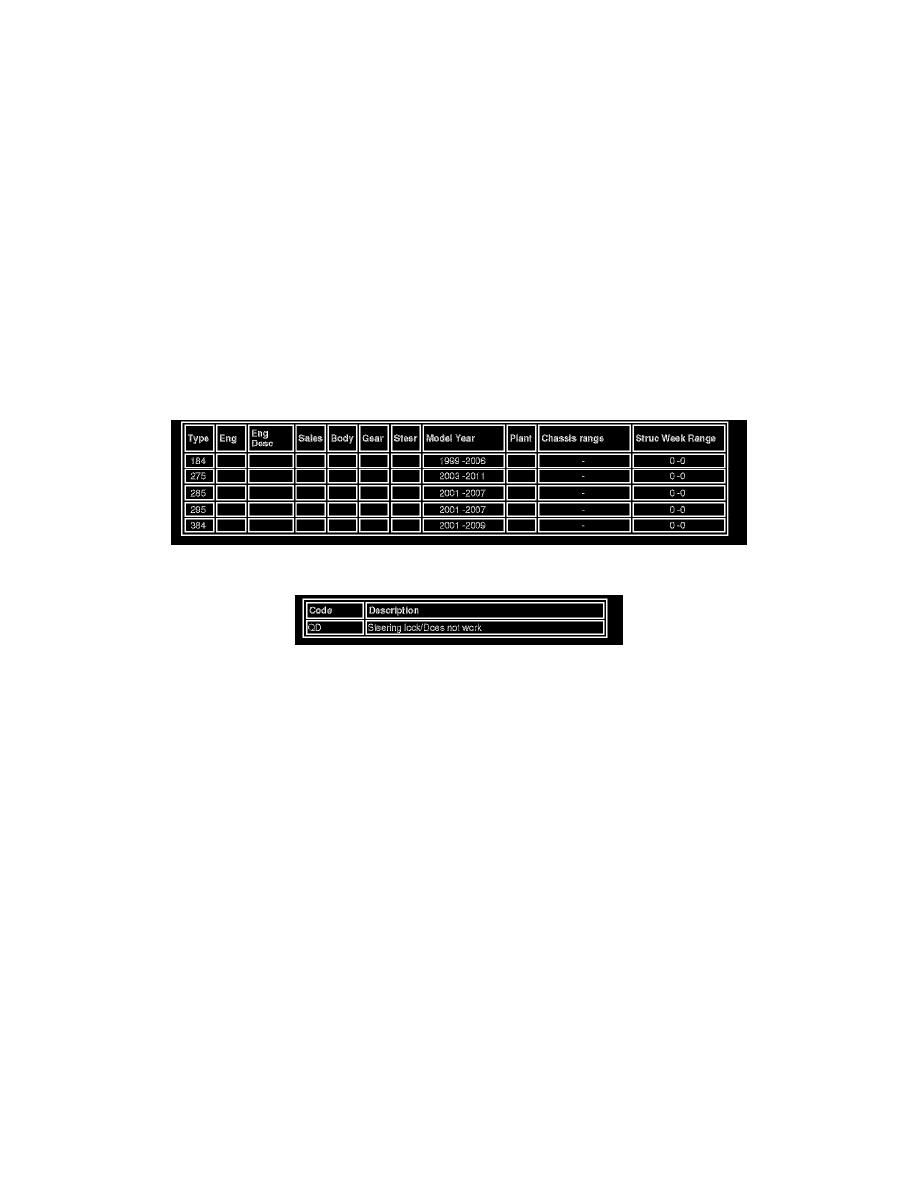 Ignition Switch Lock Cylinder: Technical Service Bulletins
Starting System - Ign. Key Won't Turn Past Position 1
Title Ignition key does not turn past position I (1).
Ref No US24374.1.1 en-US
Issuer -
Partner 3 US 7510 Volvo Cars North America
Func Group 6400
Func Desc steering
Status Released
Status Date 2011-02-22
Issue Date 2011-02-18
Reference
Attachment
Vehicle Type
CSC
DTC
Text
CSC = Customer Symptom Code
Note!
If using a printed copy of this Retailer Technical Journal first check for the latest Online version.
DESCRIPTION:
An ignition key that can not be turned past Position 1(1) is most likely caused by a faulty ignition column lock.
SERVICE:
Replace the column lock according to the procedure in VIDA function group 6400 "Steering wheel lock replacement"
VSTG OPERATION NUMBER: 64108 Steering wheel lock replacement Time Allowance: See VSTG
- Claims may be submitted under the new car warranty when there is a documented customer complaint using claim type: 01
Sensors and Switches - Starting and Charging
Ignition Switch
Ignition Switch Lock Cylinder
Component Information
Technical Service Bulletins
Starting System - Ign. Key Won't Turn Past Position 1
Start / Stop Switch >
< Seat Sensor/Switch|Locations