< PREV PAGE
NEXT PAGE >
1 Series E81 130i (N52K) 3-door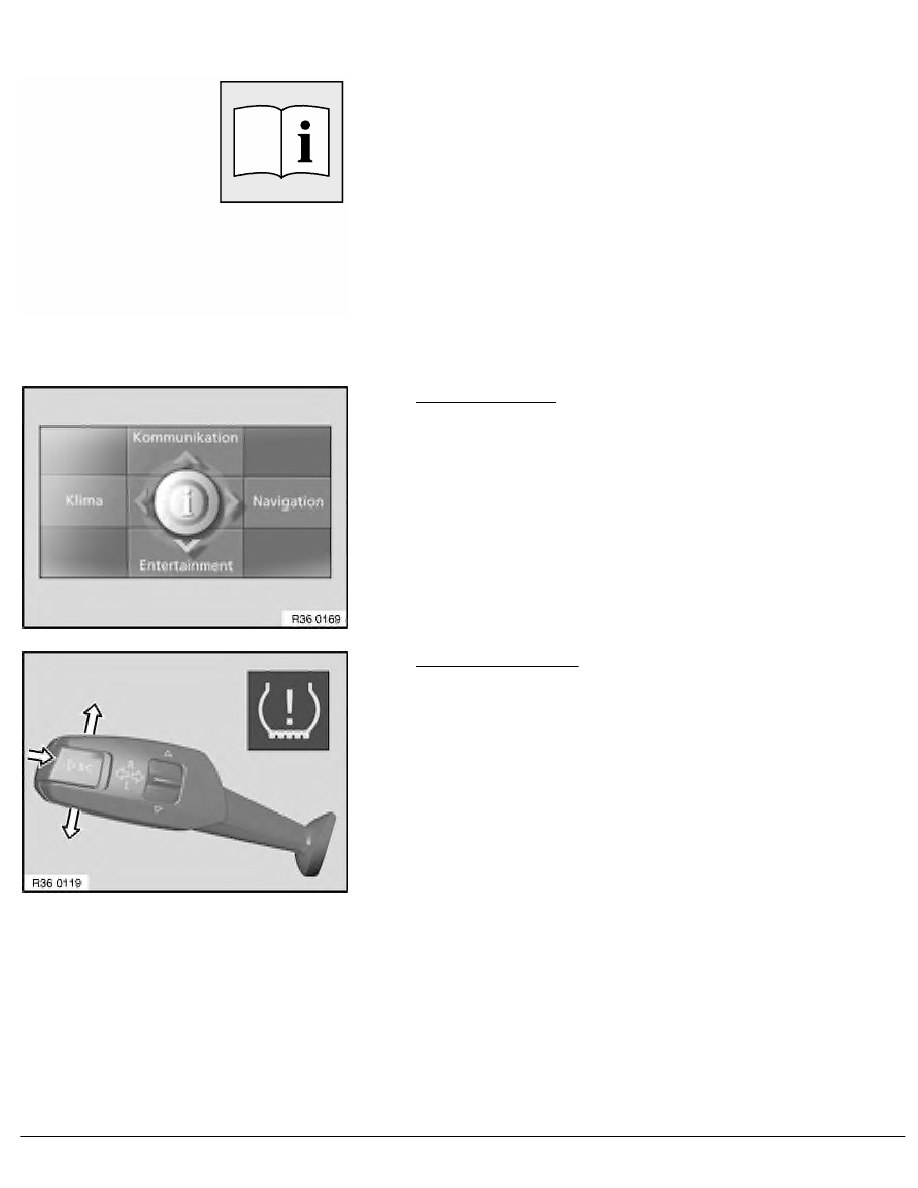 36 11 000
Initializing Run Flat Indicator (RPA) 
Note:
Checking the tyre pressure is based on monitoring the speeds of
the wheels in relation to each other. A tyre puncture is detected
and signalled by way of a deviation in specific speed ratios.
The four tyres mounted on the vehicle are monitored while the
vehicle is moving.
Initialization must be carried out in each case immediately after
tyre pressures have been corrected, after tyres/wheels have been
replaced and after repairs to the air spring system.
Important!
The Run Flat Indicator does not function when the vehicle is
driven with the compact spare wheel.
Version with iDrive:
- 
Press controller to call up  i menu
- 
Select Settings and press controller
- 
Select Car/Tyres and press controller
- 
If necessary, switch to the top field. Turn controller until 
Tyres: RPA is selected and press controller
- 
Start engine but do not drive off
- 
Select Confirm tyre pressure and press controller
- 
Drive off. Initialization is completed during the journey
Version without iDrive:
- 
Start engine but do not drive off
- 
Touch direction indicator lever up or down until the
corresponding symbol and RESET appear
- 
Press PC button to confirm selection of Run Flat Indicator
- 
Press PC button for approx. 5 seconds until a check/tick
appears after RESET
- 
Drive off. Initialization is completed during the journey
RA  Initializing Run Flat Indicator (RPA)
BMW AG - TIS
22.01.2013  06:13
Issue status (12/2007) Valid only until next DVD is issued
Copyright
Page  - 1 -
< PREV PAGE
NEXT PAGE >