NEXT PAGE >
< PREV PAGE
Fleetwood V8-368 6.0L VIN 9 FI (1982)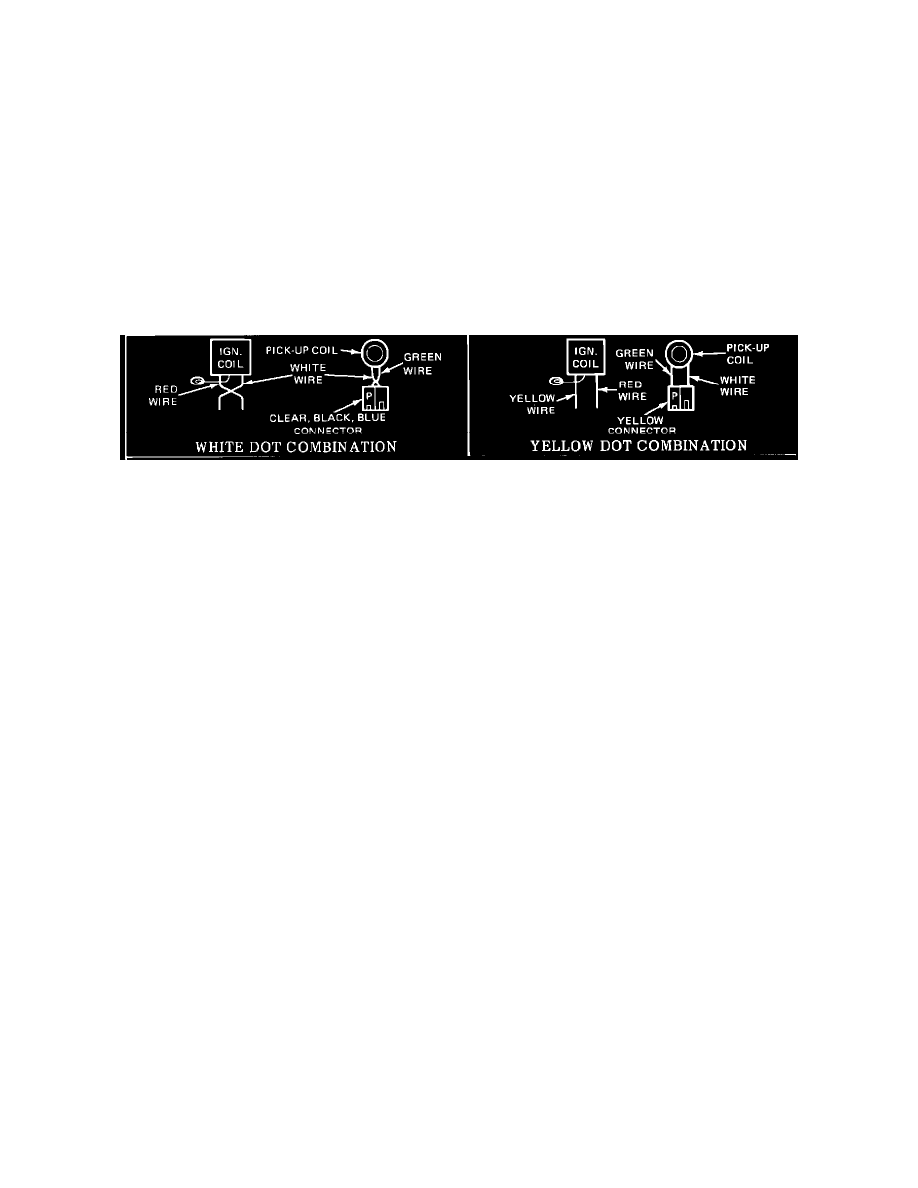 Pick-Up Coil: All Technical Service Bulletins
Engine - No Start/Hard Start/Poor Performance
Bulletin No. T 84-4 7 File In Group  6C
Number
73
Date
Feb. '84
SUBJECT:
NO START OR HARD START WITH POOR PERFORMANCE CAUSED BY INCORRECT IGNITION COIL
/PICKUP COIL COMBINATIONS
MODELS AFFECTED: ALL MODELS - 1976-1984 (EXCLUDING CIMARRON)
Hard starting or no starts can result from wrong ignition and pickup coils or ignition coil/pickup coil mismatch in HEI equipped vehicles. A car with a
coil mismatch may start and run poorly with a scattered coil primary pattern and erratic secondary pattern when viewed on an ignition scope.
Ignition and pickup coils are wound to compensate for factors such as battery location and starter cable routing. The starter or starter solenoid inrush
current causes a transient voltage to appear in the pickup coil. A positive transient will trigger the HEI module, causing the coil to energize. This will
result in an attempted firing of a plug. The proper pickup coils are matched to the vehicle application and are wound such that the transient voltage is a
negative voltage spike which the module will ignore.
FIGURE 1 - IGNITION/PICKUP COIL COMBINATION
Two combinations of ignition/pickup coils have been used in Cadillac V-8 and V-6 cars since 1979; a "yellow dot" and a "white dot" (see Figure 1).
The white and yellow dot igniting coils and pick-up coils can be identified by wiring color and configuration as shown in Figure 1. A distributor built
with a yellow or white dot coil combination can sometimes be identified by a white dot or yellow dot on top of the distributor, on the coil cover.
Only two ignition coil part numbers are used to service Cadillac integral coil distributors from 1976 to present. The part numbers are listed on the
following page with applications. (NOTE: The September, 1983 edition of "1983 C-D-E-K-Z 1984 D-E-K-Z Parts and Illustrations Catalog" lists
incorrect service part numbers for both types of coils. The part number listed is a production part number. If ordered, the part numbers below will be
provided.)
Several pick-up coils have been used from 1976 to present. They are electrically the same with different connectors for four, five and seven terminal HEI
modules. The green and white wires are reversed in the connector for yellow dot and white dot coils as shown in Figure 1. Consult the GM Parts Book
for part numbers for specific applications.
Pick-Up/Ignition coil applications are as follows:
YELLOW DOT
WHITE DOT
(Ign. Coil P/N 1985473)
(Ign. Coil P/N 1985474)
76-77
C, D, E, Z
76-77
K
78-79
425 CID
78-80
350 CID (EFI)
80-84
368 CID
80-82
4.1L V-6
82-84
HT4100 FWD (E/K)
82-84
HT4100 RWD (RWD-C & DW)
Most pickup/ignition coil mismatch problems are created by replacing either an ignition coil or a pickup coil with a wrong part number. Other cases have
occurred when "E/K" (front wheel drive) distributors are swapped with "C", "D", "Z" distributors (rear wheel drive) or vice versa. For an HT4100, the
distributors are identical except for the ignition coil/pickup coil combination and part number.
NEXT PAGE >
< PREV PAGE