< PREV PAGE
NEXT PAGE >
Fleetwood V8-368 6.0L VIN 9 FI (1982)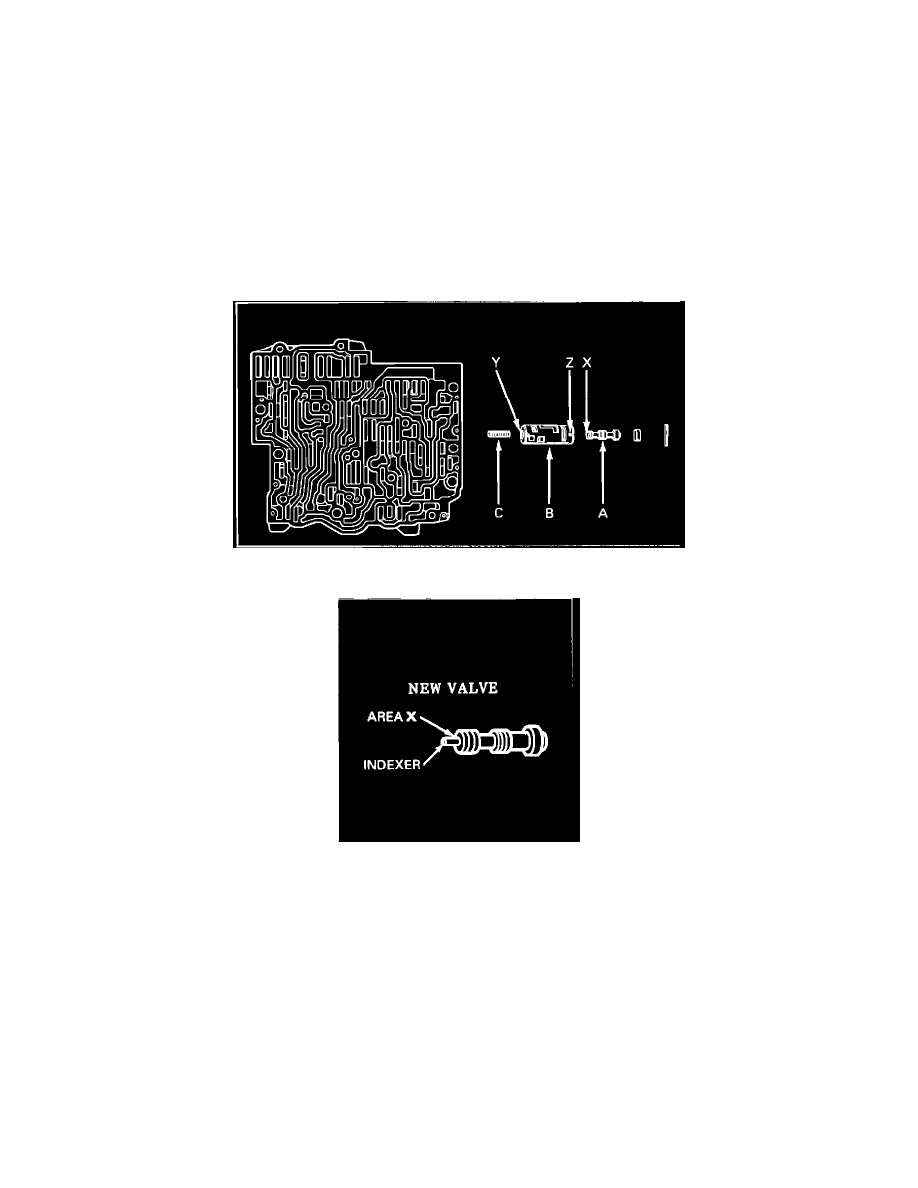 Accumulator: Customer Interest
A/T - Slip Bump 1-2 and 3-4 Shift
Bulletin No. T   
84-62
File In Group    
7
Number
99
Date
Apr. '84
SUBJECT:
SLIP BUMP 1-2 AND 3-4 SHIFT, THM 325-4L - THM 200-4R
MODELS AFFECTED: 1982-1983 ELDORADO, SEVILLE, DEVILLE AND BROUGHAM
1982 and 1983 Cadillacs equipped with THM 200-4R or 325-4L transmissions may experience harsh 1-2 and/or 3-4 upshifts at any throttle position.
This condition may result from sticking accumulator pistons due to excessively smooth or glazed over bores in the accumulator housing. Additionally, on
Eldorado and Seville models equipped with an HT4100 engine and THM 325-4L model "AJ" transmission, this condition may result from a
mispositioned accumulator valve return spring in the control valve body assembly.
FIGURE 1 - ACCUMULATOR VALVE ASSEMBLY
FIGURE 2 - ACCUMULATOR VALVE
The accumulator valve return spring condition is caused by accumulator valve movement (refer to Figure 1). Normal accumulator valve travel allows the
valve (part "A") to protrude through the accumulator valve bushing (part "B"). When this occurs, the return spring (part "C") can become mispositioned
and catch on the bushing end. A recent production change includes a spring indexer on the end of the valve (refer to Figure 2, area "X"). Past models can
be repaired by installing a service kit containing a new design valve and bushing.
When servicing THM 200-4R or THM 325-4L transmissions for harsh 1-2 and/or 3-4 upshifts, refer to the following service procedure.
Service Procedure
1.
Remove the oil pan per Section 7A of the 1983 Service Information Manual (SIM).
< PREV PAGE
NEXT PAGE >