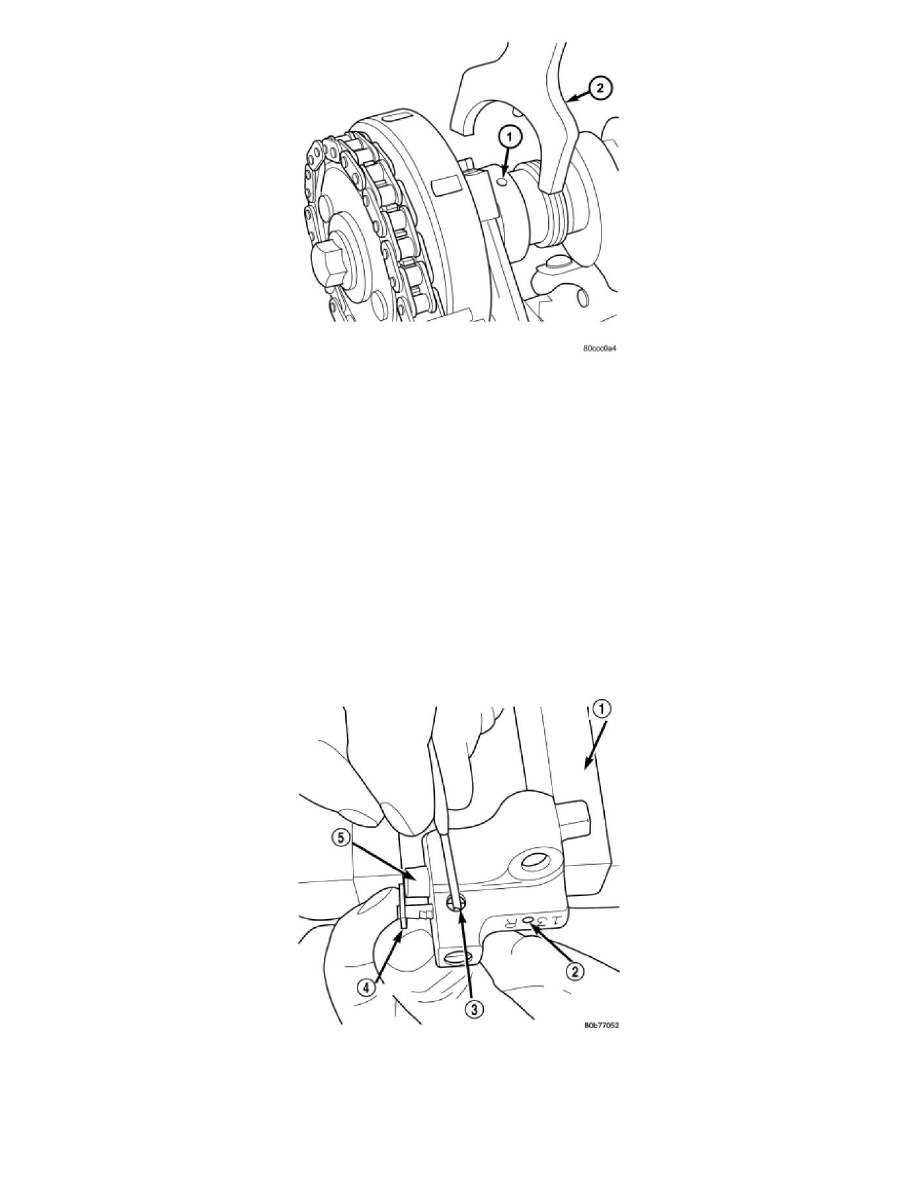 CAUTION: Care should be taken not to damage camshaft target wheel. Do not hold target wheel while loosening or tightening camshaft
sprocket. Do not place the target wheel near a magnetic source of any kind. A damaged or magnetized target wheel could cause a vehicle no
start condition.
CAUTION: Do not forcefully rotate the camshafts or crankshaft independently of each other. Damaging intake valve to piston contact will
occur. Ensure negative battery cable is disconnected to guard against accidental starter engagement.
14. Remove left and right camshaft sprocket bolts.
15. While holding the left camshaft steel tube Camshaft Holder 8428 (2), remove the left camshaft sprocket. Slowly rotate the camshaft approximately
5 degrees clockwise to a neutral position.
16. While holding the right camshaft steel tube with Camshaft Holder 8428 (2), remove the right camshaft sprocket.
17. Remove idler sprocket assembly bolt.
18. Slide the idler sprocket assembly and crank sprocket forward simultaneously to remove the primary and secondary chains.
19. Remove both pivoting tensioner arms and chain guides.
20. Remove primary chain tensioner.
Timing Chain & Sprockets - Installation
INSTALLATION
1. Using a vise, lightly compress the secondary chain tensioner piston until the piston step (5) is flush with the tensioner body. Using a pin or suitable
tool, release ratchet pawl (4) by pulling pawl back against spring force through access hole on side of tensioner. While continuing to hold pawl
back, Push ratchet device to approximately 2 mm from the tensioner body. Install Tensioner Pins 8514 (2) into hole on front of tensioner. Slowly
open vise to transfer piston spring force to lock pin.
2. Position primary chain tensioner over oil pump and insert bolts into lower two holes on tensioner bracket. Tighten bolts to 28 Nm (250 in. lbs.).
3. Install right side chain tensioner arm. Install Torx(R) bolt. Tighten Torx(R) bolt to 28 Nm (250 in. lbs.).