< PREV PAGE
NEXT PAGE >
PB 150 V8-318 5.2L VIN T 2-BBL (1983)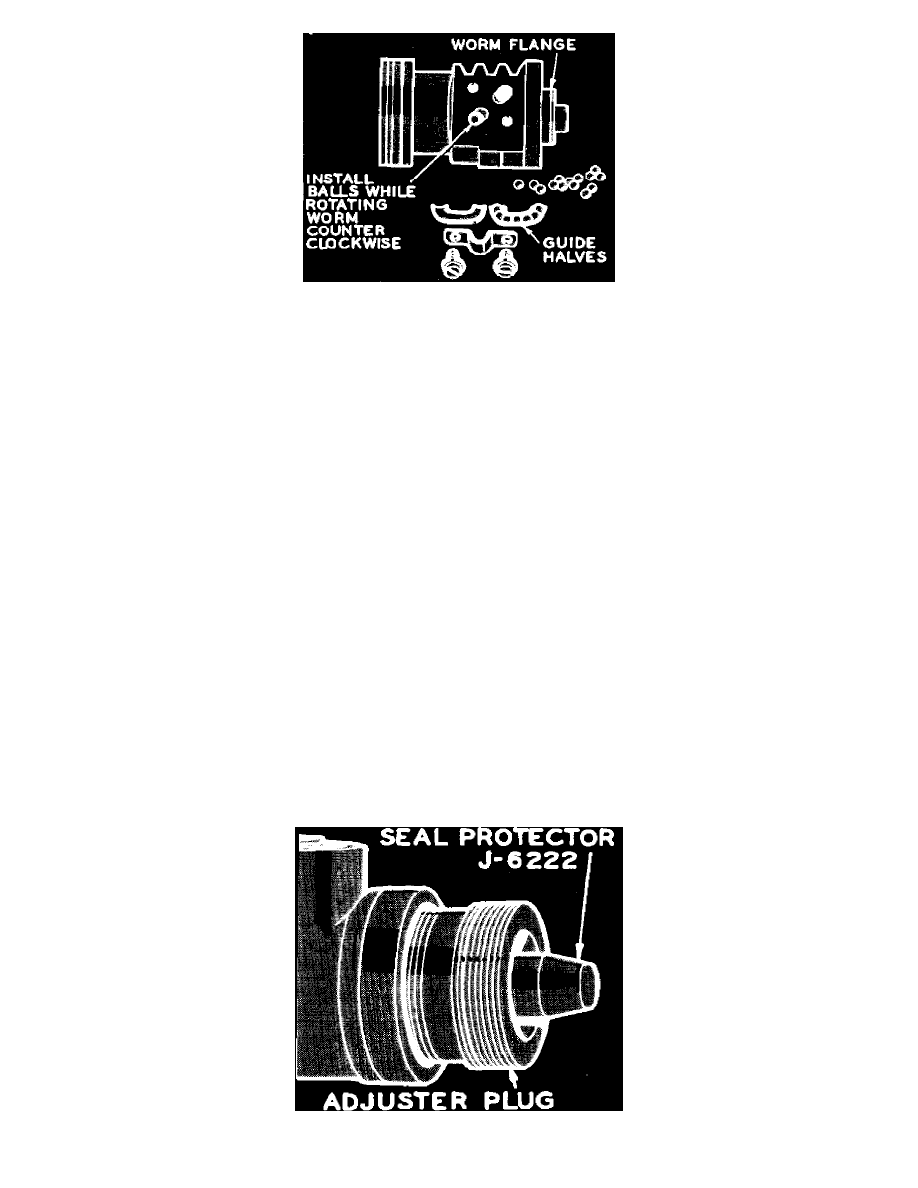 Fig. 19 Loading rack-piston nut
1. Lubricate and install new ring back-up seal and Teflon piston ring on rack-piston nut, being careful ring and seal do not twist during installation.
2. Insert worm into rack-piston nut to bearing shoulder.
3. Align ball return guide holes with worm groove. Load balls into guide hole nearest the teflon piston ring while slowly rotating worm to left,
feeding balls through circuit. If balls are installed properly, the worm should turn out of the rack-piston nut.
4. Fill one-half of ball return guide with remaining balls. Place other guide over balls and plug each end with heavy grease to prevent balls from
falling out when installing guides into rack-piston nut.
5. Insert guides into guide holes of rack-piston nut. Make sure black ball in guide is installed next to white ball in rack piston. Guides should fit
loosely.
Install Stub Shaft Flange
Rotate stub shaft slightly over two complete turns from either extreme right or left turn. This will place gear in center position, which will place torsion
bar pin through stub shaft in a straight up and down position.
Rotate flange so the bolt with the large head is in top position. Visually align the block tooth in the serrations of the flange with the torsion bar pin and
install flange on stub shaft. Tighten flange clamping bolt.
Refitting Rack-Piston Balls
Do not refit balls unless the steering is loose. If such is the case, a thrust adjustment and over-center adjustment should correct the problem if it lies in
the steering gear. If balls are pitted or rough, then select the proper ball size for proper adjustment.
If the torque reading obtained above is too high or too low (on new balls only), disassemble and reassemble, using the next size smaller (or larger)
balls and recheck worm preload.
A rack-piston nut with a ball size of 7 does not have a number stamped on the flat surface. For ball sizes other than 7, the ball size is stamped on the
flat surface of the rack-piston nut. Ball sizes are numbered from 6 to 11, with 6 being the smallest and 11 the largest. Ball sizes are graduated in
increments of 0.00008 inch from 0.28117 inch to 0.28157 inch.
Sub-Assemblies, Install
Fig. 25 Installing adjuster plug
< PREV PAGE
NEXT PAGE >