< PREV PAGE
NEXT PAGE >
PB 150 V8-318 5.2L VIN T 2-BBL (1983)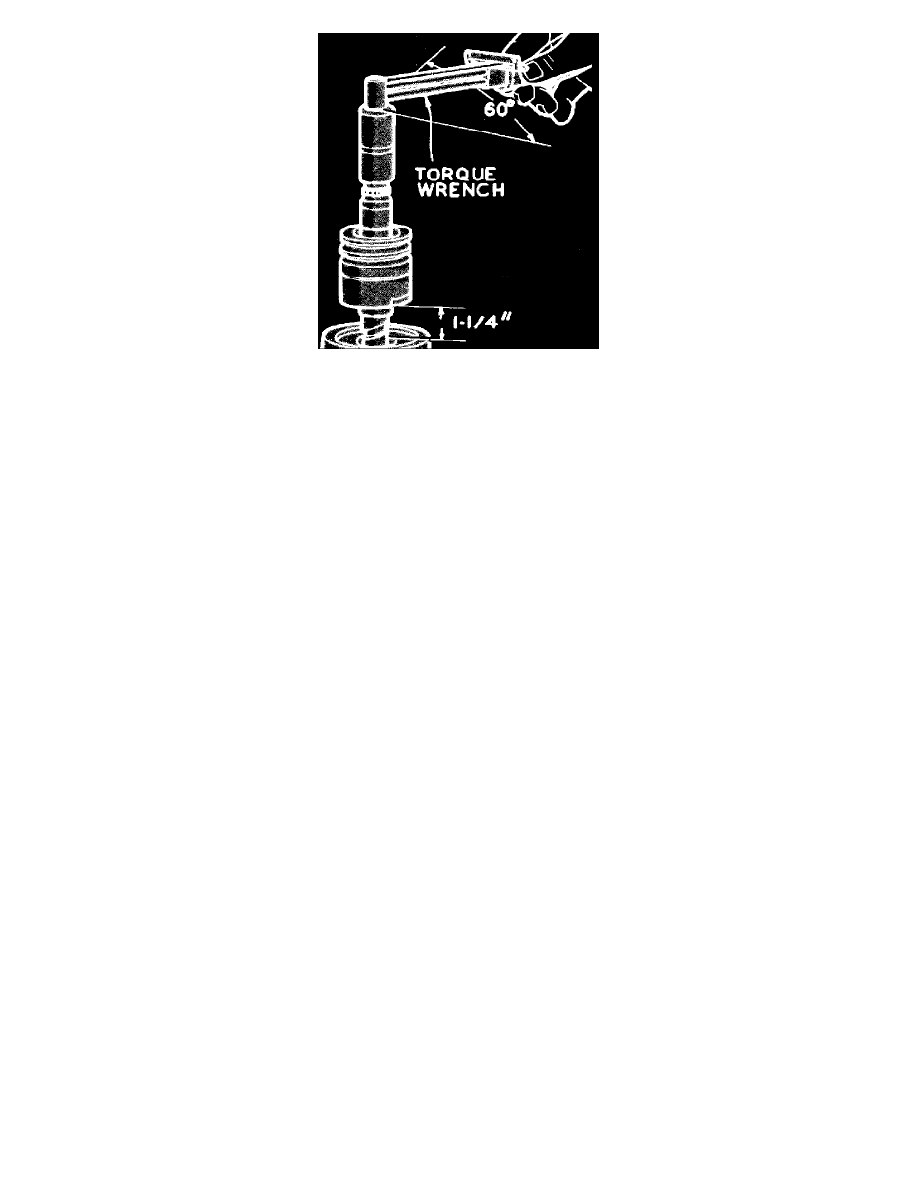 Fig. 20 Checking worm preload
The worm groove is ground with a high point in the center. When the rack-piston nut passes over this high point, a preload of a 1 to 4 inch pounds
torque should be obtained.
1. With worm pointing up, clamp rack-piston nut in a vise with soft jaws (do not hold rack-piston nut in area of Teflon ring).
2. Place valve on worm, engaging worm drive pin.
3. Rotate worm until it extends 11/4 inch from rack-piston nut to thrust bearing face. This is the center position.
4. Attach an inch pound torque wrench with socket on stub shaft. Oscillate wrench through a total arc of approximately 60° in both directions several
times and take a reading. The highest reading obtained with worm rotating should be between 1 and 4 inch pounds. Take a torque reading pulling
the torque wrench to the right and a reading pulling the wrench to the left. Total both readings and take one half of this total as the average torque.
Do not use a torque wrench having maximum torque reading of more than 100 inch pounds.
Install Housing Lower End Plug
1. Install new housing end plug O-ring seal.
2. Insert end plug into gear housing and seat against O-ring. Slight pressure may be necessary to seat end plug properly.
3. Install end plug retainer ring so end of ring extends over and at least 1/2 inch beyond ring removal assist hole.
Install Pitman Shaft Gear & Side Cover
1. Install stub shaft flange and turn steering worm until center groove of rack-piston is aligned with center of pitman shaft needle bearings.
2. Install new side cover O-ring.
3. Install pitman shaft gear so that center tooth of gear meshes with center groove of rack-piston. Make sure side cover O-ring is in place before
pushing cover against housing.
4. Install and tighten side cover screws.
Install Rack-Piston Nut End Plug
1. Install new O-ring seal on end plug, being careful not to allow seal to twist in groove.
2. Install end plug into rack-piston nut by pressing into place.
3. Install end plug retaining ring, being sure ring is bottomed in its groove.
Install Rack-Piston Worm & Valve
< PREV PAGE
NEXT PAGE >