Antenna - Cable Continuity Check|Page 2165 >
< Seat Belts - Extender Availabilty|Page 2159
Pickup 4WD L4-2366cc 2.4L SOHC (22R) (1984)
Accessories and Optional Equipment
Antenna
Component Information
Technical Service Bulletins
Antenna - Cable Continuity Check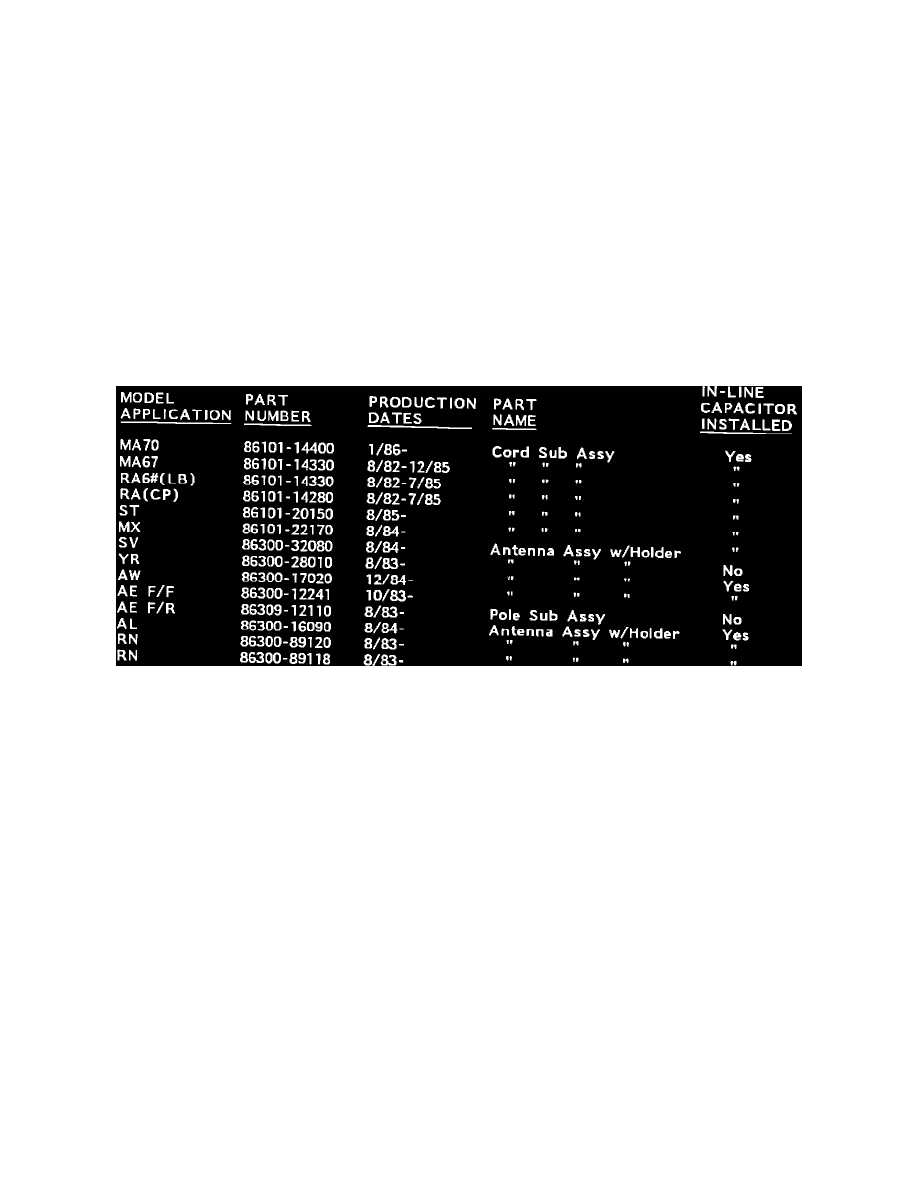 Antenna: Technical Service Bulletins
Antenna - Cable Continuity Check
REFERENCE: ACCESSORIES
NUMBER: 020
DATE: 10-17-86
MODEL: ALL
TITLE: RADIO ANTENNA FEEDER CABLE
Service Hints
When checking the antenna cable for continuity, it's possible to observe an open circuit condition because many of the antenna cables contain an in-line
impedance matching capacitor.
Please note that an ohm meter uses direct current to measure resistance, and that direct current will not flow through a capacitor. Therefore, continuity
CAN NOT be determined when trying to measure across a capacitor with an ohm meter.
Temporarily swapping the suspect antenna cable assembly with a known good assembly is an adequate way of determining acceptance, where the
antenna cable in question contains an in-line capacitor.
Currently used antenna feeder cables and information on which ones contain an in-line capacitor: (see illustration)
Accessories and Optional Equipment
Antenna
Component Information
Technical Service Bulletins
Antenna - Cable Continuity Check
Antenna - Cable Continuity Check|Page 2165 >
< Seat Belts - Extender Availabilty|Page 2159