Field Remedy: 1555
| | |
| --- | --- |
| Subject: | Shift Guide - Damaged Bearing Bush at Deflector Lever Assembly |
| | | |
| --- | --- | --- |
| Models: | Engines: | Option: |
| Corsa-C 2001...,Corsa-C Combo 2001...,Meriva 2003... | All,All,All | F13,F17 |
| | |
| --- | --- |
| Complaint: | Premature wear of the bearing bush's at deflector lever caused by dirt and vibrations. This is noticeable by considerable clearance at the shift guide and inexact shifting. In few cases shifting is impossible. |
| Cause: | Failure of shift guide caused by dirt and vibrations. |
| Production: | The modified shift guides have been introduced in 2003 for vehicles with diesel engines and in 2004 for vehicles with gasoline engines in production. |
Remedy:
In case of customer complaint replace the shift guide.
Note:

     Before repair, please check which version of shift guide is installed.
     In Picture I, 1 (plastic version) is shown the old version of shift
     guide.




     In Picture II, 1 (metal version) is shown the new modified version of 
     shift guide.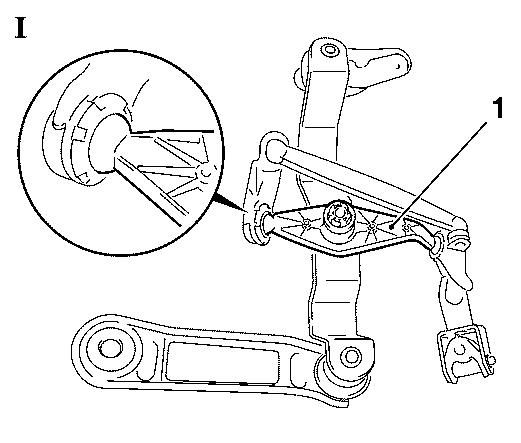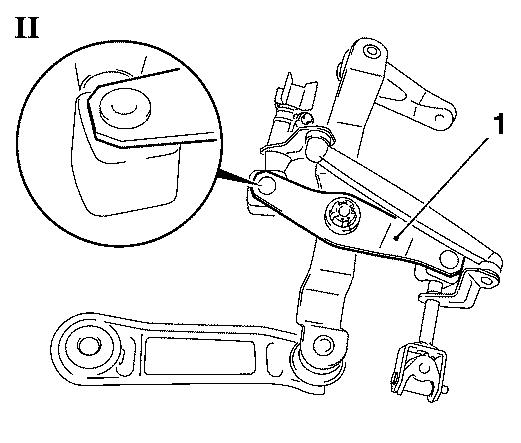 Working procedure:

 1. Disconnect battery.
 2. Raise vehicle.
 3. Remove shift guide from shift rod.
 4. Lower vehicle.



On vehicles with diesel engines:

 5. Disconnect wiring harness connector of diesel filter heating 
    (Picture III, 1).
6. Remove wiring harness from crashbox (1 clip).



All vehicles:

 7. Remove fastening clip of coolant reservoir (Picture III, 2).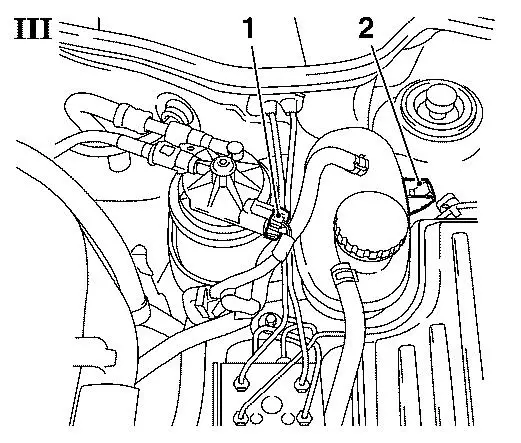 8. Unclip coolant hose and lay coolant reservoir aside.



Vehicles with diesel engines:

 9. Remove crashbox with diesel filter.
10. Remove diesel pipe from bulkhead (Picture IV, arrows).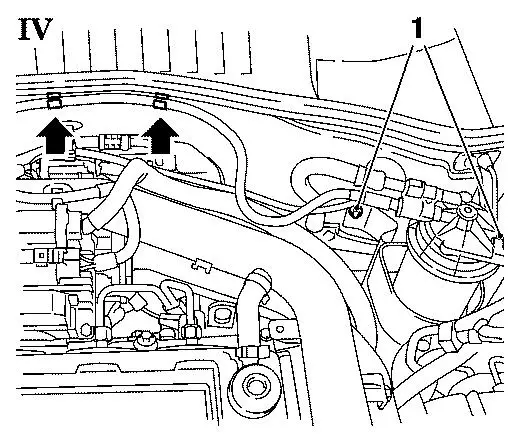 All vehicles:

11. To remove universal joint, remove hollow pin with KM-569-A
    (Picture V).



Note:

     For removal of universal joint (1) press in retaining spring (arrow)
     of hollow pin (2).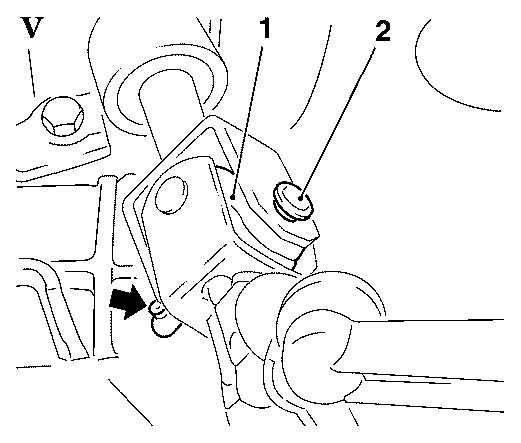 12. Remove safety clip for deflector lever (Picture VI, 1).



Note:

     Safety clip will be destroyed at removal.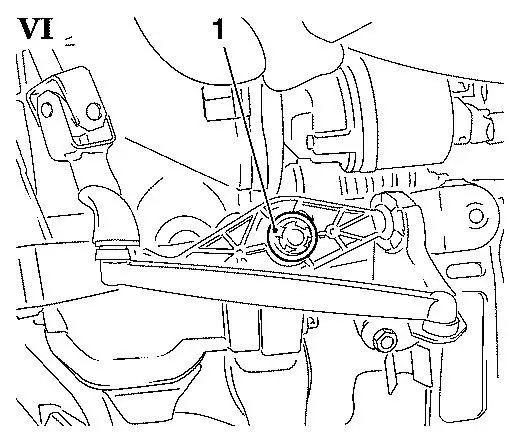 13. Detach and remove deflector lever assembly upwards.
14. Install new deflector lever assembly and fix safty clip.



Important:

Lubricate all movable parts with silicone grease.
Part-No.:   90 167 353 / Catalog-No.: 19 70 206




15. Install universal joint and secure with new hollow pin.



Important:

     Retaining spring must engage audible.




16. Raise vehicle.
17. Install shift rod to shift guide.



Note:

     Do not fasten the clamp yet.




18. Lower vehicle.
19. Adjust transmission shift linkage




     - see working procedure "Transmission Shift Linkage, Adjust (F13/F17)",
     group "K", Service Instruction Corsa-C.



At Vehicles with diesel engine:

20. Install crashbox with diesel filter.
21. Install diesel line to bulkhead.
22. Connect wiring harness connector to diesel filter heating.
23. Connect wiring harness to crashbox.



All vehicles:

24. Install coolant reservoir.
25. Install coolant hose.
26. Connect battery.
27. Programm volatile memories.




Spare-Parts:                            Part-No.:      Catalog-No.:




Repair Kit Guide Shift Control          93183155       07 58 947
Bolt, Guide Control to Transmission     90523189       07 58 915
Grease, Silicon, 100 grams              90167353       19 70 206




Labour Times:                           TC:            Hours:




T8 155 51    Deflector Lever Assembly   90             0.4
             - Replace - 




The costs for this repair will be covered for vehicles not older than
3 years and a mileage lower than 100.000 Km.
The regular warranty procedure should be used for claiming Set-up-time.



| | |
| --- | --- |
| FunctionalGroup: | K - Clutch/Transmission |
| Complaint Group: | 05 - Excessive wear,08 - Hard to operate,11 - Loose or Comes off,13 - No/Poor Function |
| Trouble Code: | Non |