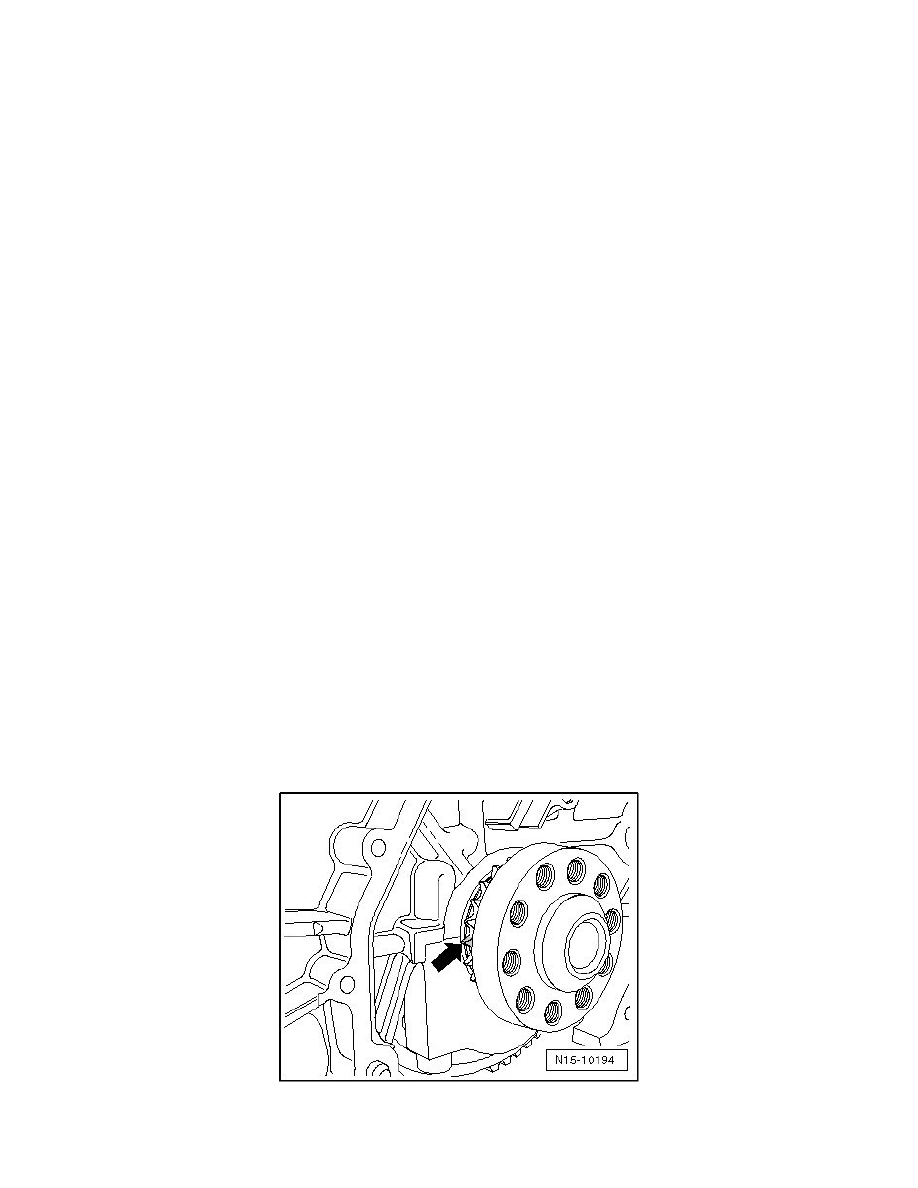 Timing Chain: Service and Repair
Intermediate Shaft and Timing Chains, Installing
Intermediate Shaft and Timing Chains, Installing
‹› A revised camshaft adjuster is being installed as of 12.08. To recognize the new adjuster: starting in 12.08 the exhaust camshaft adjuster 32A has a
plastic cover.
=> [ Vehicles through 11.08 ] 
=> [ Vehicles from 12.08 ] 
Vehicles through 11.08
Special tools, testers and auxiliary items required
‹› Camshaft Bar (T10068 A)
‹› Counter-Holder Tool (T10069)
‹› Torque Wrench (5-50 Nm) (V.A.G 1331)
‹› Torque Wrench (40-200 Nm) (V.A.G 1332)
‹› Sealant (D 176 501 A1)
Procedure
CAUTION!
When doing any repair work, especially in the engine compartment, pay attention to the following due to clearance issues:
‹› Route lines of all types (for example, fuel, hydraulic, Evaporative Emission (EVAP), coolant, refrigerant, brake fluid and vacuum)
and electrical wiring so that the original path is followed.
‹› To prevent damage to the lines, make sure there is sufficient clearance to all moving or hot components.
‹› The following procedure is only possible with the engine removed and is only described that way. The adjustments required depend on how far the
engine has been disassembled. The oil pan is removed and must only be installed after installing the sealing flange.
Installing the Timing Chain and Chain Tensioner with Tensioning Rail for the Intermediate Shaft
-
Set the crankshaft to Top Dead Center (TDC) cylinder 1. To do so, the milled crankshaft drive sprocket tooth - arrow - must align with the
crankshaft bearing cap separating joint.
-
Install both locating pins without collars for the guide rail and tighten them to 10 Nm. Place the guide rail on the locating pins.
-
Rotate the intermediate shaft so that the flattened side faces up.