< PREV PAGE
NEXT PAGE >
940 L4-2.3L SOHC VIN 88 B230F (1992)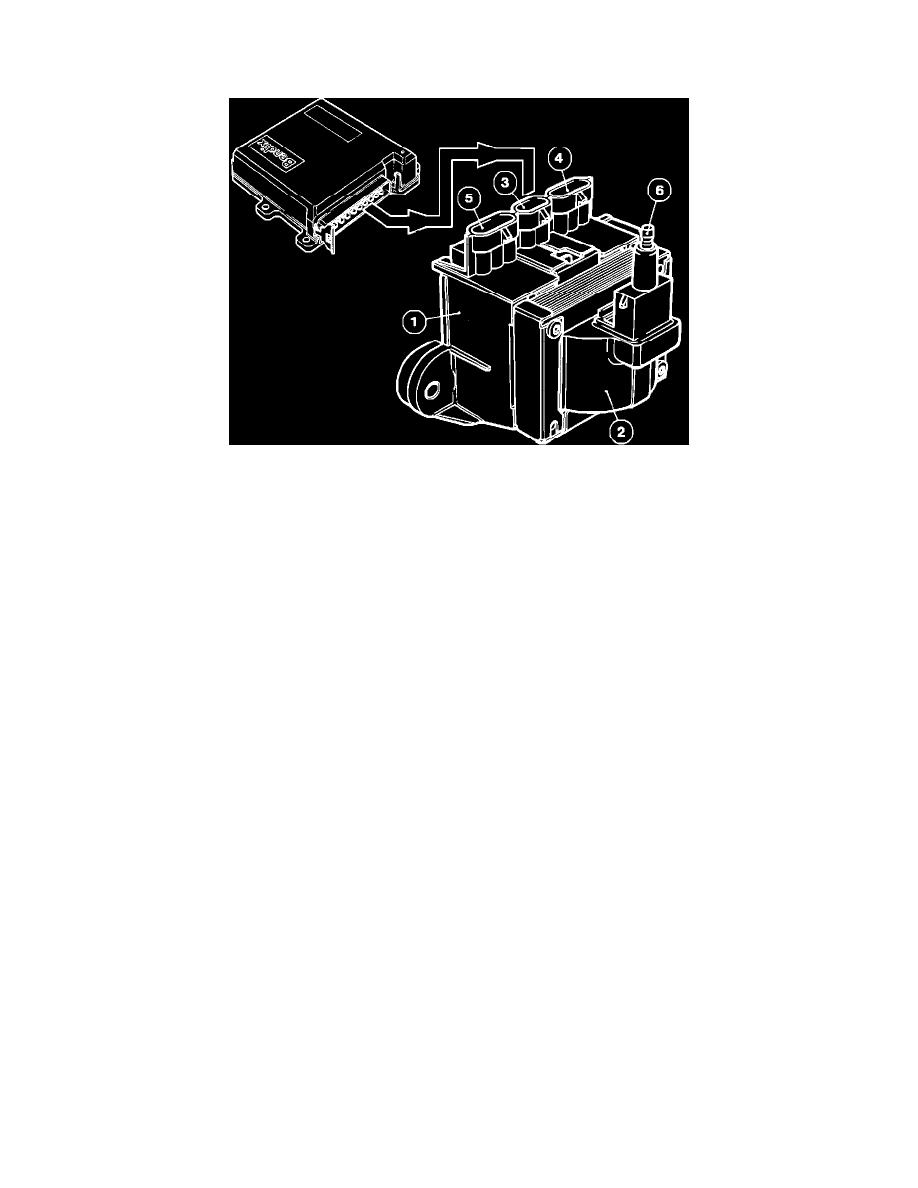 Ignition Control Module: Description and Operation
Bendix
Power Stage And Ignition Coil Unit
Sent by the ignition ECU:
PURPOSE AND LOCATION
The power stage (1) functions as an electronic switch controlling the current in the ignition coil on command from the ignition ECU. This function
is comparable to the operation of the points in a mechanical ignition system, in that it opens and closes the coil primary ground connection.
The power stage is located in the engine compartment on the left (driver) side strut tower.
CONSTRUCTION
The power stage (1) and ignition coil (2) are one unit, yet assembled for possible individual replacement. The power stage receives the control
signal from the ignition ECU at the two-pole center connector (3). The three-pole connector (4) on the right supplies the ignition coil and power
stage with battery voltage, grounds the coil and sends a signal to the rev counter in the dashboard. The connector (5) to the left is not used.
The power stage/ignition coil unit is mounted to a plate on the strut tower and provided with a large contact area to dissipate the generated heat.   
OPERATION AND SIGNAL
Once the ECU has computed the ignition timing (based on the input signals), the value is converted into a control signal for the power stage. When
the signal goes high (+ 5V), the power stage permits the ignition coil to charge.
When the signal falls (to 0V), the power stage interrupts the current in the ignition coil primary windings, inducing a high-tension pulse in the
secondary windings.
The power stage incorporates a circuit which monitors and controls the current used to charge the ignition coil. This keeps the voltage supplied to
the coil at a constant level, assuring a full charge at all times.
Since the power stage generates heat, the unit is equipped with a "standing current protection" function which interrupts the current if the ignition
is ON and the engine is at rest. This prevents the power stage from overheating.  
< PREV PAGE
NEXT PAGE >