< PREV PAGE
NEXT PAGE >
S60 L5-2.4L VIN 64 B5244S6 (2003)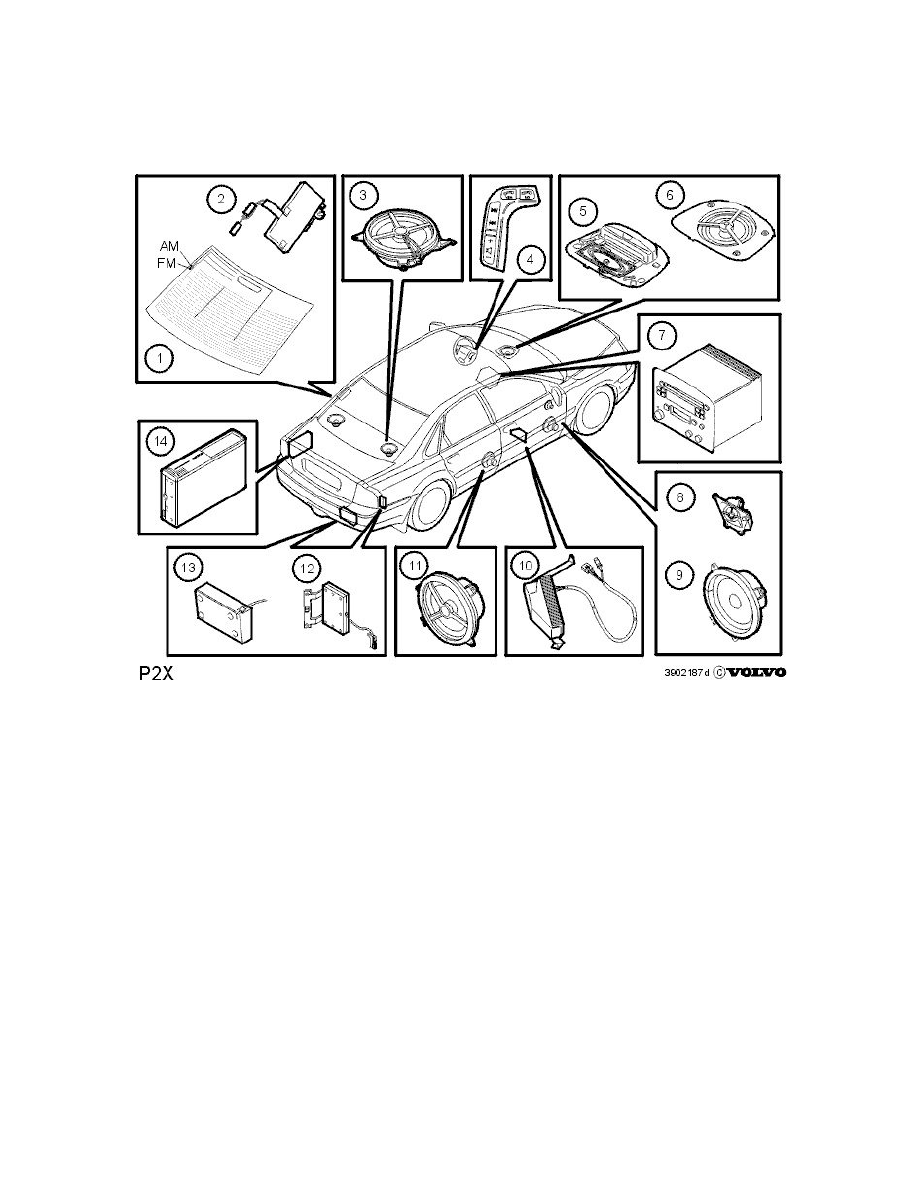 Communications Control Module: Description and Operation
Design
Design
Location of components
1. Radio antenna. Integrated in the rear windshield on the S60/S80, in the left-hand side window on the V70/V70XC
2. Antenna amplifier FM/AM, located in the D-post
3. Loudspeakers, positioned in the parcel shelf (D-post V70/V70XC)
4. Keypad in the steering wheel for audio and telephone
5. Center loudspeaker with display for cars with the Road Traffic Information module (RTI)
6. Center loudspeaker for cars without a Road Traffic Information Module (RTI)
7. Audio module (AUM) - Sound unit audio
8. Door-mounted loudspeakers front (treble)
9. Door-mounted loudspeakers front (bass/mid-range)
10. External amplifier, positioned under the right-hand front seat
11. Rear door-mounted loudspeakers
12. Antenna amplifier for the bumper antenna
13. FM antenna integrated in the bumper
14. CD changer audio.
Antenna
The audio module (AUM) has an antenna system for AM and FM. This consists partly of an AM antenna and partly of a dual antenna system for FM
(Diversity reception). The dual antenna system is used to reduce Multipath interference. One antenna is integrated in the rear windshield (left-hand rear
side window V70/V70XC). The other antenna is integrated in the rear bumper. The signals from the antennae are amplified or adjusted by each
individual antenna amplifier.
External amplifier
< PREV PAGE
NEXT PAGE >