< PREV PAGE
NEXT PAGE >
S60 L5-2.4L VIN 64 B5244S6 (2003)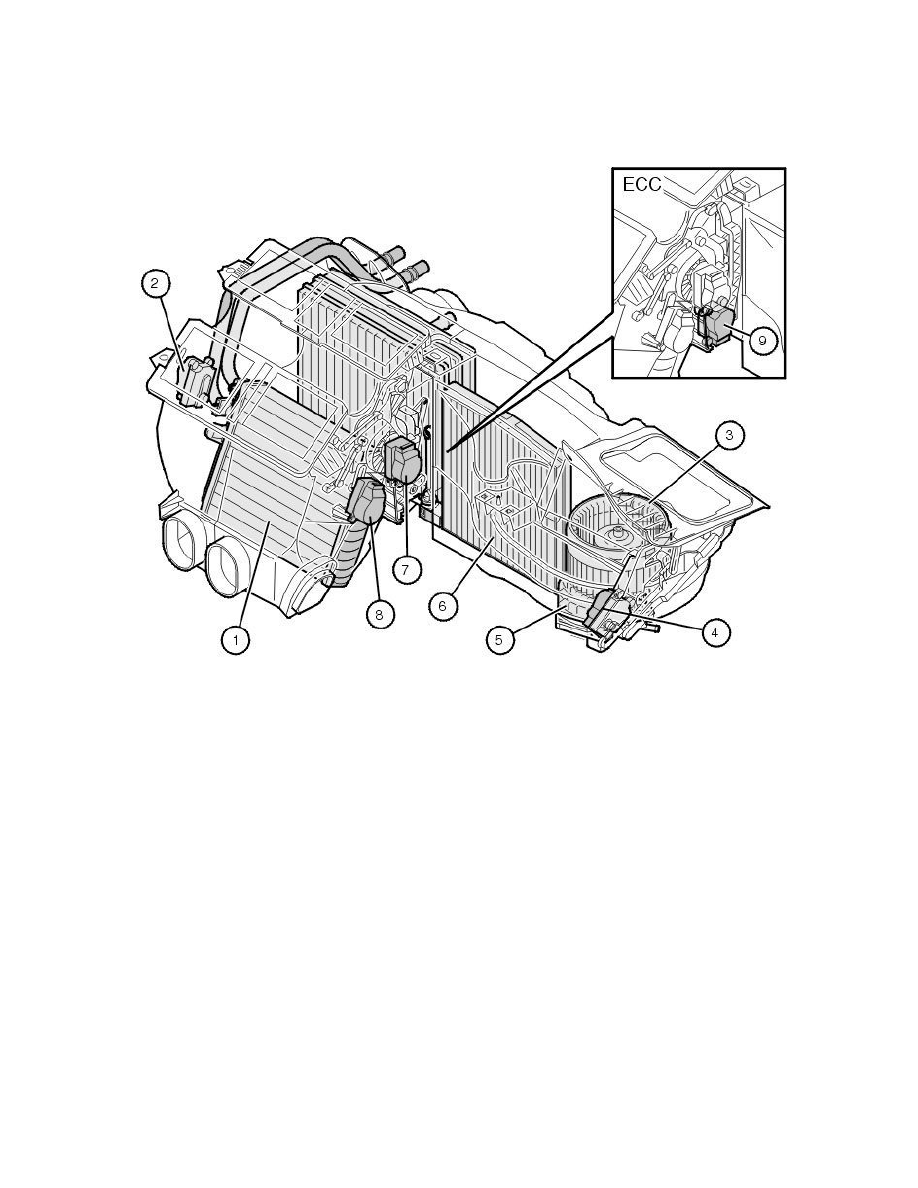 Control Module HVAC: Description and Operation
Design
Design
Climate control unit
The climate control unit consists of the following components:
1. Heater element
2. Damper motor, temperature, left
3. Blower fan
4. Damper motor, fresh air / recirculation
5. Power unit for blower fan motor
6. Particle filter
7. Damper motor, ventilation and floor (also defroster for MCC/STD)
8. Damper motor, temperature, right
9. Damper motor defroster (ECC).
Engine coolant constantly flows through the heater element.
There is no valve to regulate the flow. The selected temperature is achieved using dampers for the right and left-hand sides of the car installed upstream
and downstream of the heater element. These control the amount of air to be warmed. There are also dampers downstream of the heater element that
guide the airflow to the correct air vent.
The climate control module provides infinitely variable electronic blower fan control. When AUTO mode (only electronic climate control) is engaged
the climate control module (CCM) adapts the blower fan speed to the setting of the controls and the vehicle speed. The blower fan can be set to run-on in
order to reduce residual moisture in the evaporator.
A timer located in the central electronic module (CEM) controls the run-on time. 50 minutes after the engine has been switched off and the ignition has
been turned to position 0 or I the central electronic module (CEM) supplies power to the climate control module (CCM) and the blower fan is activated
at full speed for 7 minutes. This run-on dries the evaporator and prevents bad odors.
This function is programmed at the factory, but can be deactivated in the event of customer complaints via programming of customer parameters.
Programming is carried out via VIDA.
The function is only available to cars of structure week 199850 and later.
< PREV PAGE
NEXT PAGE >