< PREV PAGE
NEXT PAGE >
V70 XC AWD L5-2.4L Turbo VIN 56 B5254T (1998)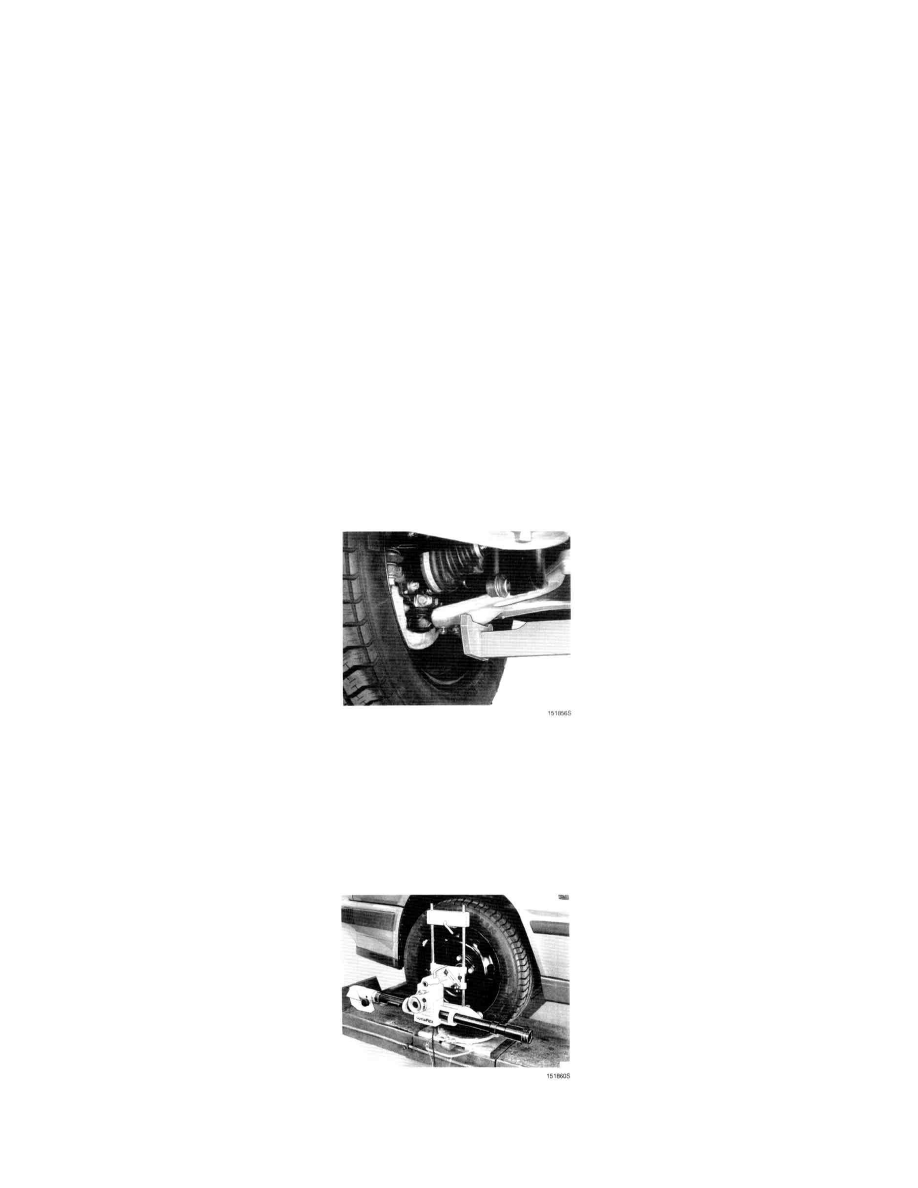 Alignment: Service and Repair
Alignment
Preliminary Checks
The wheel alignment must be correct to achieve satisfactory steering characteristics and to minimize tire wear. The alignment settings include caster
(axle inclination), camber (wheel inclination), Ackermann angle (toe-out on turns), kingpin inclination and toe-in/toe out.
NOTE:  All settings must be measured with the car unladen. 
Since the following defects may affect the wheel alignment, they must be rectified, if necessary, before measuring and/or adjusting the settings.
1. Different tire pressures.
2. Differences in tire wear.
3. Play in front wheel bearings.
4. Play in ball joints or control arm mountings.
5. Broken springs.
6. Damaged steering gear.
7. Play in tie rod (track rod) joints.
8. Damage to suspension strut upper mounting.
9. Unusual (temporary) equipment or load.
Checking
NOTE:  Adjustment of the camber, if applicable, must always be carried out before adjusting the toe-in. Since the rear wheels also have an adjustable
toe-in, the front wheel toe-in must be adjusted in relation to the thrust axis of the car in order to achieve maximum stability and minimize tire wear. All
measurements must be carried out with the car unladen. Measurement is unaffected by the level in the fuel tank. Check tire pressures all round.
1. Jack up front end of car: Place hoist under control arms as close as possible to ball joints.
2. Check for play in:
-
steering gear or tie rod (track rod) ball joints.
-
wheel bearings.
-
spring strut upper mountings.
-
control arm ball joints and bushings.
NOTE:  If play is present in any of above, corrective action must first be taken.
3. Set up measuring equipment:
a. Set up and calibrate equipment as per equipment instructions.
< PREV PAGE
NEXT PAGE >