< PREV PAGE
NEXT PAGE >
V70 XC AWD L5-2.4L Turbo VIN 56 B5254T (1998)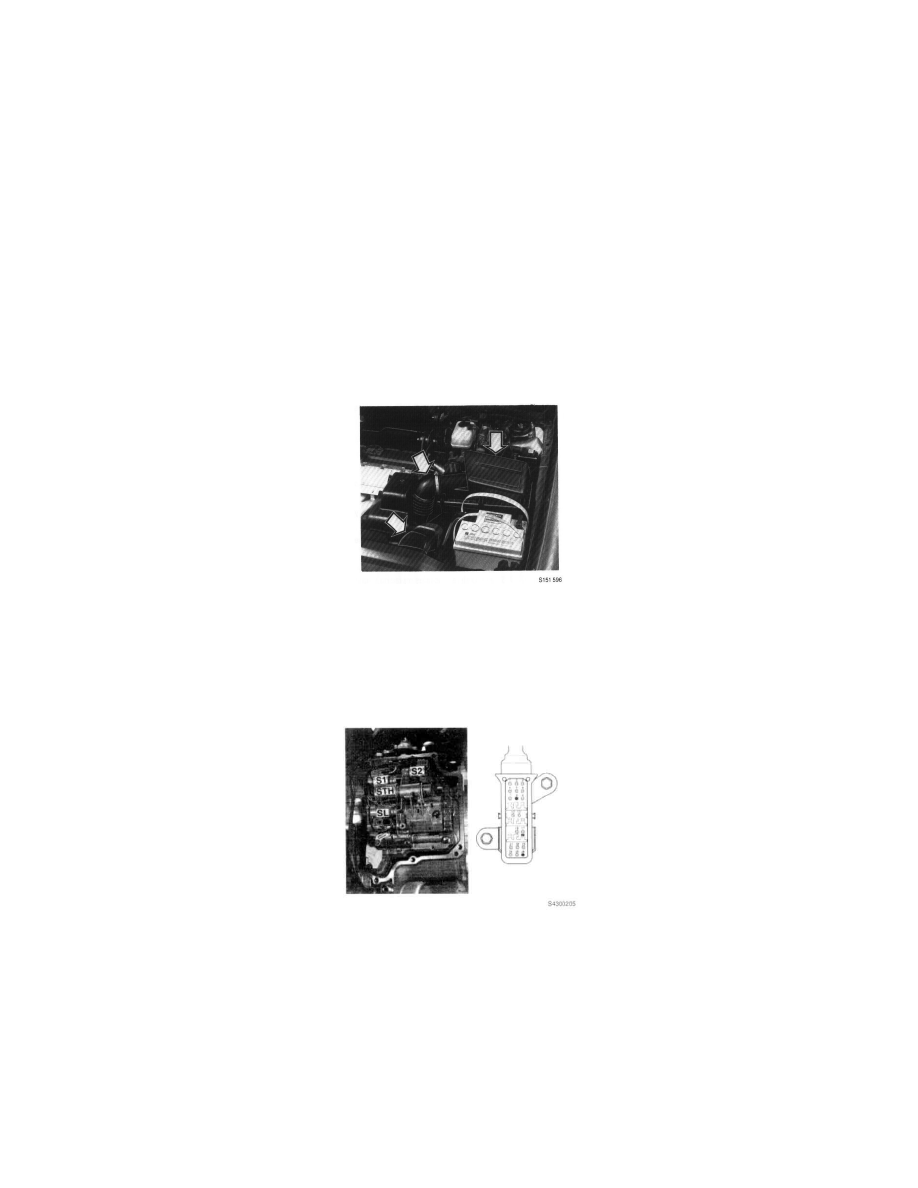 Shift Solenoid: Service and Repair
Solenoid Wire Harness Inspection/Replacement
SPECIAL TOOLS
-
Lifting frame tool No. 999 5006, or equivalent
-
Support rails tool No. 999 5033, or equivalent
-
Lifting hook tool No. 999 5460, or equivalent
-
Separator tool No. 999 5477, or equivalent
-
Protective Sleeve tool No. 999 5562, or equivalent
-
Mobile Jack tool No. 998 5972, or equivalent
-
Tool No. 998 8670, or equivalent
-
Protractor tool No. 951 2050, or equivalent
-
Refer to special tool section for additional tool information. See: Transmission and Drivetrain/Automatic Transmission/Transaxle/Tools and
Equipment
1. Preparation
-
Refer to steps 1 through 14 of Open The Control System. See: Transmission and Drivetrain/Automatic Transmission/Transaxle/Valve
Body/Service and Repair
Inspection/Replacement Of Wiring Harness
2. Preparation
-
Remove:
ACL complete with inlet pipe.
ACL bracket.
-
Disconnect transmission connector.
Remember rubber seal.
3. Checking of wiring harness
-
Use ohmmeter to measure resistance between transmission connector and end of appropriate solenoid cable.
Shake harness gently during measurement to locate possible loose connections.
The ohmmeter should indicate 0 ohms.
-
Connector Pin/Wire Color Codes
Pin No: 21
Solenoid/Color: S1/white
Pin No: 22
Solenoid/Color: S2/black
Pin No: 23
Solenoid/Color: SL/red
Pin No: 24 
Solenoid/Color: STH/brown
< PREV PAGE
NEXT PAGE >