< PREV PAGE
NEXT PAGE >
V70R AWD L5-2.3L Turbo VIN 52 B5234T6 (1998)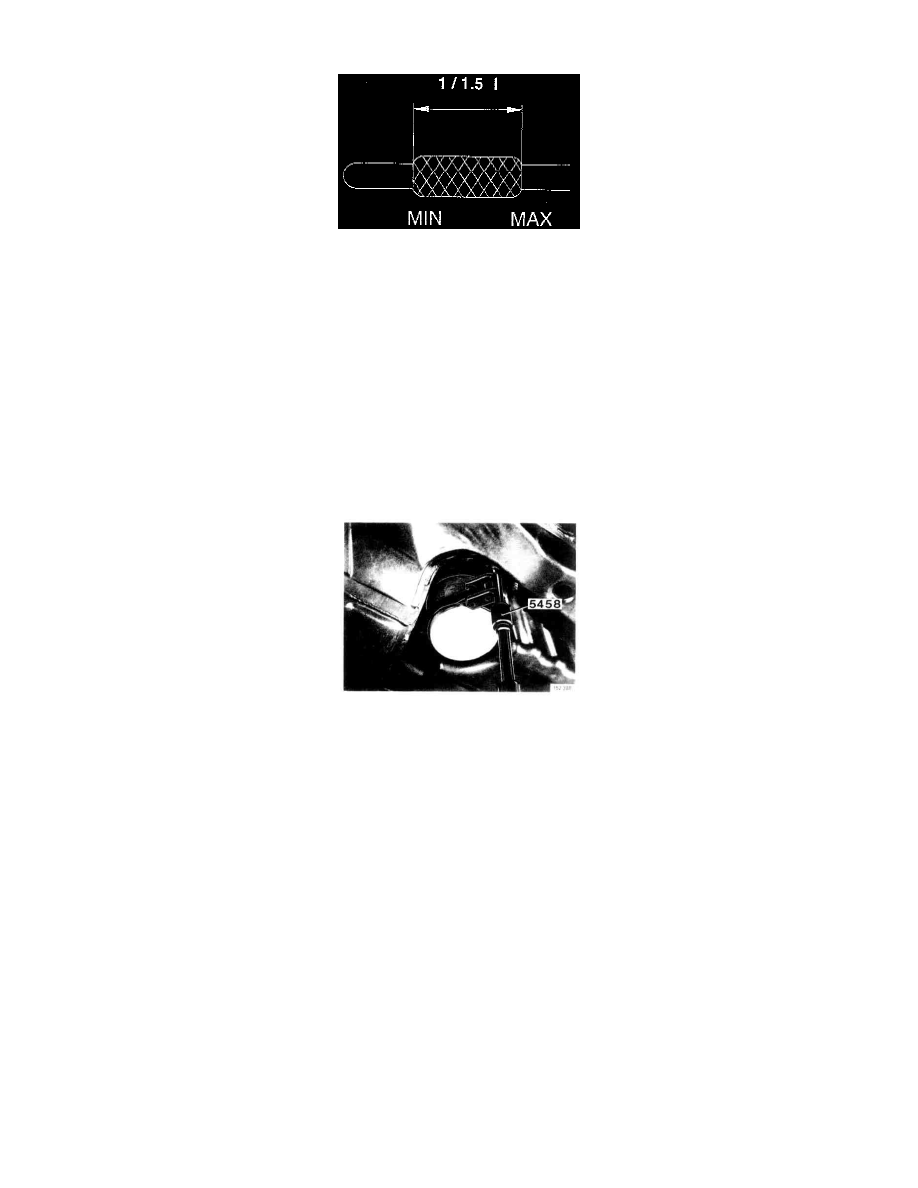 Oil Filter: Service and Repair
Checking Engine Oil 
-
Park the car on a level surface.
Wipe dipstick before check.
-
Oil level should be within the hatched area on dipstick.
The difference between MAX and MIN on the dipstick is about 1.0 or 1.5 liters (1 or 1.6 qt).
-
Engine at normal operating temperature:
Wait at least three minutes after turning off the engine so that the oil can run back to the oil pan.
If the level is at MIN, top up with no more than half a liter (0.5 qt).
-
Cold engine:
It is best to check the oil when the engine is cold, before starting the car.
If the level is at MIN, top up with:
1 liters (1 qt) of oil (red dip stick handle)
1.5 liters (1.6 qts) of oil (fluorescent dip stick handle).
Oil Filter Replacement 
1. Remove the oil filter 
-
Remove splashguard under engine. 
-
Use filter wrench tool No. 999 5458, or equivalent.
-
Clean up oil spills with paper.
WARNING:  
-
Avoid prolonged skin contact with oil!
-
Prolonged and repeated skin contact with oil can remove the skin's natural oils. This can lead to irritation, dryness, eczema and other
skin problems. Used oil is more dangerous than new oil. 
-
Harmful compounds may be formed when the oil is used:
Avoid skin contact, especially with used engine oil. 
Use protective gloves if necessary. 
Avoid contact with oily clothes and rags. 
Wash regularly, especially before meals. 
Use a skin cream to prevent skin drying out.
< PREV PAGE
NEXT PAGE >