< PREV PAGE
NEXT PAGE >
V70R AWD L5-2.3L Turbo VIN 52 B5234T6 (1998)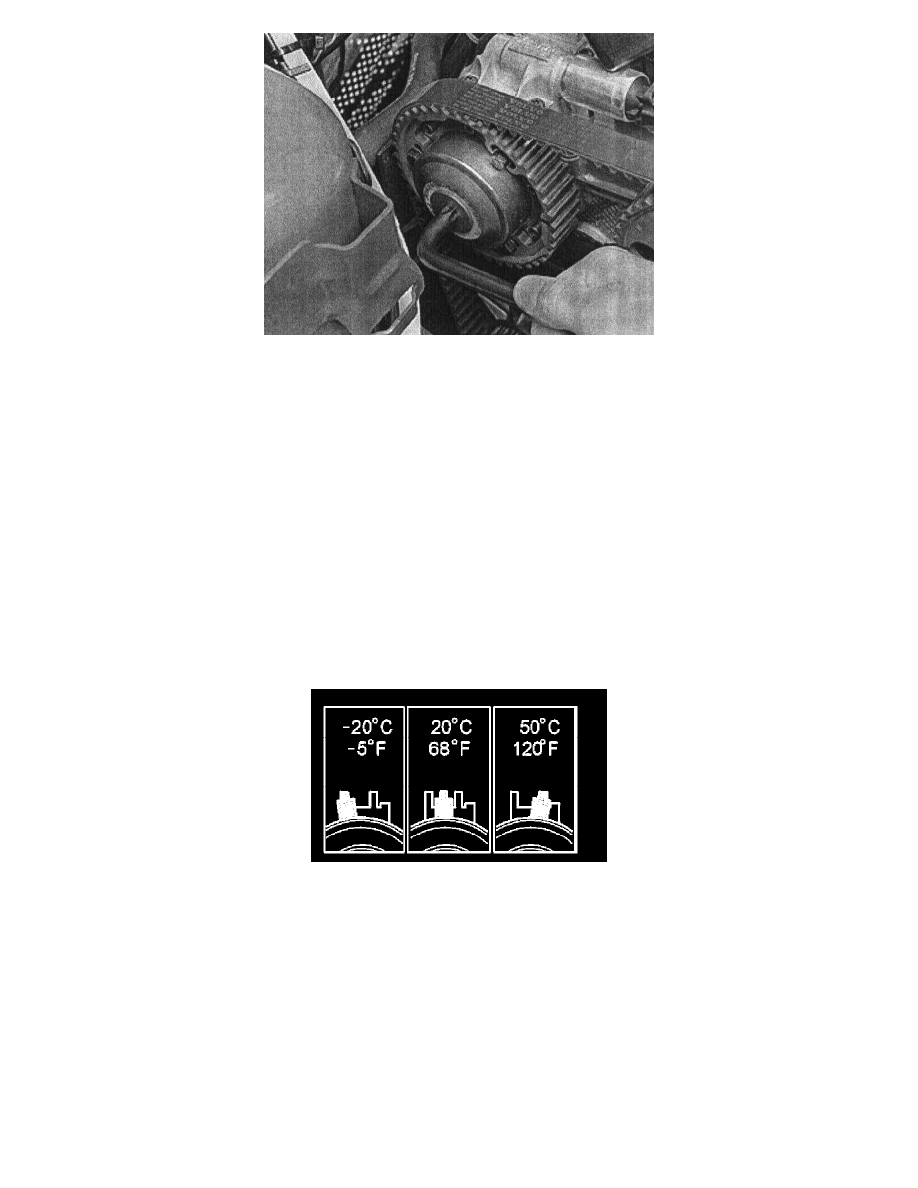 As illustrated.
Install the belt in the following order:
-
Install the camshaft belt over the pulley on the crankshaft.
Then install the belt as follows
1. Idler pulley.
2. Intake cam pulley.
3. Exhaust cam pulley.
4. Water pump.
5. Belt tensioner.
Note!
Adjust the timing gear pulleys so that the screws are not at a limit position in the oval holes.
Tighten the timing belt 
Adjust the belt tensioner:
Note!
This adjustment is to be made with a cold engine. A suitable temperature is 20°C/68°F. At a higher temperature, for example with a warm
engine or a higher ambient temperature, the needle is further to the right. The illustration shows the needle position when adjusting the 
camshaft belt tensioner at different engine temperatures.
Tighten the timing belt as follows:
Hold the belt tensioner center screw secure and turn the belt tensioner eccentric counter-clockwise until the tensioner indicator passes the marked
position.
Tighten the screws on the exhaust camshaft timing gear pulley to 10 Nm (7.4 ft lbs) 
Install the screw missing on the intake camshaft belt pulley.
Tighten the screws on the intake camshaft timing gear pulley to 20 Nm (15 ft lbs) 
Note!
The variable Valve Timing (VVT) unit must not be released from the limit position until after the timing gear pulleys have been tightened.
Then turn the eccentric back so that the needle reaches the marked position corresponding to the relevant temperature.
Remember to hold the center screw secure at the same time.
< PREV PAGE
NEXT PAGE >