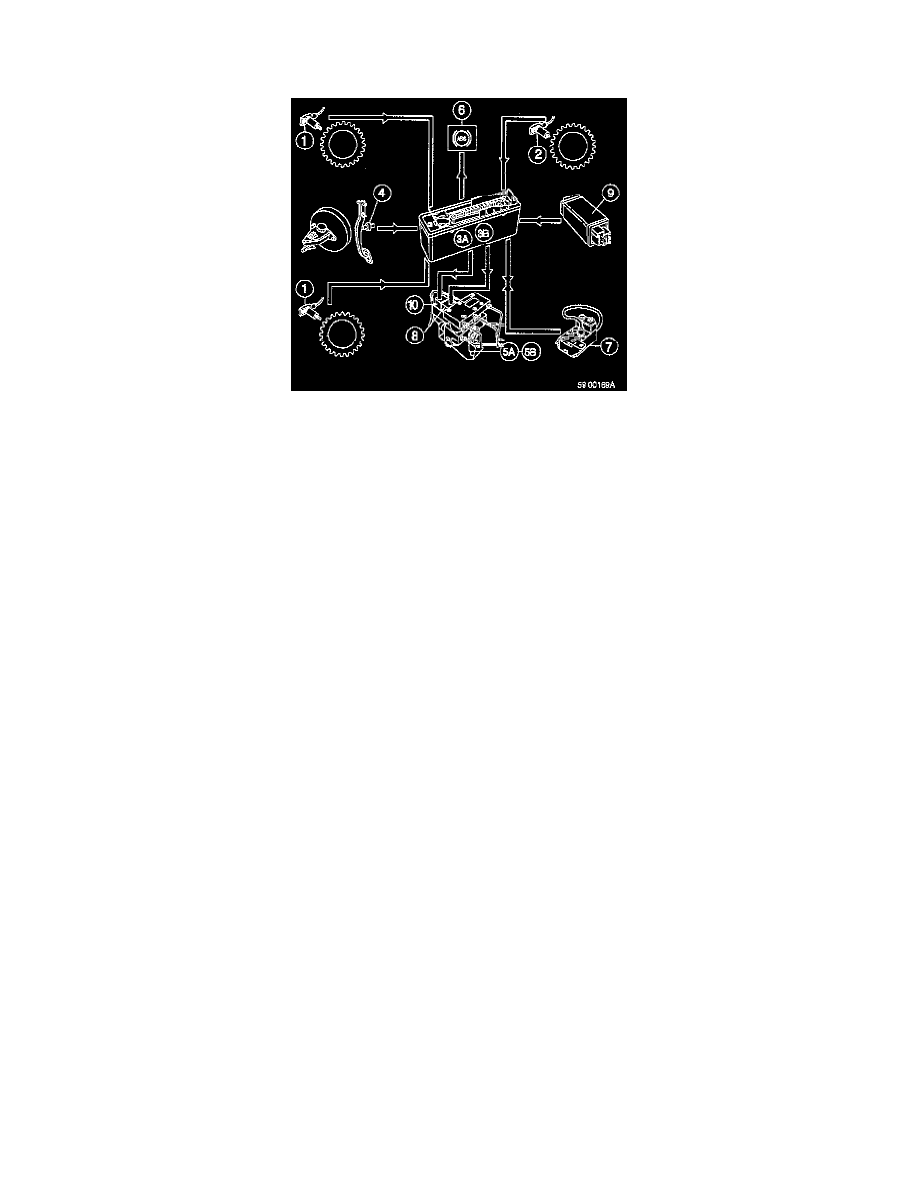 Electronic Brake Control Module: Description and Operation
General
DESCRIPTION
The control module (3A/3B) measures and controls the speed of the wheels during braking in response to signals from the wheel sensors (1, 2).
This is designed to prevent the wheels locking.
OPERATION
Input signals come from inductive sensors which detect the speed of the wheels. The output signals from the control module control the three
solenoid hydraulic valves and the pump motor. During braking, the control module processes the sensor signals, calculates the speed of the wheels,
retardation, road speed and wheel slip. If any of the wheels threatens to lock during braking, the control module sends a command to the valves in
the hydraulic modulator which immediately adjust the pressure in the brake circuit to that wheel (or both rear wheels) to maintain maximum
braking power while giving the driver maximum control of the car. Increasing or decreasing the brake pressure keeps the wheels just short of
locking point to give the tires the maximum grip on the road. This working cycle is continuous and repeated many times a second. The control
module is connected to the rest of the system via a 35-pin connector. When the ignition is switched on, the control module switches the ABS
warning light (6) on and makes an initial check to see that there are no internal faults in the system and that the signals from the sensors are
correct. At the same time, it triggers the valve relay (8) to provide power to the hydraulic modulator valves. If no faults are found, the warning
light goes out about 2 seconds after starting the engine. When the car moves off and reaches a speed of over 6 km/h for the first time, the control
module makes a brief check (approx. 20 milliseconds) to see that the hydraulic pump is working by triggering the pump relay (10) and starting
the pump. The control module then checks the valves by activating each one in turn. As well as this initial check, the control module makes
constant checks to see that all input and output signals and components are working properly and that there are no internal faults in the control
module itself. If it finds a fault, it switches the ABS warning light on and disables the ABS system. The system then works like any conventional
braking system. The control module stores details of faults in the form of DTCs.