NEXT PAGE >
< PREV PAGE
XC70 AWD L6-3.2L VIN 98 B6324S (2009)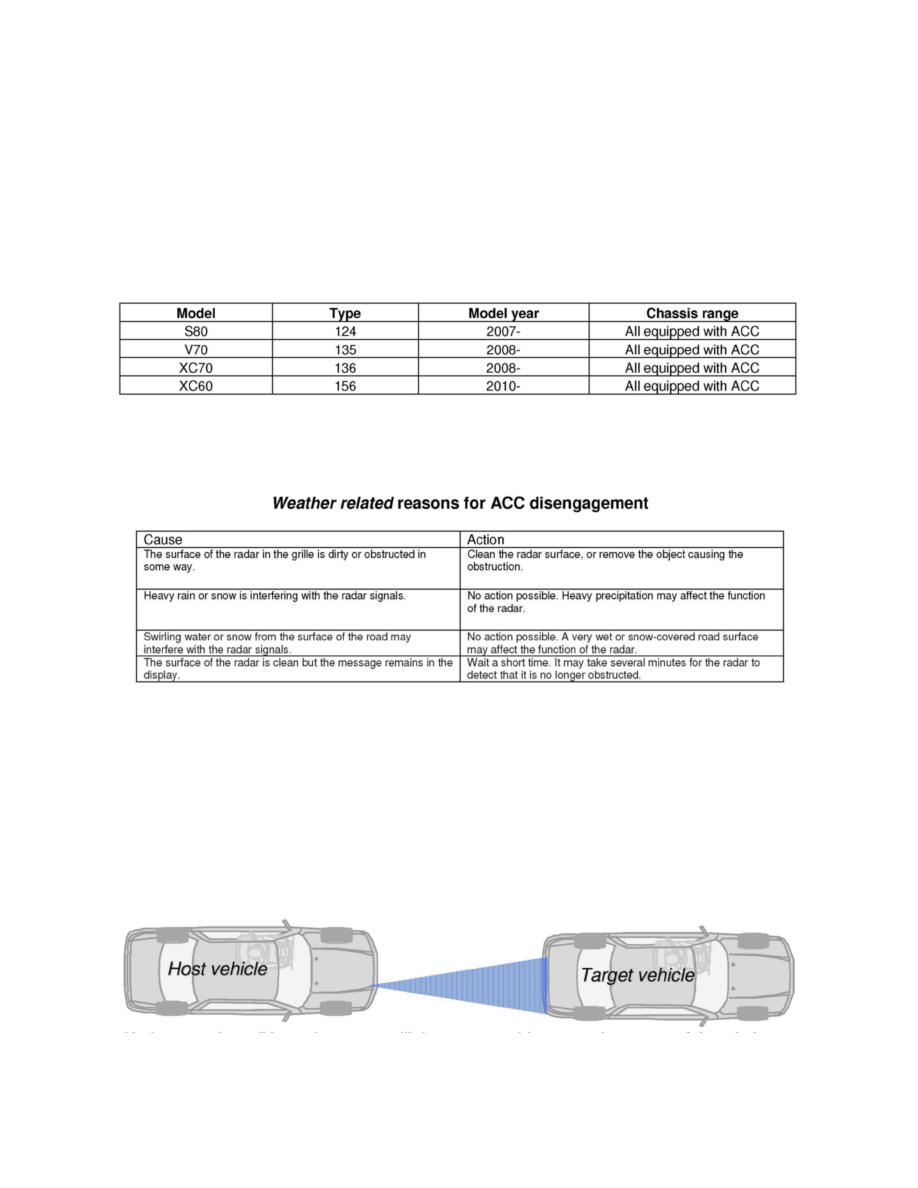 Distance Sensor: Technical Service Bulletins
Cruise Control - 'Radar Blocked' Message In DIM
Retailer Technical Journal 22470
Adaptive Cruise Control: "Radar blocked" message on desolate roads
Date 02-01-2010
Reference:
VIDA; DTC specific information and fault tracing Design and Function information
Note!
If using a printed copy of this Retailer Technical Journal, first check for the latest online version.
AFFECTED VEHICLES
DESCRIPTION:
Customers may report a DIM (Drivers Information Module) message "Radar blocked, See manual" together with the ACC (Adaptive Cruise Control)
being disengaged. The Radar blocked message and ACC disengagement is typically due to a mechanical blockage of the FLR (Forward Looking Radar)
from dirt, road debris or weather related driving conditions such as heavy snow or rain as explained in the owner's manual and the chart above.
In all cases where the FLR has been blocked DTC (diagnostic trouble code) FSM-C1A6797 Forward Locking Sensor. Component Failures. Component
or system operation obstructed or blocked will be posted with an intermittent status.
However, in certain desolate areas within the US and Canada, it is possible that the customer may report that the ACC will disengage for no immediately
apparent reason.
ANALYSIS:
The forward-looking radar is used to sense objects that are moving in the same direction in front of the host vehicle (vehicle from which the radar is
being transmitted). When a target is detected, the radar senses the target's speed and distance in relation to the host vehicle
Under normal conditions, the sensor will detect many objects at a time, most of them being stationary objects along the roadside, i.e. telephone poles,
guardrails, trees signposts, etc. The number of detections per distance travelled is used to estimate the blockage status of the sensor.
NEXT PAGE >
< PREV PAGE