< PREV PAGE
NEXT PAGE >
XC90 2.5T AWD L5-2.5L Turbo VIN 59 B5254T2 (2003)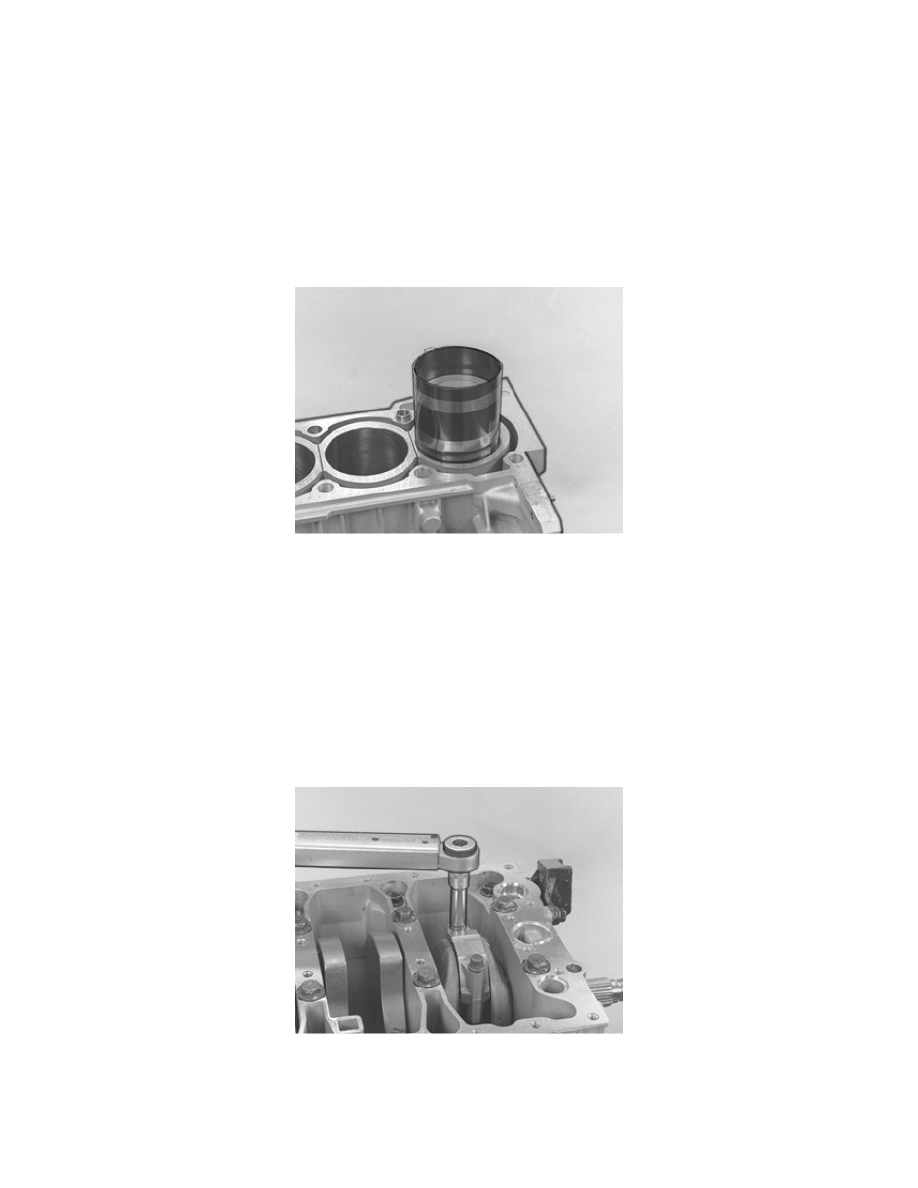 Install both the snap rings on the piston pin. Check that the snap rings are positioned correctly in the piston. The opening must be vertical.
Warning! The snap ring can easily come off. Wear protective goggles!
Wipe clean around the bearing recess in the connecting rod and the cap.
Install the bearing shells.
If new bearing shells are used, these must be checked for color coding.
Note! The bearing shell with a black color coding on the side must be installed in the connecting rod.
Caution! If reusing the bearing shells, they must be installed in the same position as before. Ensure that they are correctly positioned in relation
to the direction of rotation of the crankshaft.
Installing the pistons in the cylinder bores
Use a cylinder ring compressor.
Lubricate the cylinder bore, the pistons and the bearing shells.
Turn the crankshaft so that the connecting rod pin is at bottom dead center (BDC) for the cylinder the piston is to be inserted in.
Ensure that the engine is in a position where the cylinder bore forms as vertical a line as possible.
Note! The arrow on top of the piston must point forwards. Ensure that the classifications correspond!
Carefully press or tap the piston down (using the shaft of a hammer or similar).
When the piston releases from the piston ring compressor, turn the engine 180° in the stand.
Install tool 999 5746 Holder See: Tools and Equipment/999 5746 Holder in the connecting rod.
Pull the connecting rod until it secures against the big end journals.
Tightening the connecting rod cover
Install the cover. Check that any markings correspond.
Lubricate and install new seals. Tighten in two stages:
1.  20 Nm.
2.  Angle-tighten 90°.
Check that the connecting rod can be moved sideways.
< PREV PAGE
NEXT PAGE >