< PREV PAGE
NEXT PAGE >
XC90 AWD L5-2.5L Turbo VIN 59 B5254T2 (2005)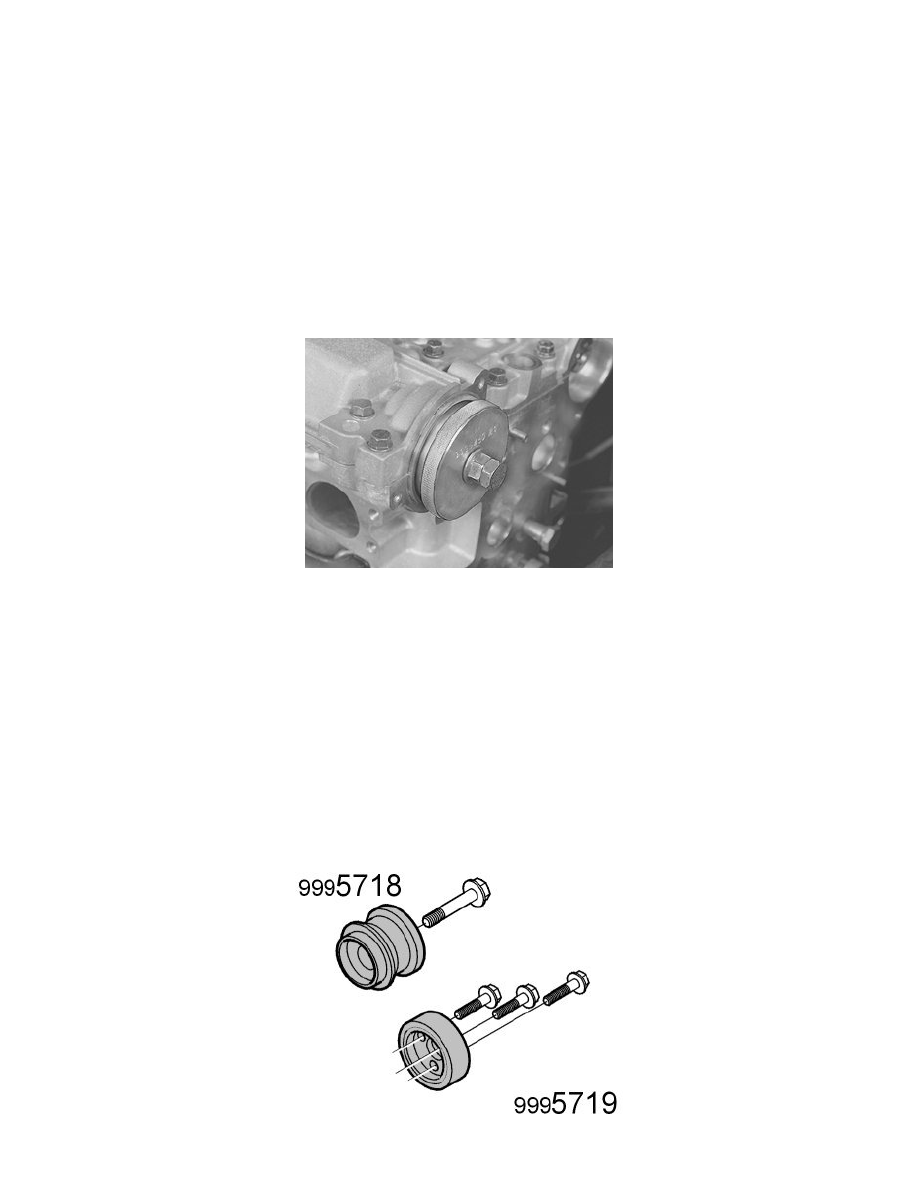 Lubricate the camshaft lobes, the camshaft bearing surfaces and the tappets.
Install the camshaft cover.
Install press tool 999 5454 PRESS TOOL See: Tools and Equipment/999 5454 Press Tool (2x).
Tighten the camshaft cover screws alternately, keeping it parallel to the cylinder head using the press tools.
Install all the screws. Tighten the screws from the middle and outwards.
Remove the press tool 999 5454
Install
-
the variable valve timing (VVT) solenoid. Use a new gasket
-
the spark plugs. Tighten to 30 Nm.
-
the plugs for the test holes. Tighten to 20 Nm
-
the crankcase ventilation hose to the top of the camshaft cover
-
the ignition coils according to the earlier marking
-
the ground terminals between the ignition coils.
Installing the rear camshaft seal
To clean the shaft journal and mating surface, use emery cloth P/N 951 1024.
Note! When cleaning work around the shaft journal, not in and out. It is essential that any residue from the emery cloth and any other
contaminants are completely removed before the new seal ring is installed.
Use drift 999 5450 PUNCH See: Tools and Equipment/999 5450 Punch.
Lubricate the surface of the seal that the camshaft rotates against.
Press in the seal until the drift bottoms out.
Note! If there are wear grooves on the camshaft, the seal can be pressed in another 2 mm by reversing the tool's sleeve.
Install camshaft adjustment tool 999 5452 Camshaft Adjustment Tool See: Tools and Equipment/999 5452 Camshaft Adjustment Tool at the rear of the
camshafts.
Check that the screws securing the adjustment tool to the camshafts and the screws holding the tool together are well tightened.
Installing the front camshaft seal
< PREV PAGE
NEXT PAGE >