< PREV PAGE
NEXT PAGE >
XC90 AWD L5-2.5L Turbo VIN 59 B5254T2 (2005)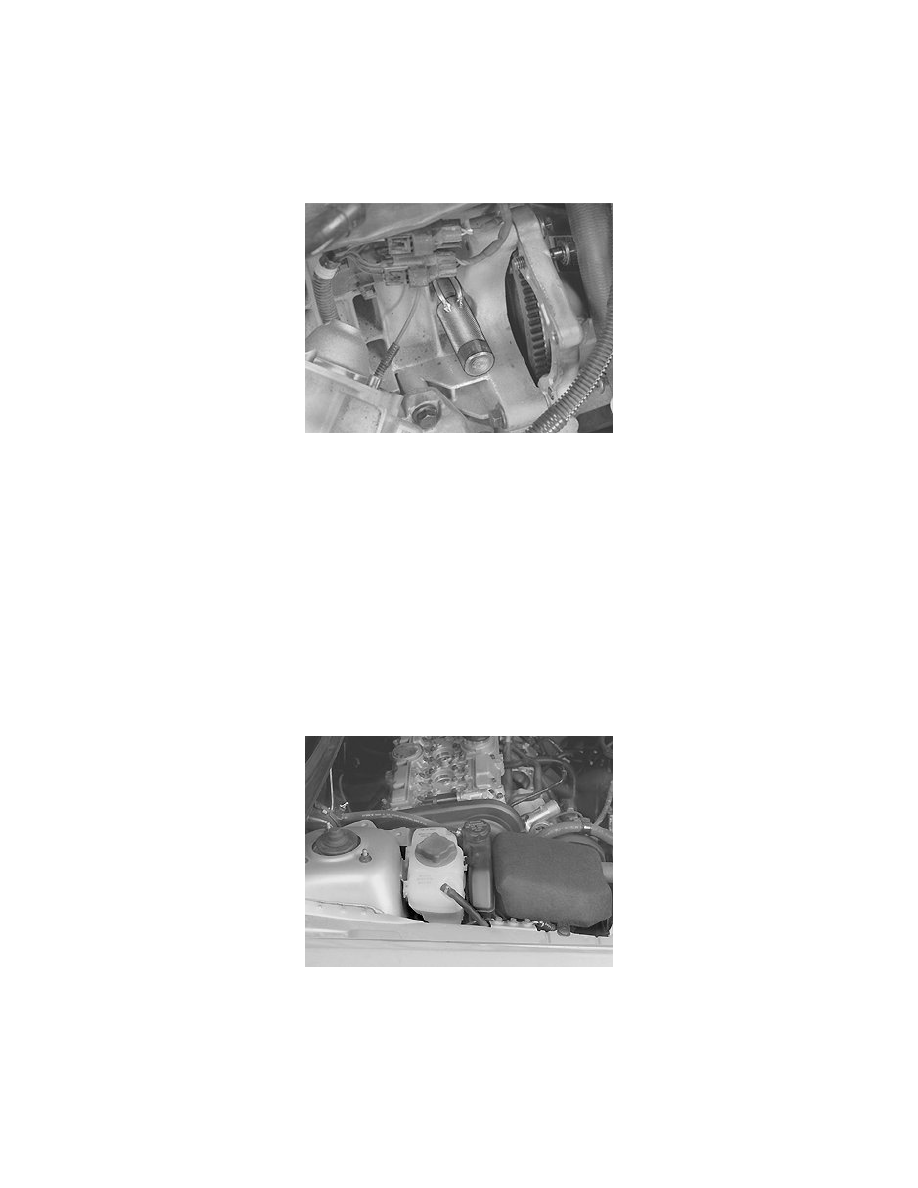 Lift up and position the brake fluid reservoir and the expansion tank on top of the engine.
Use drift 999 5718 Drift See: Tools and Equipment/999 5718 Drift for camshaft with variable valve timing unit and drift 999 5719 Drift See: Tools and
Equipment/999 5719 Drift for camshaft without variable valve timing unit.
Use new seals and lubricate the surface of the seal that the camshaft rotates against.
Use the variable valve timing unit/timing belt pulley mounting screws. Tighten the screws until the drift bottoms out.
Remove the drift.
Fixing the crankshaft position
Remove
-
the mounting screws for the starter motor. Pull off the starter motor. Place the starter motor to one side
-
the blind cover plug and the seal washer.
Turn the crankshaft slightly clockwise.
Install the crankshaft stop999 5451 Adjustment Tool See: Tools and Equipment/999 5451 Adjustment Tool. Ensure that it bottoms out against the engine
block.
Turn the crankshaft counterclockwise until it stops against the crankshaft stop.
Check that the marking on the crankshaft timing gear pulley corresponds with the marking on the oil pump.
Installing and adjusting the VVT unit/timing gear pulley on the camshaft
Install according to: Variable valve timing unit, checking and adjusting See: Engine, Cooling and Exhaust/Engine/Actuators and Solenoids -
Engine/Variable Valve Timing Actuator/Testing and Inspection 
Finishing
Install
-
front timing cover
-
the auxiliaries belt
-
the expansion tank
-
the servo oil reservoir
-
the bleed hose for the expansion tank.
Close the clamp and check that the hoses lie correctly.
Connect the connectors for the
< PREV PAGE
NEXT PAGE >