< PREV PAGE
NEXT PAGE >
XC90 FWD L6-3.2L VIN 96 B6324S2 (2010)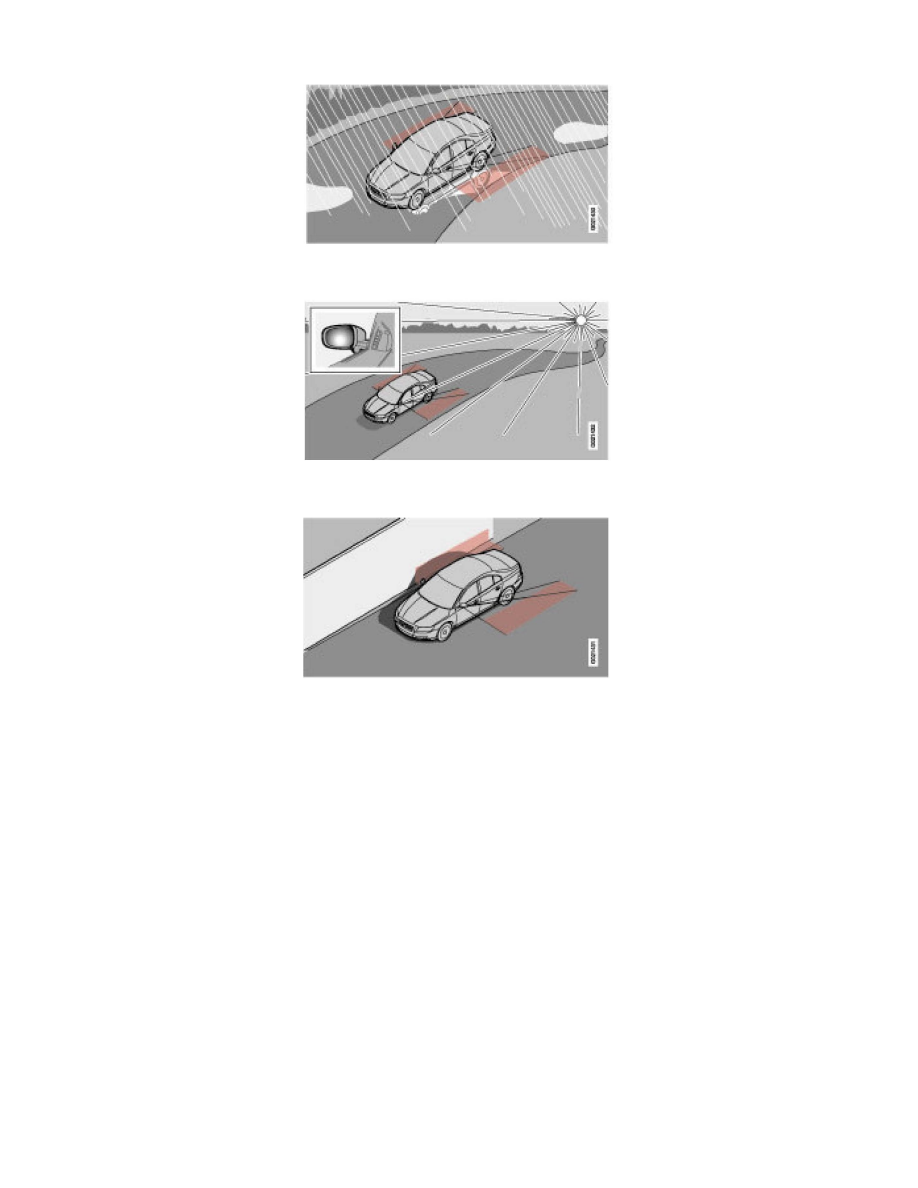 Here are some examples of situations where the BLIS indicator lamp may illuminate even if there is no other vehicle within the blind spot.
Reflections from shiny wet road surface or puddle.
Low sun shining into the camera.
Own shadow on large light smooth surface, e.g. noise barrier or concrete road surface.
Decreased system functionality / Messages in DIM
The BLIS system has a self diagnostic system to inform the driver about potential decreased system functionality. The diagnostic system software (SW)
is included in the camera module units and the LH - RH cameras operate independently of each other. If either one of the camera's meet the criteria for
decreased functionality the driver will be informed via flashing LED indicators and/or DIM message.
In addition to the "OFF/ON" indications there are three possible DIM messages to the driver:
1. BLIS Reduced function
This message informs the driver that the light conditions for either of the cameras is reduced and that the camera may not detect all objects due to low
contrast conditions. The camera resets itself when the environment has returned to "normal". The "counters" in the diagnostic algorithms are reset to zero
automatically when the light conditions are back to normal or an object with the headlamps on (night mode) is entering the BLIS detection area. The
DIM message is removed automatically. Each of the cameras will continuously monitor the images and reset themselves when considered normal.
Examples of conditions that may give "Reduced function" message in DIM:
1. During dusk/dawn due to low light (most common cause of "reduced function").
2. Driving in complete darkness for longer than 10 minutes (safety reason since the cameras can not decide whether they are blocked or that there is no
objects to detect).
3. Heavy rain or snow due to low light
< PREV PAGE
NEXT PAGE >