< PREV PAGE
NEXT PAGE >
Freelander Service Procedures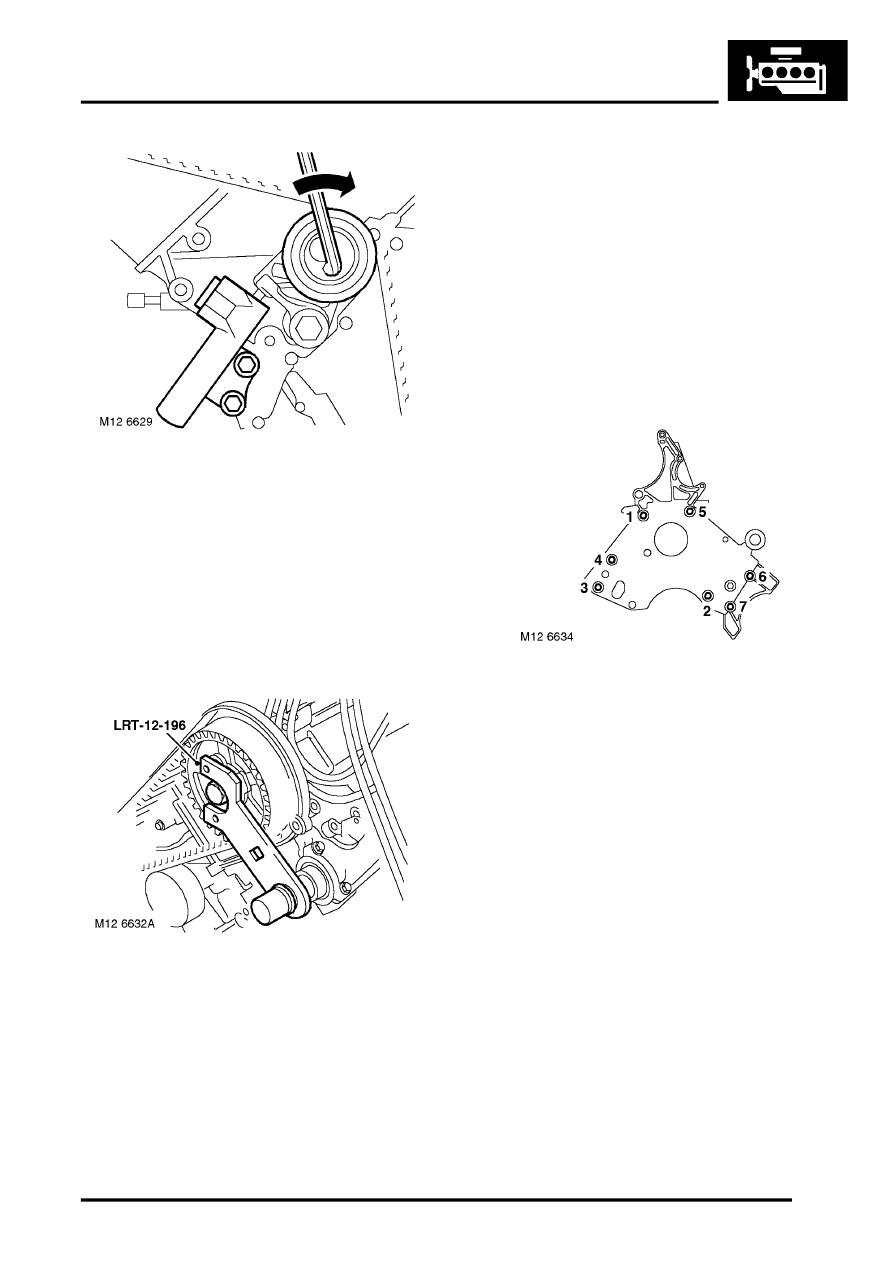 ENGINE - K SERIES KV6
OVERHAUL 12-3-113
11. Position an Allen key in tensioner backplate 
and hold tensioner pulley against timing belt.
12. With assistance, position timing belt tensioner, 
fit new Patchlok bolts and tighten to 25 Nm (18 
lbf.ft).
CAUTION: Ensure tensioner plunger is 
contacting underside of tensioner 
backplate.
13. Remove tools LRT-12-175 from rear timing belt 
gears.
14. Fit tools  LRT-12-196 to both front inlet 
camshaft gears and into the end of  each 
exhaust camshaft.
CAUTION: Special tools must be fitted when 
tightening or loosening gear retaining bolts, 
otherwise damage to camshafts may occur.
15. Tighten front inlet camshaft gear bolts to:
l
Stage 1 - 27 Nm (20 lbf.ft)
l
Stage 2 - Further 90
°
16. Remove tools  LRT-12-196 from both inlet 
camshaft gears and exhaust camshafts.
17. Remove wedge from between drive belt and oil 
pump belt guard.
18. Remove 1.5 mm diameter pin from tensioner.
19. Clean exhaust camshaft front cap seal 
locations and fit new cap seals.
CAUTION: The sealing edge of the cap seal 
and mating face must be clean and dry.
20. Position engine front mounting plate and 
manoeuvre plate into position; fit bolts but do 
not tighten at this stage.
21. Fit bolts securing IRD support bracket to front 
mounting plate; do not tighten bolts at this 
stage.
22. Tighten bolts in the sequence shown:
l
M10 bolt - No.1 - 25 Nm (18 lbf.ft)
l
M10 bolt - No. 5 - 45 Nm (33 lbf.ft)
l
Bolts Nos. 2, 3, 4, 6 and 7 - 85 Nm (63 lbf.ft)
23. Position engine lifting bracket, fit bolts securing 
lifting bracket and front mounting plate to 
cylinder block and RH cylinder head and 
tighten to: 
l
M8 bolt - 25 Nm (18 lbf.ft)
l
M10 bolts - 45 Nm (33 lbf.ft)
24. Fit rubber blanking plug around tensioner.
25. Clean end of dipstick tube.
26. Position dipstick tube to sump and cylinder 
block, fit bolt and tighten to 9 Nm (7 lbf.ft).
27. Clean lower timing belt cover.
28. Position lower timing belt cover, fit and tighten 
bolts to 9 Nm (7 lbf.ft). 
29. Remove timing pin LRT-12-232.
30. Clean crankshaft pulley.
31. Fit crankshaft pulley to crankshaft gear and 
ensure that the indent on pulley locates over 
the lug on crankshaft gear.
32. Fit crankshaft pulley bolt and washer, position 
LRT-12-161 with LRT-12-199 into crankshaft 
pulley. Tighten pulley bolt to 160 Nm (118 
lbf.ft).
33. Remove tools LRT-12-161 and LRT-12-199.
34. Clean ancillary drive belt tensioner.
< PREV PAGE
NEXT PAGE >