< PREV PAGE
NEXT PAGE >
B3000 SE Regular Cab 4WD V6-3.0L OHV (1998)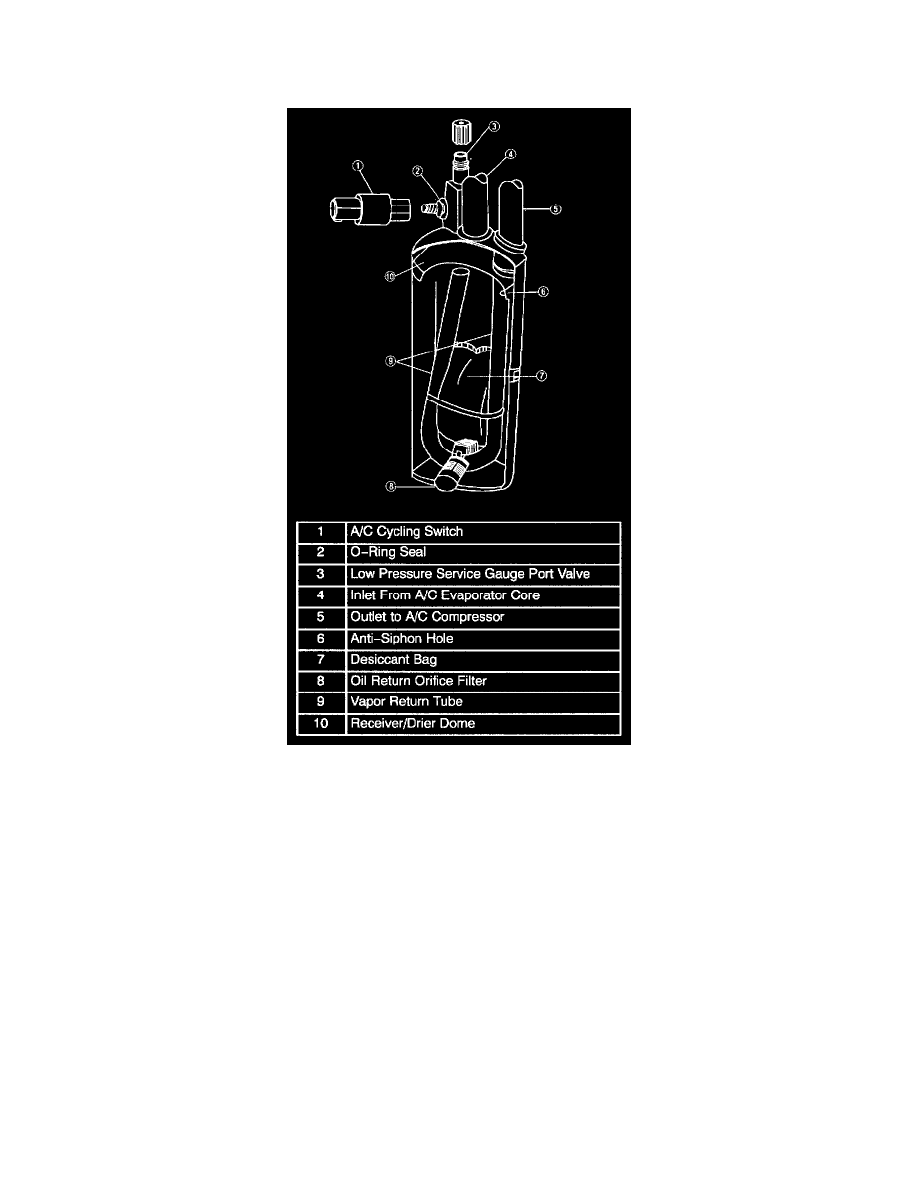 Receiver Dryer: Description and Operation
NOTE:
- Replacement of the receiver/drier is necessary any time a major component of the refrigerant system is replaced.
Major components include:
- A/C condenser core
- A/C compressor
- A/C evaporator core
- a refrigerant hose/line
An A/C evaporator core orifice or O-ring seal is not considered a major component but the A/C evaporator core orifice should be replaced whenever the
A/C compressor is replaced for lack of performance.
In addition to the preceding condition, the receiver/drier should also be replaced if one of the following conditions exist:
- The receiver/drier is perforated.
- The refrigerant system has been opened to the atmosphere for a period of time longer than required to make a minor repair.
- There is evidence of moisture in the system such as internal corrosion of metal refrigerant lines or the refrigerant oil is thick and dark.
The receiver/drier is mounted to the A/C accumulator bracket to the right of the vehicle centerline. The inlet tube of the receiver/drier attaches directly to
the A/C evaporator core outlet tube and the outlet tube attaches to the A/C manifold and tube.
After entering the inlet of the receiver/drier, the heavier oil-laden refrigerant contacts an internally mounted dome (which serves as an umbrella) and
drips down onto the bottom of the canister.
- A small diameter oil bleed hole, in the bottom of the vapor return tube, allows the accumulated heavier liquid refrigerant and oil mixture to re-enter
the compressor suction line at a controlled rate.
- As the heavier mixture passes through the small diameter liquid bleed hole, it has a second chance to vaporize and recirculate through the A/C
compressor without causing compressor damage due to slugging.
< PREV PAGE
NEXT PAGE >