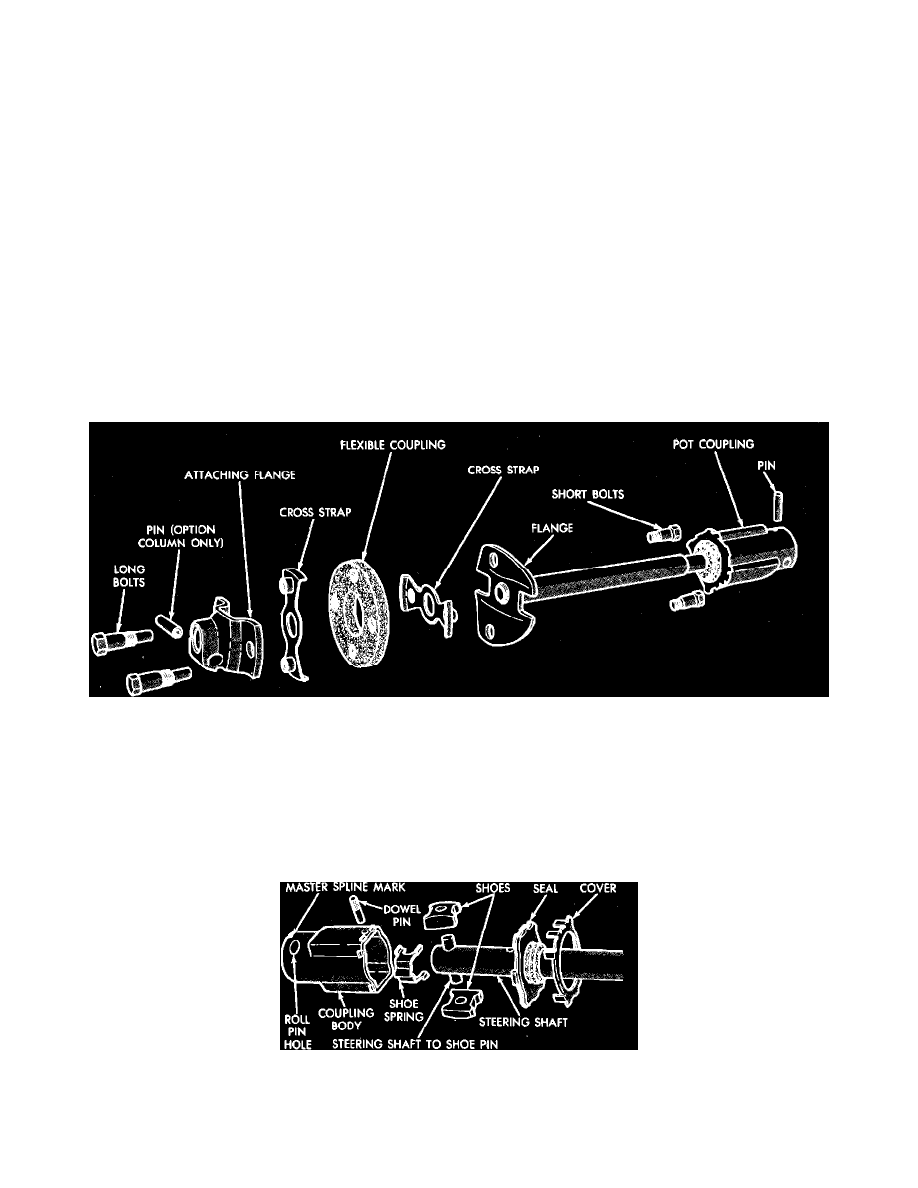 Steering Shaft
1. Remove snap ring from upper end of steering shaft.
2. Remove 3 screws retaining bearing housing to lock housing. These screws must be removed before steering shaft is removed.
3. Remove bearing housing from shaft, and then the coil spring.
4. Remove lock plate from shaft, then remove shaft through lower end of column.
Lock Housing
1. If equipped with shift indicator dial, remove pointer screw and position pointer aside.
2. If equipped, remove screw and lift out buzzer switch.
3. Remove 2 retaining screws and lock lever guide plate to expose the lock cylinder release hole.
4. Place cylinder in "Lock" position and remove key. Insert a small screwdriver into lock cylinder release hole and push in to release spring loaded
lock retainer, while pulling lock cylinder out of the housing.
5. Remove the 3 retaining screws and ignition switch assembly.
6. Grasp lock lever and spring assembly and pull straight out of housing.
7. Remove the four lock housing to column jacket hex retaining screws and remove housing from jacket.
Shift Tube
1. On Ramcharger, Trailduster and D/W-100 thru 400 series models with automatic transmission, loosen shift tube set screw in shift housing and
remove shift tube through lower end of jacket.
2. On Van and Wagon models with automatic transmission, remove indicator bracket and then the shift tube through the lower end of the jacket.
3. On Van and Wagon models with manual transmission, remove the three bearing support screws at lower end of jacket and the three adjustable
bushing screws from cam slots in jacket, then remove shift tube and lever assembly through lower end of jacket.
4. On all models, remove floor plate and grommet from jacket.
Fig. 13 Steering shaft flex coupling exploded view
Steering Shaft Flex Coupling
1. Remove the 4 bolts and two cross straps.
2. Remove flex coupling.
3. Check coupling and cross straps for cracks, warpage or distortion. Replace as required.
4. Position flex coupling in the two cross straps, then install two long and short attaching bolts. Ensure that master spline on steering shaft lines up
with master spline in lower pot coupling during assembly.
5. Torque coupling attaching bolts to 200 inch lbs.
Fig. 14 Steering shaft pot coupling exploded view
Steering Shaft "Pot" Coupling
1. Pry cover tangs from coupling body and lift seal and cover from body.
2. Drive the small short dowel pin at edge of body coupling, down into coupling. A new dowel pin will be required during assembly.