< PREV PAGE
NEXT PAGE >
PB 150 V8-318 5.2L VIN T 2-BBL (1983)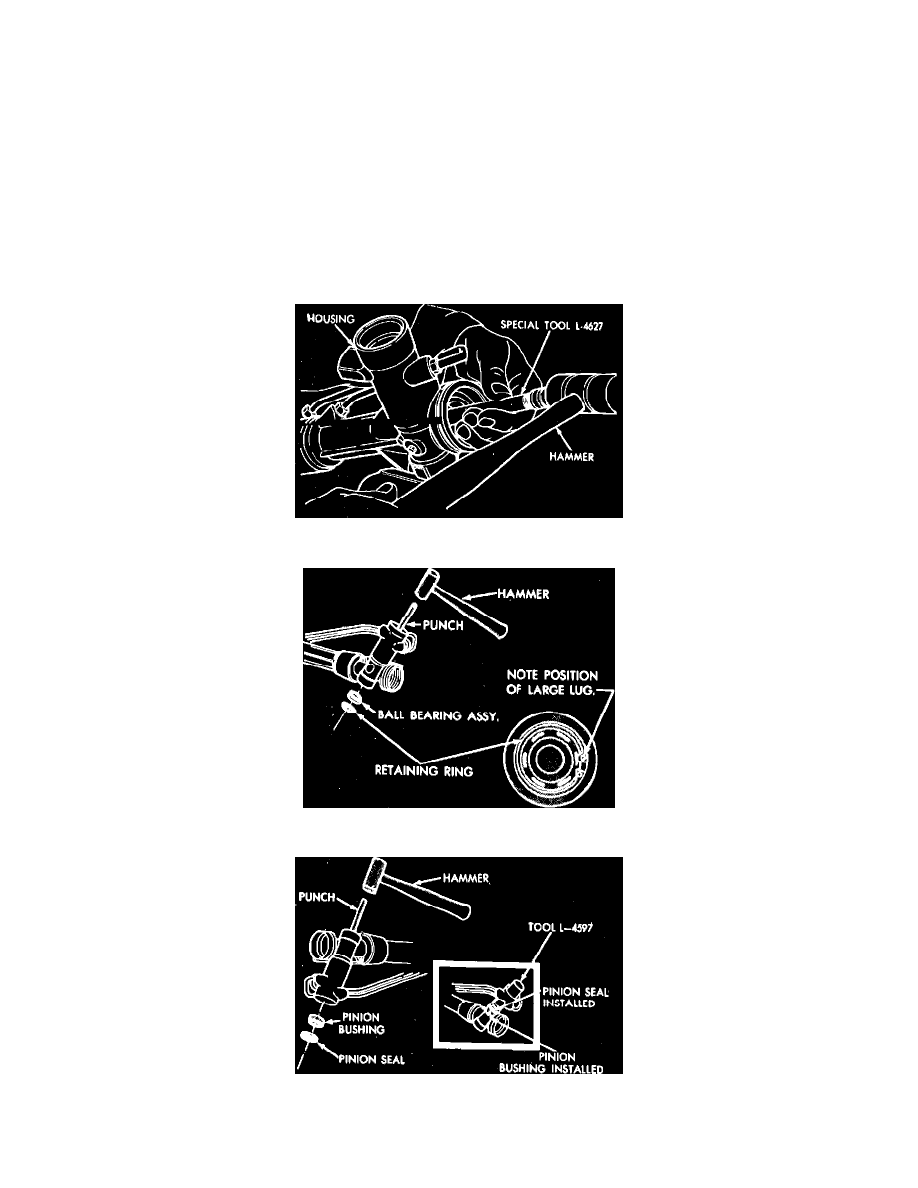 housing bore.
8. Remove retaining ring from stub shaft.
9. Remove pinion shaft locknut dust cover.
10. While holding stub shaft in place, remove locknut from pinion shaft. If stub shaft is not held in place while removing locknut, damage to
pinion teeth may result.
11. If only stub shaft seals are to be replaced, using a press, press on threaded end of stub shaft until shaft is flush with ball bearing assembly.
Complete removal of valve and pinion assembly is not necessary to replace stub shaft seals.
12. To remove valve and pinion assembly, rotate stub shaft until rack is centered in housing, with pinion fully engaged. Mark position of stub shaft flat
on housing for reassembly. Using a press, press on threaded end on pinion shaft until it is possible to remove valve and pinion shaft assembly.
13. If necessary, remove valve body seal rings.
14. Insert a suitable punch into access hole and remove bulkhead retaining ring.
15. If only bulkhead, bulkhead Of-ring seal or bulkhead rack seal are to be replaced, remove cylinder lines and plug both cylinder line holes in
cylinder using two M12 x 1.25 bolts, tighten bolts finger tight. Position drain pan under gear, then rotate stub shaft to move rack toward right stop
to force bulkhead out of housing. If inner rack seal or piston ring are to be replaced the rack must be removed from the housing.
16. Remove rack from housing, then remove piston ring from rack.
Fig. 3 Removing inner rack seal
Fig. 4 Removing pinion lower bearing
Fig. 5 Removing & installing upper pinion bushing & seal
17. Remove inner rack seal from housing using tool L-4627.
< PREV PAGE
NEXT PAGE >