< PREV PAGE
NEXT PAGE >
PB 150 V8-318 5.2L VIN T 2-BBL (1983)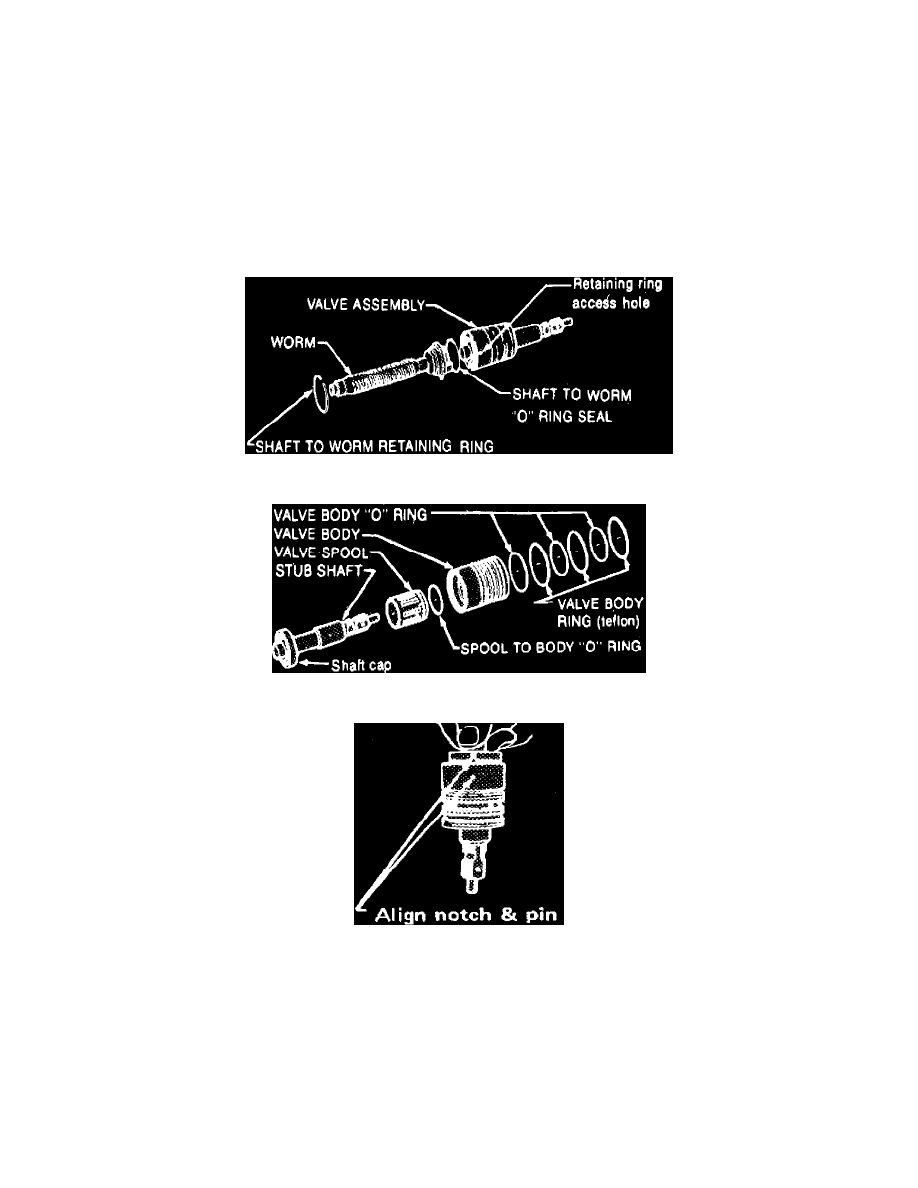 damaged the entire rotary valve assembly is to be replaced. The O-ring should be replaced only if the gear squawks.
1. To replace the valve spool dampener O-ring, work spool spring into bearing diameter of stub shaft and remove spool spring.
2. Tap end of stub shaft gently against workbench to remove valve spool. The diametrical clearance between the valve body and spool may be as low
as 0.0004 inch. The slightest cocking of the spool may jam it in the valve body.
3. Remove valve spool dampener O-ring.
4. Install new O-ring in valve spool groove, then lubricate seal in automatic transmission fluid. Do not allow seal to twist in groove.
5. With notch end of spool towards valve body, install spool, aligning spool notch with pin in stub shaft.
6. Because of the small clearance between spool and valve body, extreme care must be taken when assembling these parts. Push spool evenly and
slowly with a slight oscillating motion until spool reaches drive pin. Before pushing spool completely in, make sure dampener O-ring seal is evenly
distributed in spool groove. Slowly push spool completely in, with extreme care taken not to cut or pinch O-ring seal.
7. Slide spool spring over stub shaft and work spring into position.
Model 605 Rack Piston, Valve & Worm
Fig. 14 Valve & worm disassembled. Model 605
Fig. 15 Spool valve assembly. Model 605
Fig. 21 Stub shaft installation. Model 605
1. To assemble spool valve proceed as follows:
a. Install three teflon & three O-ring seals on spool.
b. Lubricate spool with power steering fluid, then rotate spool while installing.
c. Install stub shaft into valve body.Notch must fully engage pin and cap must seat against shoulder.
2. Assemble worm shaft on valve. Install snap ring with "curved-in end" on same side as access hole.
< PREV PAGE
NEXT PAGE >