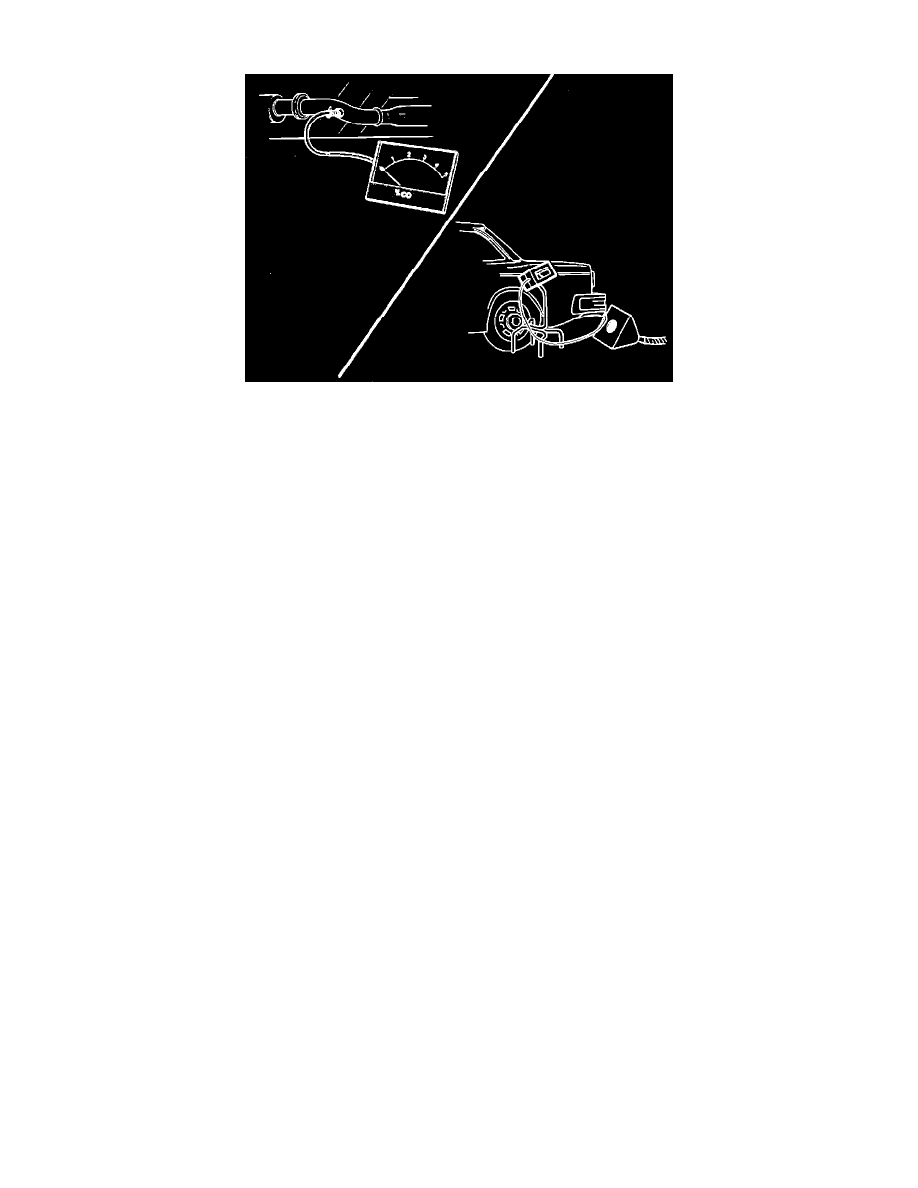 Catalytic Converter: Testing and Inspection
Fig. 62a CATALYTIC CONVERTER TESTING
EMISSIONS CHECK
The efficiency of the catalytic converter can be checked by measuring and comparing the CO content before and after the converter. The CO
content at the tailpipe must be substantially lower then the CO content at the upstream CO tap (before the converter).  Fig. 62a.
VISUAL INSPECTION
Inspect Catalytic convertor for external cracks.
Remove the catalytic converter from the vehicle. With either opening toward a light source, inspect the ceramic insert from both sides. If the
ceramic insert is broken, melted or clogged the catalytic converter must be replaced.
BACK PRESSURE
If excessive exhaust back pressure is suspected, eliminate the exhaust system as a cause.  If exhaust back pressure remains excessive with all
mufflers disconnected, the catalytic convertor may be plugged.
LOOSE CORE
If the exhaust system rattles during engine operation, check the catalytic convertor for a loose core.  With the vehicle raised (for access), tap the
catalytic convertor with a rubber mallet.  If the convertor rattles, the core is loose and the convertor must be replaced.
PYROMETER CHECK
If all other emission systems are functioning correctly, but vehicle still has excessive tailpipe emissions, the catalytic convertor core may by
contaminated.  To check convertor effectiveness, perform the following check:
1.
Warm the engine to normal operating temperature.
2.
Run the engine at 2500 RPM for 30 seconds.
3.
Using a pyrometer, measure the exhaust pipe temperature before and after the catalytic convertor.
4.
Exhaust pipe temperature should be at least:
100° F hotter at the convertor outlet than at the inlet.
5.
If catalytic convertor has little or no effect on exhaust temperature, the core may be contaminated. 
NOTE:
If exhaust temperature exceeds 450° F, the engine may be running too lean.  Repair the lean running condition and recheck exhaust
temperature before condemning the catalytic convertor.